Description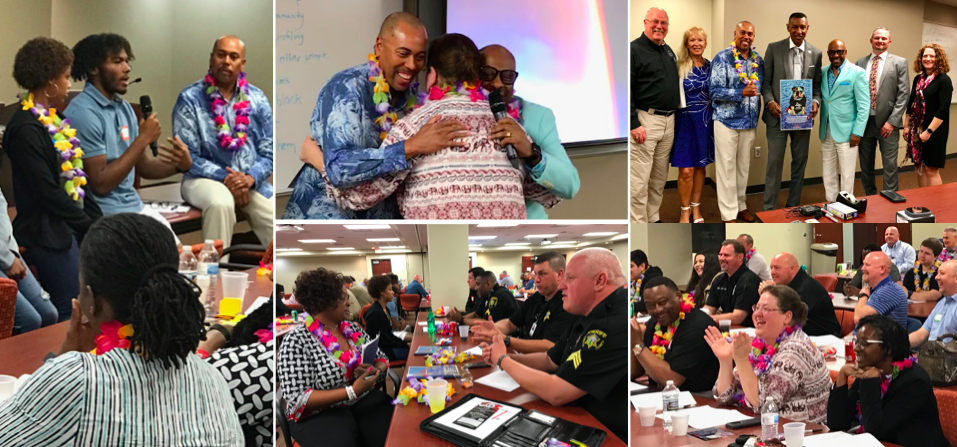 JOIN US FOR A FULL-DAY WORKSHOP IMPROVING POLICE-COMMUNITY RELATIONS IN SANTA MONICA & NEARBY AREAS -- PEACE OFFICERS AND COMMUNITY MEMBERS LEARNING & GROWING TOGETHER!
Two years ago, 450 people attended the Red Carpet World Premiere of WALKING WHILE BLACK: L.O.V.E. Is The Answer in Santa Monica. Since then, screen by screen, heart by heart, it's living up to its promise of transforming police-community relations in America. To date, more than 27,000 people have participated in screening and discussion events, workshops and conferences in more than 20 states. Now, we're coming back to where it all began, our home, Santa Monica, to launch full-day workshops that will take us all deeper in our learning and in our love for each other.
Join members of the Santa Monica Police Department, Santa Monica College Police Department, Pasadena Police Department, and other law enforcement agencies together with community members from all walks of life, from students to seniors, in the L.O.V.E. Is The Answer Workshop, an innovative full-day professional and personal development workshop for members of law enforcement and other stakeholders in the community to learn and grow together.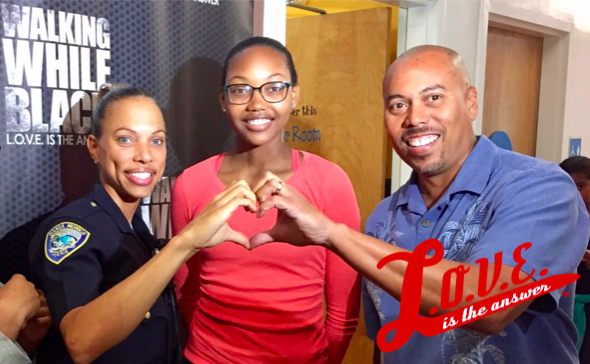 Whereas most anti-bias, diversity, inclusion, equity and community-building training takes place in "silos," with peace officers in their training silo and other members of the community in a different training silo, we are bringing everyone together. Simply put, how are we supposed to improve our relationships if we don't learn how to relate — together?
Our workshop starts with a screening of the 90-minute version of the award-winning film, "WALKING WHILE BLACK: L.O.V.E. Is The Answer," followed by a full-day of interactive learning about the transformative L.O.V.E. Is The Answer principles. The L.O.V.E. Is The Answer workshop tackles tough subjects like implicit bias, cultural misunderstandings and systemic racism, and reshapes the narrative from conflict to L.O.V.E. (Learning about each other, Opening our hearts to each other, Volunteering to be part of the solution in each other's lives and Empowering others to do the same).

In addition to direct application to improving police- community relations and communication, L.O.V.E. Is The Answer workshops are also being used to facilitate powerful diversity, inclusion and anti-bias training for corporate, government, educational and faith-based audiences. L.O.V.E. Is The Answer is equally great for communities that want to be proactive in making sure good relationships continue to grow in positive ways and for communities that have experienced challenges and need help finding their way to a better place.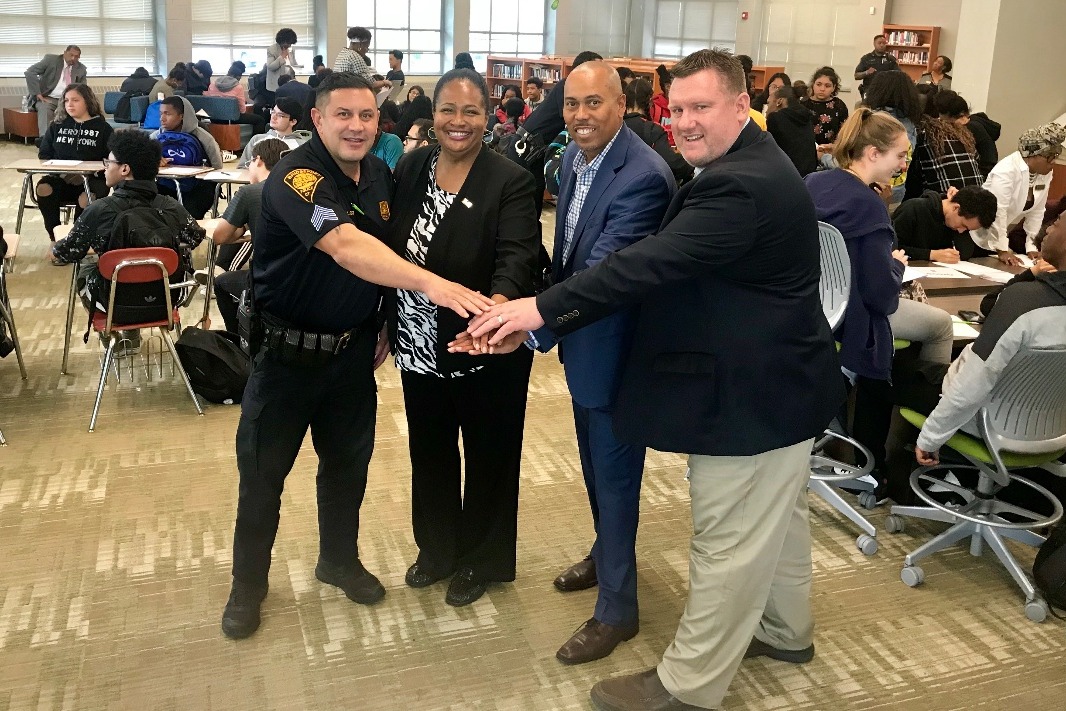 This innovative workshop includes a powerful component created by RAND Corporation, a world-renowned public policy think tank that we have partnered with nationally. The RAND tabletop problem-solving exercise (TTX) puts participants through realistic scenarios involving police and the rest of the community. We are including an introductory version of their TTX.
Facilitators will include L.O.V.E. Is The Answer Master Certified Trainers A.J. Ali (Director of the film and creator of the L.O.V.E. Is The Answer principles), Omar Neal (Former Mayor of Tuskegee, AL, former peace officer and renowned police trainer), Paul Lee (Executive Director of the Fellowship of Christian Peace Officers), RAND Corporation representatives and others. See information on our Trainers at
http://loveistheanswermovement.com/master-certified-trainers/
.
L.O.V.E. IS THE ANSWER WORKSHOP HIGHLIGHTS INCLUDE:
- Welcome and overview of the day
- Framing the Issue: rapid-fire discussion about the problems between police and community
- WALKING WHILE BLACK: L.O.V.E. Is The Answer film, Q&A with the director and discussion
- Lunch
- LEARN (about the people around you) instruction and exercises.
- OPEN (your heart to their needs)
instruction and exercises.
- VOLUNTEER (
yourself to be part of the solution in their life)
instruction and exercises.
- EMPOWER (others to do the same)
instruction and exercises.
- RAND Corporation's police-community scenario tabletop exercise.
NOTES FROM OUR FIRST FULL-DAY WORKSHOP IN WINSTON-SALEM, NC 4/8/19
On April 8th we trained dozens of members of the Forsyth County Sheriff's Office, other law enforcement agencies and community members including high school students in Winston-Salem, North Carolina to kick off our full-day L.O.V.E. Is The Answer workshop program throughout the country. 65 people participated in this inaugural event. Some of the comments we received at the April 8 workshop in North Carolina included:
- Best training I've been to! Thank you!

- I really enjoyed this workshop. This will have me looking at love towards the community differently. AJ & Omar were great instructors. I would love to do another workshop with them.

- AJ's passion for the subject matter is evident. Great Work!

- Thank you so much for having us. The students were great. All the information was great. I enjoyed the environment. I learned many things. I had no idea from the perspective on the other side. Everything was excellent.
The L.O.V.E. Is The Answer workshop was inspired by the film WALKING WHILE BLACK: L.O.V.E. Is The Answer.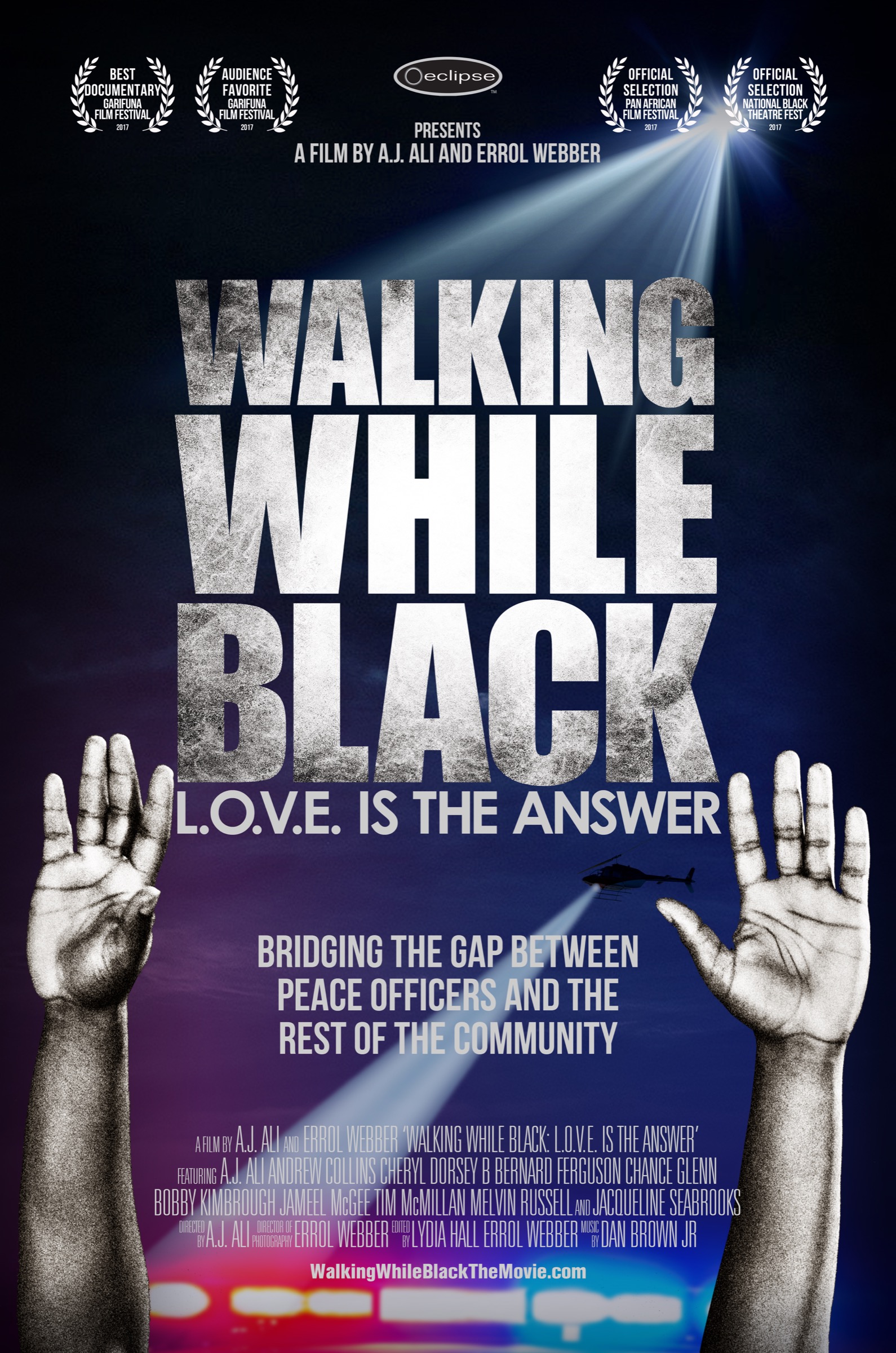 SOME OF THE PRAISE FOR THE FILM & WORKSHOP
Outstanding" and "Very well done! — Terry Cunningham, International Association of Chiefs of Police, Deputy Director (& former President)
"Extraordinary. Important. Outstanding. As it was said in the film, we've got to stop talking past each other and start talking to each other. We've got to keep this conversation going." - Congressman Elijah Cummings
Best training I've been to! Thank you! — Celeste Verges
This is the MOST POWERFUL film I've seen in years. — Tim Bell, Santa Monica
The instructors AJ and Omar were wonderful! They shared their personal stories and experiences which made the concept more understanding. It was also refreshing to converse about racial barriers and racial disparities with our department solely because we have a wide range of ethnicities in our agency. Thank you for everything and coming to our department to share your story! — Janay Smith
I enjoyed being a panelist for your program which was more than just watching a film; it was a production that was inclusive with positive challenges for our youth to participate in resolution tactics. I appreciate your passion to connect the local communities with the PD's to facilitate harmony and understanding. — Sergeant Lonnie Blackwell, Bridgeport Police Department, Patrol Division
"I am Thankful to God for this film. This was Amazing!" — Patricia Buford, Retired Crisis Intervention Response Team member and Training Officer at a women's maximum security prison in NY State.
"The wide divide between communities and law enforcement is negatively impacting American's quality of life. "WALKING WHILE BLACK: L.O.V.E. Is The Answer" serves as a bridge that can hold the weight of the moment. We must use this tool to build unity." — Bill Cobb, Former Deputy Director, ACLU Campaign for Smart Justice
"As an African-American male and instructor who grew up in South LA, I've never seen a film like, 'WALKING WHILE BLACK: L.O.V.E. Is The Answer,' that offers not only informative information about some of challenges with policing and African-Americans in this country, it offers a space for critical thinking towards solutions in the story and subtitle: L.O.V.E. Is The Answer." — Timothy Conley, Adjunct Faculty, Communication and Media Studies Department, Santa Monica College
"Wonderful and thoughtful." — Kim Estes, Emmy Award Winning Actor
I have not seen a documentary so moving in a long time -- it was obvious the entire audience was enthralled until the last moment and were inspired to take action after the panel discussion concluded.— Jett Pierce Facey, Student, SOKA University
"One of the most important and powerful films for such a time as this. This film walks the razor's edge...addressing the truth...while providing real hope."— Dr. Joel Freeman, CEO & President, The Freeman Institute and former NBA Chaplain
"Rich time tonight! Most balanced film of this type I've ever seen -- painful truth and the power of building bridges! "Walking While Black" is a game changer!"— Rod L. Hairston, Senior Pastor, Messiah Community Church
"Alan and I are honored to be sponsoring Walking While Black: L.O.V.E. is the Answer in 10 under-served schools in the Los Angeles and San Diego area. This film has the power to illuminate and empower young people to be the 'change-makers' in their community by encouraging them to establish positive relationships with their local law enforcement agencies. Compassion, understanding and connection can make the difference within a community dynamic, changing the climate from hostile and adversarial to a place embracing diversity, safety and support for one another. Your film can begin a new dialogue, creating a bridge across the gulf that currently exists between young people and the law enforcement agencies that they interact with on a daily basis. Bravo to all involved."— Wendy Hart, Sponsor of Licenses for Schools in Los Angeles (Feb 17, 2017)
"Such a powerful film. Every police department, every school, every church should see it." — Ken Harvey, Former NFL Linebacker
"I watched WALKING WHILE BLACK: L.O.V.E. Is The Answer yesterday. It is one of the best, most profoundly great films that I have ever seen! Well done!" — Ron Hooks, Executive Director, West Coast Care
"Beautiful and healing."— Ernie Hudson, Actor
Just wanted to let you know that you did an amazing job documenting such an emotional issue. Thank you for your contribution towards healing our city.— Melissa Hyatt, Johns Hopkins VP of Security and former Baltimore PD Chief
"With all that is going on in our country today as it relates to race relations, the movie Walking While Black not only focused a beacon of light on the problems and concerns, it allowed me to leave with a sense of hope for change. Since most black families feel like they have to have "the talk" with their children, this movie gives another component to "the talk" for us to use."— Vincent James, Advisor, Alpha Achievers of Oakland Mills
"Well done! Powerful and engaging film."— Douglas R. Karr, President & CEO, character.org
"Very well done and I could see this being a catalytic message of hope for all of us to experience and join together for a better world."— John Kelly, President, Kelly Benefit Strategies
"A rare solution-oriented feature-length documentary." -- Katherine King, Los Angeles Post
"A wonderful vision presented about police living, eating, walking in their patrolled communities, and grieving with protesters. About police being seen as uncles and friends rather than sources of terror, and communities coming to police themselves." - Jonathan Kumar, Founder, Samaritan
"This film tells a story that is so powerful that I have felt a full range of emotions. It expresses the anger, fear, the absolute terror that I have and that is probably what every African American feels when accosted by police. However, I have also felt a sense of a better understanding that our world does not have to be a world of us vs. them. We can coexist in peace through mirroring the compassion and empathy for one another that is afforded via L.O.V.E. This film is fantastic." — Everett Lacey
"This film is nothing less than extraordinary. It is an amazingly insightful, fresh, balanced, sophisticated and intelligent view of the profound problem we all are dealing with of racism and profiling ..In depth interviews with sensitive and aware cops, as well as not so sensitive ones, community leaders, educators, and just regular people, bring this story and phenomenon alive and vivid in a way that has not been done before. I was riveted the whole time. I cried. I was uplifted. I was blown away. I deeply applaud and appreciate this tremendous piece of work, and I pray it gets the wide audience and recognition it deserves. Well done, AJ, beautifully well done." — Janet Larson
"Wow! I love that you used the perspective of individuals from law enforcement, community, clergy, and government to bring the unified message of L.O.V.E. I teach a 4-hour block on cultural competency to police officers and your film drives home the points I try to make and a whole lot more. EVERYONE needs to watch this film." - Harold J. Love, M.A., LPC, NCC, Harold J. Love & Associates, Behavioral Health Services for Public Safety Professionals (Retired Captain, Michigan State Police)
"I was watching through the most critical lens and truthfully I was blown away. The message is powerful beyond belief. Everyone in America should watch this film."— Keenan Miller
"A powerful visual statement. Viewing it opens the door to intentional change."— Judith E. Lukomski, CEO, Chief Evolution Officer, Transitions Today
"Incredible… Brilliant… It's not a Hollywood film. It's a class on how to make positive change."— Kevin Miles
"What a great film and wonderful evening. The film was extremely informative and educational with extensive universal application. Everyone I spoke with spoke highly of the project and how they enjoyed the content. This is a must see educational and training film."— Dr. Milton Payne D.C., ARM
"I can't say enough about the film – an incredibly profound doc. It was a moving experience emotionally and motivated me to spread the L.O.V.E."— Rei Perry
"Sad, powerful, moving…. a light to shine on the path we all need to see followed if we are to right these injustices and to make this a world where all individuals can co-exist in harmony and peace." — Thomas R. Miller, President, T R Miller Co., Inc.
"Soka University hosted a screening and panel discussion of this absolutely outstanding documentary about social justice, racial reconciliation, and bridging the gap between police and the communities they serve. The energy, hope and inspiration at this event was almost palpable! A. J. Ali is on a mission to heal the fear and hate-filled divide in so many communities with L.O.V.E." — Christine Montonna, Former Associate Warden
"As a trainer of community policing, who is a civilian, I learned more about the subject in one setting, than I probably have in my 7 years of teaching it." — Carlton Reed, Police Trainer
"Congratulations on the successful run of your film, Walking While Black: L.O.V.E. Is The Answer. Your documentary is a much needed balm to the cancer of mistrust, violence and hatred eroding police/community relations throughout our country. You powerfully challenge people to become peace builders in our local context with the goal of improving relations between the proud blue and the communities they serve. I salute you for your courage in allowing your personal experience, the wisdom of your mother and others to inspire you to lend your voice to this civil/human rights work." — Rev. Darryl Roberts, Senior Pastor, 19th St. Baptist Church in Washington D.C.
"L.O.V.E. covers a multitude of things. It brings healing for a lot of things. At the end of the day, I don't care where you come from, or who you are in this life, if someone could just show you some love, even in the midst of the most horrific of tragedies, healing follows." — Chief Melvin Russell, Baltimore Police Department
"Walking While Black: L.O.V.E. Is The Answer" by A.J. Ali was a phenomenal film that provided an in-depth understanding of issues that we are dealing with today. The documentary was relevant and impactful. My students were especially impressed with how the message was centered around real people and their experiences. We appreciated the opportunity to work with Mr. Ali and provide a venue for this message of hope and Love. This documentary is an absolute extension of the classroom and could be used to support instruction." - Antonio M. Shelton, Ed.D., Principal, Santa Monica High School
"I hope all Americans see this provocative film." — Phillip Sheppard, Actor, Author, Veteran, Former Federal Agent
"WALKING WHILE BLACK: L.O.V.E. Is The Answer is a great film that tells the truth about racial profiling across the country while offering real, concrete solutions on the ground."— Ava Steaffens, Chief Executive Officer, Christian Community Development Association
"The film was so moving....I wept. The music was sensational."— Jubilant Sykes
"Unbelievably impressive. I wish every officer in the country could see it." — Dave Thomas, Program Manager, International Association of Chiefs of Police and Retired Police Officer
"An extremely compelling film. Well done! And I'm very impressed with each of your interviewees each of whom reveals a different side to what is such a multi-faceted and complex issue. You don't oversimplify it, but you do make it understandable. And there's an empathy created by the film, I think." — Rev. Robert Watkins
"Dear Mr. Ali, I wanted to express my gratitude to you for producing this movie. Our church offered two screenings and had over 450 people from diverse backgrounds, churches, ethnicity, locations in Baltimore and surroundings view and discuss. Chief Russell participated in the second screening. We also offered a 3 week follow up series tackling race issues and expanding the conversation beyond policing. This all culminated in a Worship Service Celebrating Unity in Christ, this past Monday. Along the journey we made friends with Baltimore City churches and congregations passionate about racial justice and righteousness. Ever grateful," — Sharon Westra, Discipleship, Connections & Regional Outreach Associate Director, Central Presbyterian Church
"I enjoyed seeing the view of different law enforcement officers. Great film." — Gary Williams, Deputy U.S. Marshal
SIGN UP TODAY. BE PART OF THE SOLUTION FOR IMPROVING POLICE-COMMUNITY RELATIONS.
Organizer of L.O.V.E. Is The Answer Workshop -- Santa Monica
A.J. Ali is an award-winning producer, director, writer, actor and TV host with more than 30 years of expertise in media and event production.  A U.S. Air Force service disabled veteran, his commitment to peace and love informs everything he does personally and professionally. His commitment to community has resulted in more than $30 million raised for charities nationwide through events, media and consulting.
In June 2012, he was racially profiled and harassed by police in Howard County, MD. When he reported the incident, he and his wife became targets for harassment by a dozen members of that department for an entire year. Knowing he had to do something, he chose to rely on his faith, his military training as a peacekeeper, his lifetime of experiences in Hawaii, and his journalism background to make a film that would shine a light on the problem while offering transformative solutions.
As the Director and Producer of the highly-acclaimed feature length documentary film, "WALKING WHILE BLACK: L.O.V.E. Is The Answer," he guided the creative process for 4 1/2 years through completion of production in February 2017 and is now the inspirational force behind the efforts of the L.O.V.E. Is The Answer Movement birthed by the film, putting the principles of L.O.V.E. he created into action through webinars, workshops, conferences and other programs and products. He has become a sought after speaker and trainer of the L.O.V.E. Is The Answer principles, leading more than 100,000 people through sessions as of September 2021. The Howard County Police Department is one of dozens of law enforcement agencies throughout the country that have licensed the film to use in training their officers on better ways to engage with the communities they serve. See the film at  www.walkingwhileblackthemovie.com and join the movement at http://loveistheanswermovement.com/.
In his other current media role as Host & Producer of the Wellness 101 game show, he invites consumers and wellness experts to interact with each other, keeping the wellness discussion flowing in fun and meaningful ways. https://www.facebook.com/wellness101life
Ali's credits include co-authoring the "True Champion's 30-Day Challenge" book, authoring two business golf books, creating and starring in the "Good Fellas of Baltimore" TV show on Fox, producing the Hollywood FAME Award winning "Survivor Celebration" music CD, producing the "Positive Choice" documentary film, creating and owning two professional soccer teams, and many other credits. He is even featured as the subject of a 7-page spread in the highly acclaimed Black History 365 textbook, which was published in 2020.  He and his wife Jane have been happily married since 1994. They live in Henderson, NV. 
To learn more, visit www.OnTheTeeWithAJAli.com.