Event Information
Refund policy
Contact the organizer to request a refund.
Eventbrite's fee is nonrefundable.
Virtual Speed Dating Event For Christian Singles "Love is Blind" Style. No Video, Pre Matched by Certified Matchmaker
About this event
Do you ever wonder why three different couples in the series "Love is Blind" are still together? It's because they built a foundation of getting to know each other before appearance or the physical ever came into the equation. In today's dating culture we base everything on appearance. We look at a picture to decide our fate, but our fate should be decided on more than just a photo, but of one's character.
Our first + second event went so well with over 30 connections made so I figure why not do another event. The "Love is Blind" Virtual Speed Dating is a talking only event where the goal is to get to know someone based on more than just looks, or physicality.
Plus there is no intimidation of being on videos's with a stranger it's just conversation to see if there is more than meets the eye.
So how does this work?
Please ensure your email address is correct when registering, and also please fill out a profile on our database so we can reach you prior to the event.
You will have a zoom link sent to you prior to the event, please ensure only your first name/or a nickname is on your zoom account.
Please be in a quiet environment where you have no distractions and are free to have an open conversation.
We will start with an ice breaker and once everyone is in we will break out into zoom pods (breakout rooms), where you will be matched accordingly ahead of time by certified Matchmaker Michelle Apples.
You will need to fill out a form here to be professionally matched prior to the event:
https://missapples.ca/join-our-free-database
Daters be matched with and will have 15 minutes to chat, after which the gents will switch rooms. Once you've spoken with your pods, that's it—you're done!
***After the event, you will receive a form to fill out with your matches. you will email missapplesmatchmaking@gmail.com your top matches and those of you who matched will be introduced via phone or email (Your choice)
From there the world is your oyster, although to be really successful with this event I recommend not doing a video chat or adding each other to social media for 2 weeks after. Spend the next two weeks talking via text and phone prior rather than seeing the person IRL. (in real life).
Inclusivity is important to us and we make it our mission to ensure every event is a safe space for all.
*Please note - we have a strict zero tolerance policy against poor etiquette of any kind, including leaving the event at any point once it's started. By purchasing a ticket, you are committing to staying for the entire duration of the event and participating in each speed date, just like you would in person.
FAQ:
Is this Event for one location only?
No, I have introduced and met amazing couples who have lived in different places and relocated to a new area. I will try to match people in similar areas first unless I sense you may have a strong connection, but please note this is (EST) .
Am I guaranteed a match?
No, No-one can guarantee you will hit it off with someone. Although Michelle matches based on compatibility, unfortunately if there is no shows to the event matches can get switched last minute, and we have no control over who signs up for the event.
What is the age range for this event?
Generally between 25-35, but it is flexible. I have met people who are early 40's who look and act 30, and also met some 22 year olds who look and act 35. Age is just a number but you will most likely meet people around the age's of 25-35.
What time is the event over?
We should be done by 8:30/9PM (EST). Events tend to run late.
I can't make it, are there refunds?
No, Unfortunately there will be no refunds for the event.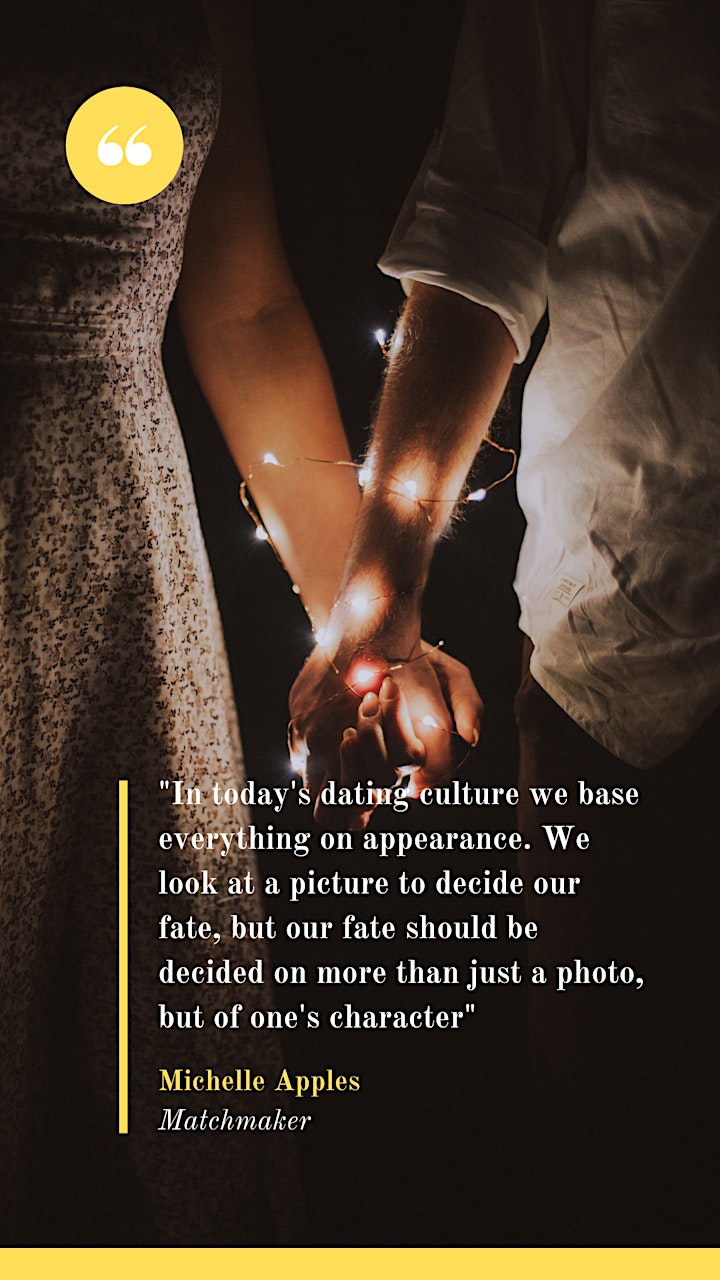 Date and time
Location
Refund policy
Contact the organizer to request a refund.
Eventbrite's fee is nonrefundable.