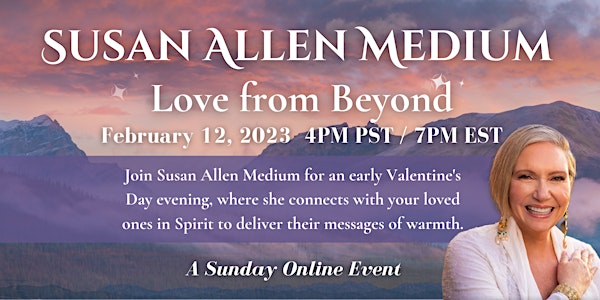 Love from Beyond with Susan Allen Medium
Join Susan Allen Medium for Love from Beyond, where she connects with your loved ones in Spirit to deliver their messages with love.
Date and time
Sunday, February 12 · 4 - 5:30pm PST
About this event
Join Susan Allen Medium for Love from Beyond.
Susan creates a sacred space to share messages, energy, and love from your loved ones in spirit. This is a beautiful opportunity to receive comfort and guidance from them.
This online event is Sunday, February12, 2023 at 4 PM PST/ 7PM EST.
One ticket per person and device.
Tickets are non-refundable. Ticket purchase to this event does NOT guarantee a reading.
Thank you!
----------------------------
About Susan Allen
Susan Allen is an intuitive healer and medium who began studying mediumship and mysticism in her late teens. She can connect with all life and all souls, including animals, at their soul level. She has been communicating with animals on a deep soul level since childhood. She calls what she does, SOUL SPEAK, a name that came to her through meditation.
Clients from around the world have benefited from the work of Susan Allen. She communicates messages about clients' loved ones and pets, present and passed. The information she provides is insightful and transformative. Susan provides specific, precise details that will BLOW YOU AWAY! Every session is unique.
What makes Susan's gift truly special is her ability not only to communicate on a soul level with humans, but her gift to channel animals through SOUL SPEAK. Susan's genuine love for animals is evident by the authentic readings she gives. Her readings are insightful, powerful, and truly useful to you and your pet's environment and well-being.
There will be no doubt in your mind that she has connected to your pet or deceased loved ones, whether your pet is living or crossed over. Through both her healing work with pets and people, Susan is able to use animals to help heal their people and environment. She brings information that no one else could possibly know about you and your pet.