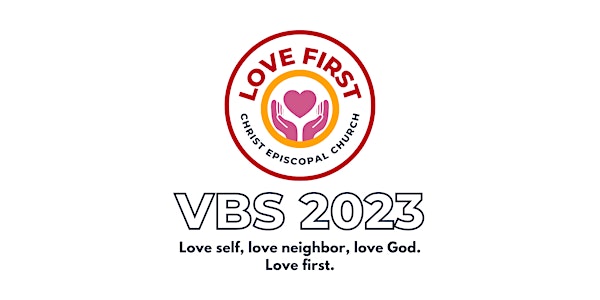 LOVE FIRST - Vacation Bible School at Christ Episcopal Church
Love First VBS is a week-long day camp (9:00 – noon each day) for children age 4 – 5th grade, staffed by adult and youth volunteers.
Date and time
July 10 · 9am - July 14 · 12pm EDT
Location
Christ Episcopal Church 400 San Juan Drive Ponte Vedra Beach, FL 32082
About this event
4 days 3 hours

Mobile eTicket
At Love First VBS, children discover that:
All people are lovable in the eyes of God, no exceptions (Love Self). I am called to love and care for people in need (Love Neighbor). I can see and feel God's love in my life (Love God).
Your kids won't want to miss this awesome week full of music, crafts, games, and bible stories!
PLEASE NOTE:  VBS may fill up quickly, for both campers and youth volunteers. If your plans change and you will not be attending, please let know as soon as possible so that your spot can go to a camper or volunteer on the waitlist.  
Camper Info:  VBS is for children who will be four years old before by the start of the 2023/2024 school year (no exceptions) through rising 5th graders.  All grades used during registration should be RISING grades (2023-2024 school year).  Children with special needs may be assigned a buddy - an adult or older teenager who will discretely accompany him/her during camp.  If you are interested in having a buddy for your child, please select that option during registration.  
5th Grade Mission Field Trip:  Rising 5th grade campers will have an offsite mission opportunity, which requires additional health and medical information (dates of immunizations, etc.).  An online form will be sent to 5th grade parents/guardians by email before VBS. Parents of 5th graders will drop off and pick up that day as usual. Past field trips have included Foster Closet, BEAM, and K9s for Warriors.
Volunteers - Come serve with us!  Adult and youth volunteers (rising 6th-12th graders) are needed to make this week super fun and meaningful for the kids!  All volunteers should plan to arrive at VBS no later than 8:30. Youth volunteer pick-up is at 12:30 each day. Youth, please plan to remain at VBS until 2:00 on Friday to help with breakdown (additional service hours available, lunch provided).
The nursery will have a fun mini-VBS week planned for children of volunteers who are too young to attend VBS (on volunteering days only).  Reservations are required for the nursery -- please note this step during volunteer registration if you need nursery care.
Deadlines:  Camper and youth volunteer registration will close on June 10th or when maximum capacity is reached.  
Next steps:  Registered campers will receive instructions by email the week before camp.  Adult and youth volunteers will be contacted by email in late May / early June regarding volunteer meetings and instructions. All volunteers will attend one of two volunteer training sessions, which will be offered on Wednesday, July 5th at 5:30 pm, and Friday, July 7th at 10:30 am (same information, two options to attend).  For those who are able to help decorate (youth and adults) the decorating session will be Friday, July 7th, from 11:30 - 2:30 (lunch provided).
Save the date!:  Please plan to join us for a special VBS celebration in the contemporary worship service at Christ Church on Sunday, July 16th at 11:15 am.  Campers and volunteers should wear their VBS t-shirts.  Family members, come as you are! 
FAQs
Who can I contact with any questions?  Catherine Montgomery, Director of Children's Formation and Family Ministries, cmontgomery@ccpvb.org.
Does my child need to be a member of Christ Episcopal Church?  No, all children are welcome!  
Are scholarships available?  Yes. No camper will be turned away due to an inability to pay. Please contact Catherine Montgomery at cmontgomery@ccpvb.org for details.  Scholarship requests are confidential.  
Can campers choose friends they'd like to be in the same group with?  Yes, during registration, camper parents can state the names of a few friends they'd like their child to be placed with, within the same age group and we'll do our best. Each age group will only have two or three small groups, so chances are pretty good that your camper will have a few familiar faces in their group.
Can volunteers choose the area in which they'd like to serve?  During registration, adult and youth volunteers can choose the areas they are most interested in.  Requests will be honored wherever possible.  Youth volunteers, please be sure to select at least two areas of service you are interested in.  If they are both full, you'll be placed in the area of greatest need.
Can youth volunteers request friends they'd like to work with?  In order to provide the best experience for our campers, volunteers may not request placement with friends. Volunteers have a great time at VBS, but the focus is on service to our campers.  If two friends request the same area of service, however, they may end up serving together. Youth will serve as camper group guides and rotation assistants.
I'd like to help out, but I can't volunteer all five days of VBS.  Is that okay?  Yes!  Please serve every day if you can, but if you can't, there are some roles where we'd still love help. Camper Group Guides must volunteer Monday through Friday.  Please enter your availability where indicated during registration.  
Can my service as a youth volunteer count towards needed service hours?  Check with your school counselor to make sure that service at a church is eligible. Public school districts and private schools may have different criteria for eligibility.  Proof of service hours will be emailed automatically to high school students after VBS, and to middle school students by request.
About the organizer
At Christ Episcopal Church, we believe that fostering the spiritual development of our children is just as important as fostering their physical and mental development. In everything we do, we seek to honor their unique experience of God, and give them the tools they need to explore the possibilities of faith in their own lives.  In the Episcopal Church, children are included as members and full participants in the Eucharistic community and in the church's common life of prayer, witness and service.