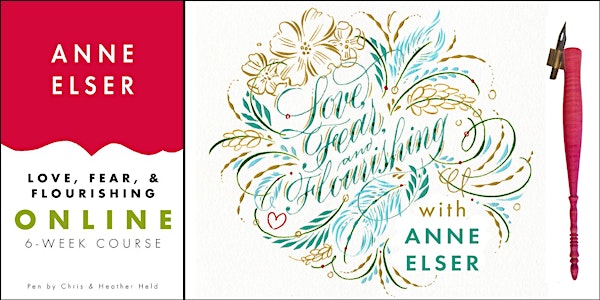 Love, Fear, & Flourishing Online SPRING '19 Mar-May WedPM
Description
Love, Fear, & Flourishing 6-Week Course w/ Anne Elser – ONLINE COURSE via Google Hangouts
6 Sessions (w one practice session)| Intermediate | $200 | Min 10 Max 24| Wed Evenings | 6-8:30PM EDT | Mar 13 - May 01
Class Schedule: We will meet Wednesday evenings from 6-8:30pm EDT. Our first meeting is a brief intro and dry-run test call on Wednesday Mar 13th from 6-7PM EDT. Course instruction officially begins the following Wednesday, Mar 20th from 6-8:30PM EDT.
This is a LIVE class, which is recorded for your enjoyment and review, then uploaded to a class folder on my Dropbox site each of our 7 weeks of class time together. If you ever have to miss a class, you can always check back later to watch what you missed and practice at your own pace, by downloading the file from Dropbox and watching from your home computer. I really enjoy the live format, and meeting so many people all over the world each week in my home. Live classes allow the student to interact with me and each other for specific feedback.
When registration closes, I will email a permanent weblink to you. This will be our virtual classroom for every time we meet. When the link and intro email is sent to you, click the link, which will open a web page in your web browser. And that's it! Google may ask you to download their software and if they do, just follow their prompts.
Please read technical notes way down at the bottom for details about participating in an online class via Google Chat/Meet.
Here's the class schedule:
Week 0 • Wednesday, Mar 13, 2019 ---> Google Hangout Dry Run Test Call (about an hour 6-7pm EDT
Week 1 • Wednesday, Mar 20, 2019 6-8:30pm EDT
Week 2 • Wednesday, Mar 27, 2019 6-8:30pm EDT
Week 3 • Wednesday, Apr 03, 2019 6-8:30pm EDT
Week 4 • Wednesday, Apr 17, 2019 6-8:30pm EDT
Week 5 • Wednesday, Apr 24, 2019 6-8:30pm EDT
Week 6 • Wednesday, May 01, 2019 6-8:30pm EDT
---
After you register and before the class begins, you will receive a welcome email containing:
• Link to our online classroom folder where you can find uploads each week and a PDF link to exemplar packet t download and print out for our first class.
• The Google Hangout Classroom link we will use every week.
After each live class, I'll upload either a full-length recording of my demonstrations during the class OR a 20-minute review of the pages we worked on (and snapshots of those pages) for you to later download at your conveneince. This makes it easier for students to keep up with the class if you cannot participate live.
Note: these videos will take a day or two to appear in the class notes folder, as they are very large and take a long time for them to fully upload onto my Dropbox account. Please allow for at least a day and a half after a class date before you go searching for any content of that class.
---
Calligraphic Flourishing Course Description:
The definition of flourish is to flower. We all flower in our language, thoughts, hopes and dreams, body movements, voices, and in our relationships with each other and the beautiful big world we share. But most importantly, we flourish all by ourselves - our bodies do this automatically - we were built this way. Look at the branching of blood vessels in our bodies, how our fingers splay open or fan out like flowers, the growth pattern of the hair on our heads, all the many muscles in our face that produce a genuine smile. That's flourishing.
You have permission to flourish. And THAT is the largest obstacle we all face.
Everyone can flourish, but it is a daunting task for so many of us to draw one on paper. This workshop is designed to create a sense of ease with the idea of flourishing. We will identify points of fear and anxiety in our approach to flourishing, that wobble our lines and tense up our bodies, and we will heal ourselves from these negative work habits that make any exploration, especially this one, an unpleasant task.
We'll train the eye and awakening the body (fingers, wrists, elbows, shoulders and breath) to align with each other. We'll begin with identifying the unique capabilities of our joints and how they best function in relation to the kinds of strokes we are drawing, from the wrist, elbow, shoulder, and fingers. We will begin to train our bodies to capably reproduce the elements of flourishes that make them work and that our eyes have learned to identify: Ovals, Perpendicular Intersections, Intersecting Ovals, Parallel Strokes, Shade and Hairline Relationships, Accents, Textures, and MORE.
We'll fall in love with the oval, so that are lines are never lost, always at home, and always pointing back towards home, at every angle and size imaginable. You cannot flourish without making ovals. And you won't want to make one, if it doesn't FEEL GOOD to make one. We'll make it feel good AND we'll train your eyes to identify opportunitities for oval placement.
Working in pencil, straight/oblique pointed pens, and everyday pens (everything from felt tip, roller ball, gel pens, fountain pens, etc.) we'll memorize standard flourishing movements and exercises that have been around a long time, and how to adjust and vary their proportions to suit our needs. We'll learn how to exaggerate ascenders and descenders, the crossing of t's, and the endings of words. We'll learn to curl these strokes around the graceful curve of an oval, so that our pens are never lost, our strokes finding their way back home, even through the most subtle of suggestions. We'll make flourishes that stand alone, work with each other, and that accent a word.
And best of all, we'll do this together. We'll undo and heal all the negative thoughts you have in your head about your capacity to flourish. This course is a giant oval-shaped hug for your hands, your body, your thoughts, and of course - your work.
---
About Anne
After earning a BFA in painting from the Cleveland Institute of Art and graduate studies in Graphic Design at The Portfolio Center, Anne Elser began her artistic career as a painter, bookbinder, designer, and calligrapher. With over 20 years teaching experience, her students often report how fulfilling the classroom experience is, prompting both personal and artistic transformations. Anne's classes are also FUN and full of laughter. Students find the sense of community she inspires enriching and entertaining.
She currently teaches private lessons from her home studio in Decatur, classes and workshops year round at Binder Art Supply in Buckhead and at their Ponce City Market location, as well as Thursday afternoon classes at The Spruill Center for the Arts, and classes and workshops at Aikido Decatur. She also travels in the states and abroad conducting workshops.
Her work has been featured in books and magazines across the country, and for both private and corporate clients such as Tiffany&Co, Mont Blanc, Louis Vuitton, Paces Papers, Landor, Martha Stewart Weddings, Belk, Saks Fifth Avenue, Bloomingdales, Clicquot Veauvé, World50, Ogilvy, and more.
Artist, calligrapher, teacher, mother, and friend, Anne believes making art creates a channel for truth and is a soulful reflection of the connections shared by all.
---
Supply List:
For all online courses:
Purchase a pair of earbuds or headphones to wear during class.
Binders Art Supply (bindersart.com) is the best local Atlanta spot to purchase supplies for this class and they will give you a student discount! Anything that you can't find there, can be purchased at John Neal Books (johnnealbooks.com) or Paper and Ink Arts (paperinkarts.com).
White Paper:
Transparent Marker Paper: Suggested brands below, but use whichever brands you're comfortable with.
• Bienfang Graphics 360 9''x12'' Marker Pad
or Borden & Riley 9''x12'' 100s Smooth Cotton Comp Pad
Colored Paper: Any smooth paper that works well with Dr. Martin's Bleedproof white. Suggested brands below.
• Strathmore Artagain pad. (Black paper.)
• Colored or Ivory Cover Paper: Any ink-friendly paper that won't bleed with the ink you are using. Cut to around 5 x 7.
• Canson cover weight papers
• Arches Hot Press Watercolor paper.
Paper for Folding Envelopes: Ink-friendly high-quality paper. Any of these below will do.
• Strathmore Calligraphy Pad (This is a lovely ivory laid sheet.)
• Southworth Résumé Paper in White or Ivory (24 or 32 lb.). Neenah Paper sells this 100% cotton sheet in boxes of 100 at any office supply store or on amazon.com.
Dark Ink: Any dark ink that shows up on white practice paper.
• Sumi, Higgens Eternal, Mcaffrey's, Walnut, etc.
• Colored inks of your choosing that won't bleed. (My favorites are gouache/water/gum arabic mixtures).
Optional Accenting Inks:
• Metallic Pan (cake) inks: Finetec metallics and other brands.
• PearlEx powder pigments mixed with water and gum arabic (try starting with equal parts of each.)
White Ink:
• Dr. Martin's Bleedproof White (water based that is thinned to your taste with water.)
Pens/Pencils:
• Pointed pen nib for lettering and flourishing and a pen holder. I prefer using an oblique pen holder, but you're more than welcome to use a straight holder if you prefer.
• Soft Dark Dull Pencil for sketching
• Hard fine pencil for rules
• Feel free to bring in embellishments like stickers and stamps!
• Any glitter pen or glue you'd like to use accent your lettering. I Love a Clear Star Gelly Roll pen by Sakura.
Misc.:
• Ruler
• Bone Folder (for envelopes)
• Postage stamps (for envelopes)
• Glitter Glue, gems, etc., for accents.
• Chocolate
• Dog Treats
• More Chocolate
---
Google Hangout Technical Notes:
For the Google Hangout to work, you'll need to be using a set of headphones during demo time to plug into your computer. During instruction, your microphones should be muted, but cameras on. This cuts down on background noise while I am demonstrating. However, when we begin introductions, and for class discussion after each exercise is completes, you should be unmuted so we can all have a lively disucssion! So please purchase a pair of earbuds if you don't already have a set.
Click here to read what Google has to say about participating in a Google Hangout. From my experience, here are some things you can do to improve your online experience and some trouble shooting if any technical issues come up.
• Quit all other open applications on your device that are actively using the internet.
• Ask other members of your household not to use the internet/wifi while you're streaming the class
• Make sure you're as close as you can get to your router (that box that has all the wires and gives you wifi). You can still have a good connection to your router of it's in a different room in your home, but large mirrors and other large devices can interfere with reception. Note that you may have great success even without taking these measures - this is just my practice here at home.
• If your connection isn't the greatest (poor image or no sound/video), hang up the call and return. Upon returning, if it hasn't improved, quit your browser and restart your computer. That ALWAYS helps.
• If your camera suddenly goes blank, use the camera icon at the top of your screen to toggle it off and on again.
---
FAQs
Are there ID or minimum age requirements to enter the event?
This is an adult class. Childrens classes coming soon!
What are my transportation/parking options for getting to and from the event?
This is an online class.
How can I contact the organizer with any questions?
Send Anne an email to: PenKitten@Anne Elser.com
What's the refund policy?
Refunds are not available at this time.
Do I have to bring my printed ticket to the event?
No.
Is my registration fee or ticket transferrable?
No.
Is it ok if the name on my ticket or registration doesn't match the person who attends?
Yes. If you purchased this class or workshop as a gift, please let me know the name of the person taking the class when you register.
If this is an online class and I can't be there live, how do I participate?
Every single class is live so that we can all interact with each other. I record EVERY class and upload this file immediately after class ends. File sizes range from 3-4 Gigabytes and are avialble to you for download. I record my classes so that students can still participate if they can't attend because of illness, time zone differences, or other issues. If in the event a recording malfunction occurs, I upload a brief review of the class, using the notes and pages I already created. I also upload images of my pages for you to view and keep for your personal use.
How do I participate in the envelope exchange at the end of the class?
You must be in the live class to participate int he weekly envelope exchange. You must also add your mailing address to the dropbox file we create during our first intro meeting. You can leave your mailing address as a comment. Please be sure to cover up a portion of the envelope addres if you'd like to share your work via social media.
How do I receive feedback on my homework?
You may upload your homework and share on social media but if you'd like me to see it, you need to TAG ME. (@anneelser) on Instagram or Anne-Davnes Elser on Facebook. This is a wonderful way to keep in touch with the progress of your classmates and with me! If you'd rather be more private, go ahead and email me your work and we can correspond that way.
How soon after a class ends, will I be able to download my own copy?
It generally takes 12-24 hours for a class recording to fully upload and be available to you for download.