LOVE is in the air! Join us on Valentine's Day, for a day to celebrate the sweetest and greatest gift to the World, LOVE!
About this event
B. MOORE DANCE presents in collaboration with Omar Ramos Photography, LOVE ETUDES. On Valentine's Day, and for one day only, this ephemeral work explores love, passion and happiness. The collaborative project captures still, digital images and displays emotion within motion through a series of vignettes, performed by the incredible and dynamic dancers of B. MOORE DANCE. In addition, join us for a special guest appearance from songstress, Aden-The Ambivert Sista!
Created and designed by Artistic Director, Bridget L. Moore, the vignettes will premiere at One Arts Plaza in the Dallas Arts District, and will be presented at 12:00 Noon, 1:00 PM, 7:00 PM and 8:00 PM.
Come and be a part of this special event designed for singles, couples and groups! You don't want to miss it!
General Admission: $20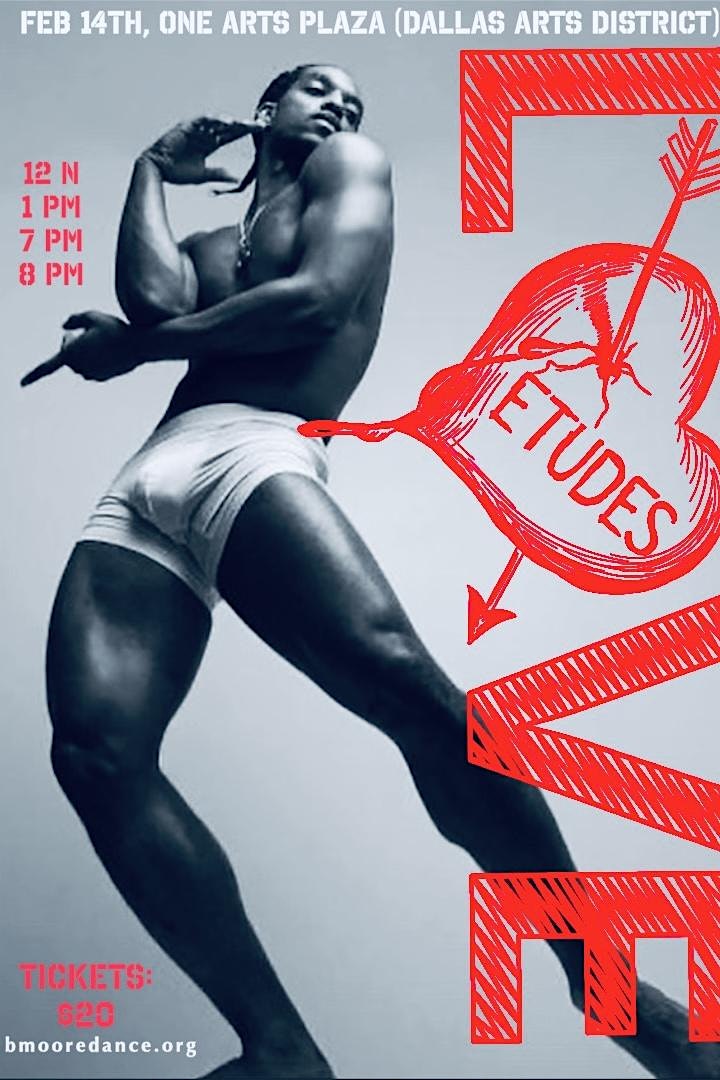 Organizer of LOVE ETUDES ( 4 Performance Times) 12 N, 1 PM, 7 PM, 8PM
B. MOORE DANCE founded in 2018, is a Dallas-based Contemporary Modern Dance Company. The diverse collective of performing artists are led by Artistic Director and Dallas native, Bridget L. Moore. The mission of B. MOORE DANCE is to empower and transcend generations through the art of dance by cultivating the arts through education, leadership and performances. The company aims to enrich creative spaces through innovative works, collaboration, education, and community projects. B. MOORE DANCE creates a nurturing environment for future artists and leaders through the collective sharing of ideas and perspectives.
Throughout her illustrious career, Moore received national and international accolades for her outstanding work. Her choreographic works are stylistically diverse, providing both cultural and kinesthetic experiences rooted in African-American and global dance aesthetics. Her choreography is technically challenging and, at times, period-specific integrating historical and cultural perspectives through research and development.
Moore has consistently contributed to the field of dance, receiving national and international recognition from her peers and critics. B. MOORE DANCE is the visionary plan that epitomizes Moore's commitment to the dance continuum. The organizational goals are to develop the artistic profile, expand worldwide visibility, and create new collaborations and community engagement projects, with groundbreaking performances.
Moore has received choreographic commissions from TACA, TITAS, Ailey II, Southern Methodist University, University of Texas at Dallas, University of Texas at Austin, Dayton Contemporary Dance Company, Urban Bush Women, Dallas Black Dance Theatre, Bruce Wood Dance/METdance and Red Clay Dance Company, to name a few. These are major achievements, in addition to her notable professional career as a dancer with New York-based, Ronald K. Brown Evidence: A Dance Company.
Moore's work has been presented at AT&T Performing Arts Center-Annette Strauss Square, New York's-Fall for Dance Festival, Jacob's Pillow "Inside/Out" series, Dee & Charles Wyly Theatre, Margot & Bill Winspear Opera House, Addison Theatre, The Joyce Theater and Ailey Citigroup Theater, among others.