Description
Come Enjoy Open Hearted Connections with Sacred Cacao Ceremony
*** USE the PROMOTIONAL CODE "LOVE" to get a discounted price of $20 for this event ***
Cacao is Nature's Elixir of Love!
Warm, lightly spiced, totally healthy sacred cacao is a great way to feel the warmth of love. Join us for the evening and allow your heart to open in more gratitude and love right before Thanksgiving at our Sacred Cacao Ceremony.
In this ceremony you will drink warm ceremonial cacao made from the most natural cacao beans available from Central America. You will connect with yourself and with old and new friends in a gentle intimate way. The cacao allows you to experience your own heart being melted open by the chocolate as you also exchange loving energy with other people.

Love Dojo's Cacao Ceremony will be held on Sunday afternoon, November 19th in Arlington at 3:00 PM. Please come 15 minutes early so that we can start on time.
This specially sourced Cacao, with its gentle but potent heart opening qualities, will allow you to easily experience a sense of connection and intimacy with others because your heart is so open and filled with joy.
Experience a deeper connection with your "Guiding Spirit".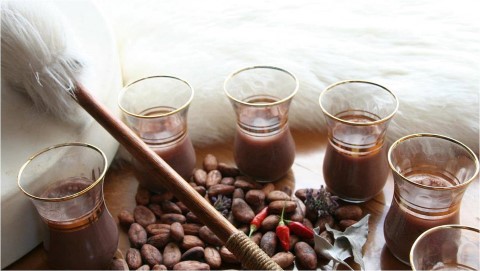 Cacao releases oxytocin, endorphins, and serotonin in a way that brings about a feeling of peacefulness and connection with others. For these ceremonies we use only the highest grade organic cacao obtained from the "chocolate Shaman" of Guatemala" -- that is specially prepared for this purpose. This is NOT the cacao that you buy in the grocery store!!
The ceremony begins with each person setting an intention, followed by the ritual of drinking the ceremonial cacao together. We will then have a group meditation to quiet our minds as the cacao opens our hearts. After which, you will experience just how open, soft, and intimate you can feel with others as you are led through a series of experiential exercises - breathwork, movement, chanting - that focus on enhancing the heart opening effects of the cacao. All held in a very safe container.

The Love Dojo was created by Penny Goldmuntz and Michael Trachtman as "the place to play and practice love".
We are a community of people who are healing our hearts and spirits and sharing the joy of being with others in a space of love.

For the next 6 months (until the end of April 2018), we want to invite you to really experience Sacred Cacao Ceremony and the effect it has on opening your heart.
The fair and standard price for a Sacred Cacao Ceremony is $40. For the next 6 months we are providing a promotional code ("LOVE") for everyone to reduce the price to $20.
It's our intention is to build a community of people to share this event on a regular basis. We will be hosting this event, hopefully once every month.
Sign up using the promotional code "LOVE" to get the $20 price. Join us.
Don't miss this sweet opportunity to experience the joy and heart opening delights of this magical plant medicine --- Cacao --- teacher of how to open your heart and be LOVE.