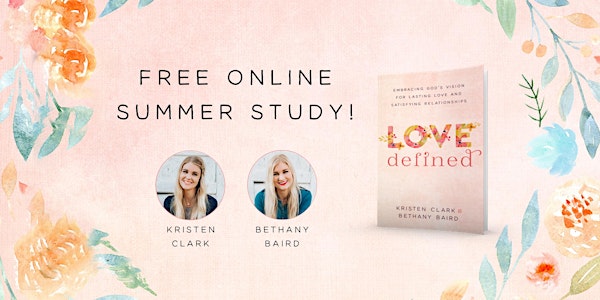 Love Defined Online Book Study {FREE}
Description
Girls and women of all ages are invited to join Kristen and Bethany for this 6-week LIVE online study as they teach from their brand new book, Love Defined: Embracing God's Vision for Lasting Love and Satisfying Relationship.
If you don't have a copy yet, you can grab one here.
This insightful and encouraging 6-week study will help single women of all ages discover a radically better approach to navigating their love lives.
Covering topics such as true love, romance, purposeful relationships, purity, boundaries, singleness, and glorifying God in every stage of our relationships, Love Defined will unpack God's original design for romance, showing modern women how to experience God's best for them in their relationships.
You don't want to miss this exclusive 6-week book study!
We hope you'll grab your girlfriends and sisters and join us on June 4th for week 1 as we discover together how to embrace God's vision for love and romance.


SCHEDULE:
Week 1 = Chapters 1-3
Why Romantic Relationships Are Complicated
June 4, 2018
Week 2 = Chapters 4-7
What is God's Design for True Love?
June 11, 2018
Week 3 = Chapters 8-9
Learning How to Thrive as a Single Girl
June 18, 2018
Week 4 = Chapters 10-13
How to Be "Just Friends" with Guys
June 25, 2018
Week 5 = Chapters 14-16
Building Your Relationship on the Right Foundation
July 2, 2018
Week 6 = Chapters 17-18
What it Takes to Build a Lasting Relationship
July 9, 2018
FAQs
How much does the event cost?
The event is 100% FREE with no hidden fees.
How do I access the live event?
Ticket holders will receive an access link (via email) each Monday before the event goes live.
What if I can't make it the day of the event?
You can re-watch the recording at any time through the link you receive in your email.