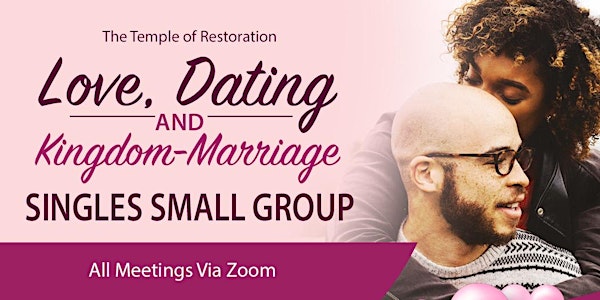 Love, Dating and Kingdom-Marriage Singles Small Group
A Small Group Focused on Helping Singles Tackle Topics Related to Love, Dating and the Search for a Kingdom-Marriage
About this event
Please join our Love, Dating and Kingdom-Marriage Singles Small Group meetings! The group focuses on helping singles tackle topics related to love, dating and the search for a kingdom-marriage.
We want this to be intentional, practical and filled with empowerment for you to make wise marital choices. So go ahead and register and then meet us on Zoom with your notebook, your bible and a smile!
All Meetings Via Zoom. Details to connect via Zoom will be emailed prior to the meeting start time.
Meeting Dates
Saturday, July 23, 2022, 6-7:30pm
• Friendship
Saturday, August 27, 2022, 6-7:30pm
• Intentional Friendship
Saturday September 24, 2022, 6-7:30pm
• Intentional Dating
Saturday, October 22, 2022, 6-7:30pm
• Engagement
Saturday, November 26, 2022, 6-7:30pm
• How Planning a Wedding Prepares You for Marriage
Info: www.restorationtime.com or 718-757-0954