About this Event
Council is an age-old cross cultural practice that brings people together for candid conversations and fosters community.
Each circle operates on four intentions and is based on a theme. The theme creates space for participants to share stories from their life (instead of opinions). Each circle is unique and is shaped not only by the theme, but greatly shaped by the participants.
Guided by a trained facilitator of the practice, a safe space is created for mindful, heart-based communication to unfold.
BENEFITS: builds relationships, trust, community, respect, empathy etc.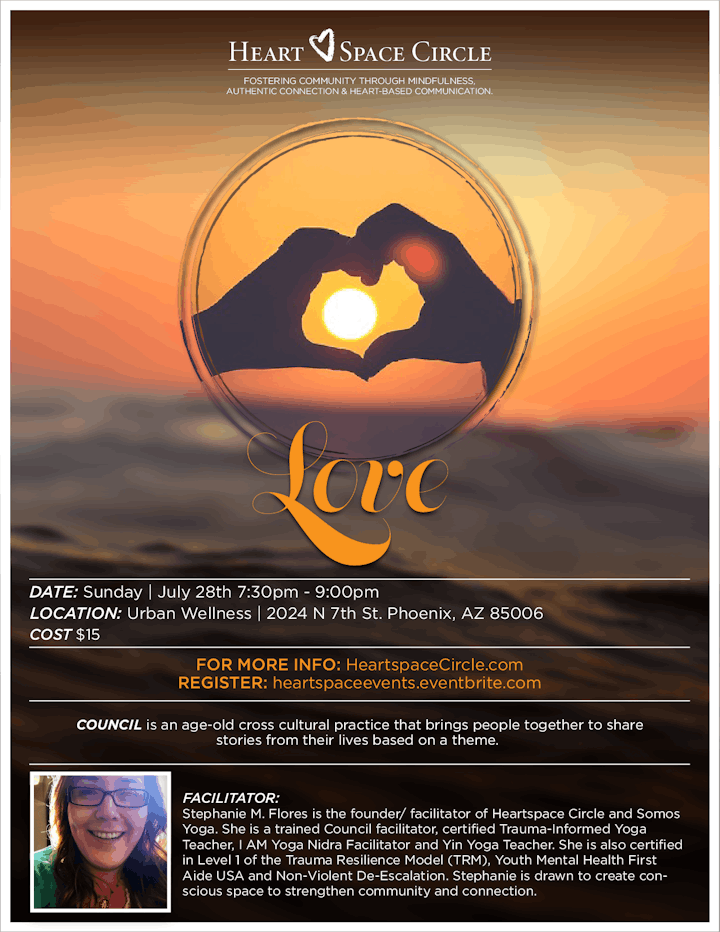 THEME: LOVE
We've all had moments when we have been surrounded by love and felt deep levels of love. We have also had moments when we have experienced the absence of love, been heartbroken and felt alone. Join us as we explore our stories about love or the absence of it.
PRICE: $15 (paid at the event) **Please register to reserve your seat.**
NOTE: To honor the circle and community, please make sure to arrive 10 minutes before the event starts.
*Please wear comfortable clothes
*Bring an open mind & heart
*Bring water (optional)
LOCATION: Urban Wellness is located on the west side of 7th Street and Monte Vista Rd. It's tucked behind a Coco's Restaurant.
PARKING is free and in front of the wellness center. The entrance to the parking lot is off of 7th street. Please do not park in the Coco's parking lot.
ABOUT THE FACILITATOR:
Stephanie Marie is trained as a Council Facilitator. She has participated in "Council" based circles in both high school and college. She has planned and facilitated youth writing workshops including youth leadership programs and leadership programs for college students throughout Los Angles, CA, Metro Phoenix and Austin, TX.
She is also certified Trauma-Informed 200hr Hatha Yoga Teacher, certified 100hr I AM Yoga Nidra teacher, certified in Yin Yoga, Trauma Resilience Model (TRM) and certified in Trauma Informed Primary Prevention (TIPP). She also trained in Non-Violent De-Escalation, is the founder of SOMOS YOGA - Community Yoga (for all body types) and is a mindfulness blogger.