Event Information
Refund policy
Refunds up to 1 day before event
Eventbrite's fee is nonrefundable.
Group Energy Sessions create a space to merge with your Divine Blueprint, opening the potential for deep healing and profound shifts
About this event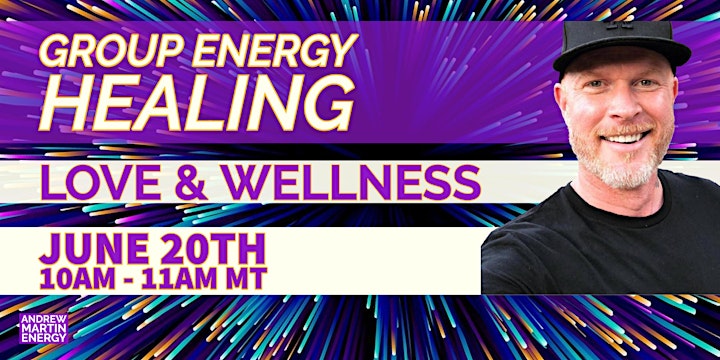 The Group Energy Healing happens Sunday, June 20th from 10AM - 11AM MT. Attendees may join on their computer or mobile device via the Zoom link.
This online gathering will offer a combination of: Energy Work, Meditation, and Channeled Messages for the group.
The theme for June's gathering is: "Love & Wellness"
As we continue to ascend and return to our divine unified state, the subject of wellness takes on deeper meaning.
To be in a state of wellness is to vibrate with the frequency of Love. Accessing and cultivating the frequency of Love opens our physical body to return to its innate state of wellness. The mind, body, emotions, and energy field naturally know how to achieve balance. When any living being is provided the ideal environment it returns to a state of well being and wellness on its own.
In this way, we can see that Love and Wellness are intertwined states of being. They enhance, magnify and support one another.
This month's Group Energy Healing focuses on activating the energies of Love and Wellness and bringing them into a balanced state within the physical body.
The Group Energy Healing opens a space for you to merge with your Ascended Self and reconnect with your Divine Blueprint. It is this pristine, uncorrupted blueprint that provides a template for this work. Gathering together, with shared intent, magnifies the energies for the whole group.
This event happens Sunday, June 20th at 10AM MT. An MP3 recording of the session will be provided to all registrants after each call so they can review the information and re-immerse themselves in the energy work if they desire. When you register, you'll receive an MP3 recording of the call even if you can't attend live.
Date and time
Location
Refund policy
Refunds up to 1 day before event
Eventbrite's fee is nonrefundable.
Organizer of Love and Wellness - Group Energy Healing
Andrew Martin is a highly attuned Energy Intuitive and Spiritual Guide. A series of transcendent and clairaudient experiences beginning in 1995 and climaxing in 2012, left him suddenly awakened and on an accelerated path of expansion and evolution.
His ability to take high level, often abstract spiritual knowledge and make it practical and accessible is bringing revolutionary insight to the world. 
His entertaining, compassionate, and down to earth approach assists people in unlocking powerful, lasting, change. His work is the catalyst for life altering shifts and transformation.