About this Event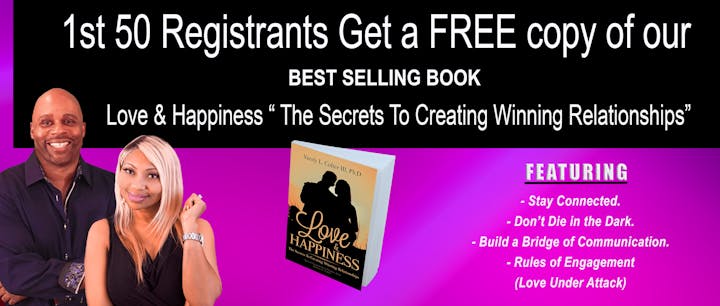 Get ready for Valentine's Day with relationship experts Bishop Vandy (Ph.D.) & Dr. Barbara Colter. A relationship summit with real relationship talk on sex, intimacy, communication and more! If you love LOVE, then don't miss this! It's for "everyone who loves LOVE" (Couples, Singles, Married).
1st 50 people who REGISTER NOW receive a FREE copy of the best selling book "Love and Happiness - The Secrets To Creating Winning Relationships"
Early Bird Registration $15 per person ($25.00 per person after Jan. 20)
The Colters keep it real and "Keep It Kingdom" ® at the same time. Come have fun, laugh, learn and love. (Ages mid 20's - 60's and up)
CREATE your happily ever after!
THE COLTERS:
Counselors, Coaches and Mentors for over 20 years
Creators of the amazing online relationship course titled: FINDING EACH OTHER'S FREQUENCY"
Authors of "Finding Each Other's Frequency - The Secrets To Creating Winning Relationships
TV Show Hosts: LoveandHappiness.TV seen every Sat. 11pm on GoodLife TV45 (Central FL)
THE SUMMIT:
LOVE AND HAPPINESS LIVE IN ORLANDO.
Sat. Feb. 9 10 AM - 2 PM.
Topics on Intimacy & Communication, Panel discussion, Q&A's. Live taping for our Love and Happiness.TV show on Good Life TV45, Special guests, Giveaways and Prizes and more! Dress casual. Come ready to have fun, learn and love. Download the Eventbrite app to show your tickets or print them out. ID may be required.
FINDING EACH OTHER'S FREQUENCY SESSIONS:
Intimacy (The Silent Killer of Relationships)
Communication (Find Each Other's Frequency)
Q & A's
Group Panel of Notable Relationship Experts (Love, Sex, Marriage and "How to make it last forever")
Our powerful sessions will add sparks to your love-life & heat up your relationship! What you will learn will improve intimacy, communication & every way that you interact with who you love.
SPONSORED BY:
THE HOPE CHURCH OLANDO (Arch Bishop Allen TD Wiggins, Sr. Pastor)
HEARTS OF HOPE COUPLES MINISTRY (Pastor Bruce Allen, Min. Renita Allen- Directors)
HOLIDAY INN SW ORLANDO (Sold Out- No Rooms Left) 5711 W. Irlo Brunson Memorial Highway Kissimmee FL 34746
LOVEANDHAPPINESS.TV
COMING FROM OUT OF TOWN? In Mid-jan we are adding more hotels that will provide discounts to those attending our summit. Get out of the cold, and heat up your relationship and enjoy sunny Orlando at the same time.
LIKE INFO ON HOW TO BE A SPONSOR? Email Us: sponsor@loveandhappiness.tv
MARRIED, COUPLES & SINGLES MINISTRIES GROUP DISCOUNTS AVAILABLE UNTIL JAN 20, 2019 Email requests (prior to purchase to: contactus@loveandhappiness.TV)
Q. What's the attire?
A. Casual
Q. Is childcare provided?
A. Not at this time/No Children please.
Q. Are tickets transferable?
A. No.