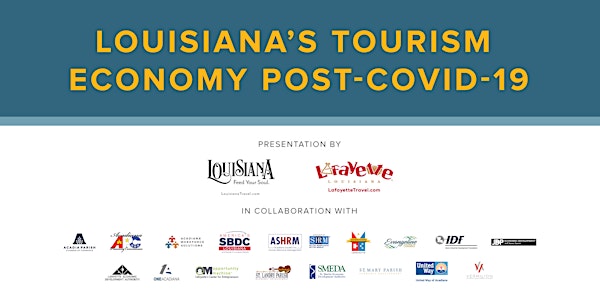 Louisiana's Tourism Economy Post-COVID-19
Acadiana business resource partners are hosting a series of webinars on timely and relevant topics in response to COVID-19.
About this event
Join us for a presentation on COVID-19 impacts to Louisiana's tourism economy and how tourism and hospitality leaders are thinking about the future.
Date / Time:
Tuesday, April 21, 2020
9:00 - 10:00 a.m. CDT
Presenters:
Lt. Gov. Billy Nungesser
Ben Berthelot, Lafayette Convention & Visitors Commission
Randy Daniel, La Pizzeria Lafayette
Jimmy Thackston, DoubleTree by Hilton Hotel Lafayette
With Louisiana's stay-at-home order limiting the ability to travel, and many festivals and other events being affected for the remainder of the year, the state's tourism economy is taking a big hit from COVID-19. How are the restaurants and hotels that depend on tourism handling these impacts? What are the biggest challenges our tourism officials see for the future of the industry, and what are the opportunities?
Notes:
Due to system limitations, the live webinar will be limited to 300 participants, but it will be recorded and widely shared by partner organizations afterwards
We will allow for Q&A but might not have time to take all questions. All questions will be recorded, however, and we will work to provide timely responses
If we reach the registration limit before you are able to register, you can access the video shortly after the webinar ends at: oneacadiana.org/covid-19-resources