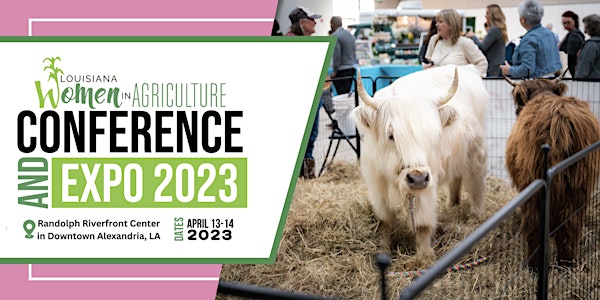 Louisiana Women in Agriculture Conference & Expo 2023
Join us this April for an inspirational and educational event open to all women in agriculture in Louisiana.
By Louisiana Women in Agriculture
Location
Randolph Riverfront Center 707 2nd Street Alexandria, LA 71301
About this event
1 day 8 hours

Mobile eTicket
We are PROUD of our amazing farmers, and want to invite you to join in for a conference full of fun, networking and empowering speakers!
It is our goal to provide SUPPORT, EMPOWERMENT and EDUCATION to our amazing Women in Agriculture who are Growing Louisiana's Future!
If you have attended the conference before, you will not want to miss the exciting new additions to this year's conference.
THURSDAY, APRIL 13 | TOURS + MEMBER MEETING + EVENING RECEPTION
Board Tour Buses (~ 7 or 8AM)
Members-Only Meeting (~ 5PM)
Evening Reception (~ 7PM) | DJ: Pat Arcement with Karaoke & Kookin'
FRIDAY, APRIL 14 | CONFERENCE AND EXPO
7:30AM Registration & Expo
8:30AM Conference kicks off
9:30AM Keynote presentation + breakout sessions
12:15PM Lunch [see menu below]
1:15PM Lieutenant Governor of Louisiana, Billy Nungesser + Commissioner of the Louisiana Department of Agriculture and Forestry, Mike Strain
2:00PM Afternoon keynote presentation + breakout sessions
4:30PM Conference concludes
LUNCH ON FRIDAY WILL BE CATERED BY RNL Authentics LLC
CHEF: Niematulai Digrazia
Jerk Chicken Mac & Cheese
Baked Chicken served with Caribbean rice & peas and cabbage
Beef Teriyaki served with Caribbean rice & peas and cabbage
Louisiana Land Bank is Louisiana's leading rural real estate and agribusiness lender, offering loans for rural land, farms, recreational property, country homes, agribusiness firms, and forestry and timber operations. Established over 100 years ago, Louisiana Land Bank is a locally owned and operated financing cooperative that is part of the multibillion-dollar nationwide Farm Credit System and the Tenth Farm Credit District. They are headquartered in Monroe and operate nine branch offices throughout the state.
Karen Eddington is a 20-year identity researcher and is the author of Understanding Self-Worth, who learned proven methods to combat stress by listening to people like you. As an advocate for those who work in agriculture, she teaches skills from her work in The Under Pressure Project to help us pass through a breaking point. When not speaking or researching she can be seen driving carpool in her farm town, usually caught behind the tractor.
TOPIC: Strong Under Pressure
We are strong. We can do hard things. We also need time to repair and connect. When it gets difficult to power through, you can learn different ways to recover when we feel tired. Find out one of the top solutions based on Karen's research to navigate pressure. Come re-charge in this community-based session aimed to cheer you on.
A North West Louisiana native, Alicia DuCote is a woman of faith, a former college professor, and community advocate. Her mission is to unite conventional and organic farmers to feed and educate communities on the importance of overall wellness.
Growing up on a cattle and horse ranch in NW LA, Alicia was consumed with becoming the next world champion barrel racer until she fell madly in love with a local guy and conventional farmer. After starting a family and selling out of both land and animals, they started a new adventure.
As a science enthusiast Alicia earned a Masters degree in Exercise Science while living in Franklin, Tn. As a wellness director she studied and worked with numerous scientist, nutritionist, and doctors during a partnership between her local YMCA and the Sarah Cannon Cancer Institute. This opened her eyes to the link between food and wellness.
Upon returning home to Louisiana in 2018 Alicia and her husband of 28 years, Lee, decided to come full circle and start a small produce farm on their 8 acre homestead in N. Bossier Parish. They grow heirloom produce using sustainable practices. They have raised chickens and recently added Gloucester Old Spot pigs and a rescue pony named Cricket. Alicia has also produced a 4 part documentary series airing Spring 2023 "Chasing Clean Food" which will air on several streaming platforms.
TOPIC: Influencer to Educator - Educating your community to buy Local
How to educate your community to buy from local farms and encourage those who are influencers to become educators.
Billy Nungesser is the 54th Lieutenant Governor of the state of Louisiana. He was elected in 2015 and took office in January of 2016. From July 2019 to July 2020, Nungesser served as Chairman of the National Lieutenant Governors Association, a professional association which charts issues and work to be pursued by the second-highest ranking officials in all 50 states and U.S. territories.
Today Billy is second-in-command in the executive branch and Louisiana's ambassador as Commissioner of the Department of Culture, Recreation and Tourism. From natural disasters to promoting our great state...Billy Nungesser is a man for all of Louisiana.
Dr. Mike Strain, elected to serve as Commissioner of the Louisiana Department of Agriculture and Forestry in 2007, was sworn into office in January 2008. He was reelected in 2011.
For Louisiana to maintain a leading position, we must surpass existing standards of agricultural and forestry achievement and seek additional opportunities for growth and prosperity. Louisiana's agricultural industries and its forestry, soil and water resources are critical to the advancement of our state and play a central role in our diverse cultural heritage. As your Commissioner of Agriculture and Forestry, I am committed to working with the farmer and forester, producer and processor and all others to ensure our food is safe, our fiber production among the best and our animals strong and healthy. Thank you for the honor and privilege of serving you. - Mike Strain DVM
In agriculture there are highs and there are lows. What do you do if you are in a low place, and it stays low a little too long? Karen will teach you seven skills to ride the wave. Learn what you can do to pass through a breaking point. This session includes help for when stress turns to burn out, when decision fatigue is pressing, and understanding strain when you don't have the luxury of repair time. Learn take home skills to help you have more peace and confidence.
For more about Karen, see her bio in the "main speakers" section.
Spillers was reared on a small farm in Ouachita Parish. They produced cattle, timber and vegetables. He has a degree in Agricultural Economics from LSU, a Master's from Purdue University, a Law Degree from Indiana University, and a Master's in Tax Law from SMU in Dallas, Texas. For the last (40+) years he has been a practicing attorney with the law firm of Theus, Grisham, Davis & Leigh in Monroe, Louisiana. His practice is concentrated in the areas of Tax and Estate Planning. He has spoken to many landowner groups on business, tax, and estate planning matters.
He's also a land owner, owning land in both Mississippi and Louisiana. He's actively involved in the management of his land.
Stephanie was raised in the rural northern portion of East Baton Rouge Parish and exposed to many aspects of the agriculture, from animal husbandry to soil health benefits, from a very young age, but it wasn't until 2011, that she ever thought she'd have a career in Agriculture.
Stephanie has a Bachelor of Science in Animal Science, and a Master of Science in Sustainable Agriculture and Food Environment from Sam Houston State University; Eat 'Em Up Kats! In 2011, while pursuing her undergraduate degree, she was awarded an internship opportunity with the USDA-NRCS. After that summer, she quickly decided on a new career path, and the rest is history.
Stephanie has been with the NRCS, in varying states and positions, for the last 11 years, which has given her many opportunities to see firsthand all the fulfilling and beneficial conservation work being implemented through our Farm Bill Programs. She is currently serving as the Acting Supervisory District Conservationist for LARU 10, covering East and West Feliciana, St. Helena, Tangipahoa, St. Tammany, and Washington Parishes, and collaterally serves as the State Chairperson on the Louisiana Civil Rights Committee. The two things Stephanie loves the most about her job at the NRCS, is being able to work one-on-one with producers daily to make a difference on their operation, and the networking/outreach opportunities there are, to bring the education and information of NRCS to new producers and individuals.
➡️ Wondering how you can take advantage of the resources USDA/NRCS (Natural Resources Conservation Service) offers? This is the breakout session for you! We'll discuss what resources USDA/NRCS can offer farmers.
Grace Leak is an entrepreneur, a shepherdess, and small acreage farming enthusiast. Grace started farming in 2020 with an extensive background in business management and marketing. She is branding and diversifying to generate a full time income off of what she calls her "micro-ranch". Dorper sheep are her primary enterprise and she has used Youtube to chronicle her farm journey from the beginning. It is her passion to encourage newcomers into farming under the premise that you have nothing to lose if you choose to start small!
Our family moved to Washington, Louisiana in the fall of 2016. The next year was dedicated to cleaning the property (that would later become Cockeyed Farms), a complete renovation of a small farmhouse and a total diet overhaul and supplement purge. Brandon systematically demolished, artfully designed and rebuilt the house while I researched holistic remedies, began cooking only whole foods and instituted a new way of life dedicated to healthy living by purging prescription medications and processed foods. ​Through extensive research of holistic living, Brandon discovered the healing benefits of American Elderberry, and incorporated it into our family's supplement regimen. His research unveiled that the overwhelming majority of elderberry products are made with dehydrated berries that are imported from Europe. While all elderberry is good, he found that American Elderberry is best, and embarked on a journey that has taken him all over the United States; allowing apprenticeship opportunities at farms learning firsthand about this incredible super fruit.
In the spring of 2018, Cockeyed Farms became the first commercial American Elderberry Farm in the state of Louisiana. Utilizing sustainable growing practices, we are working toward an organic certification and are excited to offer hand crafted, small batch American Elderberry products that feature only the best ingredients. ​​ 2019 brought HUGE changes for our family and we moved Cockeyed Farms to Folsom, Louisiana. The property we purchased has an established blueberry orchard on it and we are proud to present premium American elderberry, blueberry and unique honey infusions from our family farm to your table. We host friends and family by appointment to pick our delicious blueberries and have thoroughly enjoyed welcoming hundreds of guests in our short tenure on the Northshore. Stay tuned, folks! We are just getting started!
In 2003, Grant started Laughing Buddha Nursery out of a simple desire to be his own boss and run a retail shop that met a community need: the then fledgling but growing demand for organic gardening supplies. In 2010, Kate came into the picture when she met Grant at Laughing Buddha (buying red wigglers for her apartment compost bin!). Essentially, one thing led to another and a farm was born! It wasn't long after that that Kate's timeline for quitting her job and joining the farm business kept progressively advancing and advancing until one day Grant told her to just give notice and take the leap.
Today, Grant manages the day to day activities on the farm, including care of all livestock and/or overseeing our farm hand's daily livestock care, as well as the compost and vermicompost operations and continued infrastructure projects. He is a nature nerd and can identify most plants, birds, snakes, turtles and other wildlife encountered on the farm land off the top of his head. Kate manages the shop and its employees, including ordering from all other farm vendors each week, and handling all customer communication both retail and wholesale. On the farm, she gets most involved during piglet farrowing and goat kidding seasons, takes care of bottle babies and has a freakish memory for the animals' lineage and history. She loves to cook and is happy to spout off recipe ideas for nearly any product offered!
Growing up in Sierra Leone, West Africa, Chef Niematulai DiGrazia developed a passion for food while carefully watching her mother, Fatmata Bah, seamlessly create fresh and healthy family meals with limited electricity. This transformed Niema's idea of what food could be, more than sustenance, it was a vehicle for love and community. Some years later, Niema moved to the United States and now has been a proud citizen for nearly a decade. Not one to sit around for long she got to work creating her business RNL Authentics which focuses on bringing the beauty and diversity of West Africa to the world through fashion and food. Though becoming a chef was not the original intent, it naturally fit into her business model. She would host clients in her home for fittings and during that process would water and feed them the food of her homeland. This led to an influx of clients urging her to take her culinary exploits public and through a series of incredible experiences she found massive success.
In 2019, she was recognized by the Prize Foundation as one of North Louisiana's best chefs and competed as a finalist in the Battle for the Golden Fork, a judged culinary competition pitting the best chefs against one another in a live cooking challenge. Already well known, her participation in the competition solidified Niema as a household name. This led to the opening of RNL's Cookery Corner, a West African, Afro-Fusion food truck in 2020. Over the last few years Niema has worked across the United States cooking for big names, Mardi Gras krewes, developing her "Taste of Culture" dining experiences and providing private chef services. When not in the kitchen herself, Niema enjoys collaborating with and learning from other culinary professionals, as well as, imparting her over 20 years of experience to eager cooks looking to break into the restaurant business.
Mahaffey Farms in Haughton, LA 🐖🐓🐄
Get ready to immerse yourself in the world of regenerative agriculture at Mahaffey Farms in Haughton, Louisiana! Join us on a tour of this thriving farm where chickens, pigs, and cattle roam on lush green pastures. Learn about the farm's mission to provide healthy, delicious food for their community while regenerating the land through sustainable methods. Witness the harmony between nature and agriculture as you see the animals being raised with high welfare standards. After the tour, sit back and enjoy a picnic-style lunch on the farm's picturesque land. Don't miss this unique opportunity to learn about sustainable farming and taste its delicious results.
Visit www.cultivate318.com to learn more about Mahaffey Farms.
The tour is on a working farm therefore walking will be required.
⛔️ This tour is SOLD OUT ⛔️
Tours are first-come-first-serve and all spots have already been filled for this tour.
D&G Frey Crawfish in Iota, LA 🦞
Join us on a journey to the heart of Louisiana's rich agriculture heritage, where crawfish, rice, and alligator farming reign supreme! Meet Dana and Gerard Frey, who have been running their family-owned farm, D&G Crawfish, for 40 years with a focus on exceptional customer service. Explore their crawfish and alligator processing facility and see the secret behind their high-quality seafood. And what better way to cap off the tour than a delicious lunch by the crawfish and rice ponds? Get a taste of the unique blend of tradition and innovation at D&G Crawfish.
Learn more at www.freylouisianacrawfish.com
The tour is on a working farm therefore walking will be required.
⛔️ This tour is SOLD OUT ⛔️
Tours are first-come-first-serve and all spots have already been filled for this tour.
Landry Vineyards in West Monroe, LA 🍷🍇
Savor the essence of the vine at Landry Vineyards in West Monroe! Embark on a tour of the blooming vines and indulge in a tasting of their delectable wines. Led by the knowledgeable and passionate owners, Mrs. Libby and Mr. Jeff Landry, this tour is a one-of-a-kind experience. Immerse yourself in the beauty of the vineyard and learn the secrets behind their delicious wines. And to top it off, enjoy a scrumptious catered lunch on the property. This is an opportunity not to be missed!
Visit landryvineyards.com to learn more.
The tour is on a working farm therefore walking will be required.
⛔️ This tour is SOLD OUT ⛔️
Tours are first-come-first-serve and all spots have already been filled for this tour.
𝗛𝗼𝗹𝗶𝗱𝗮𝘆 𝗜𝗻𝗻 𝗔𝗹𝗲𝘅𝗮𝗻𝗱𝗿𝗶𝗮 - 𝗗𝗼𝘄𝗻𝘁𝗼𝘄𝗻:
To book your room call (318) 541-8333 and mention Louisiana Women in Agriculture or use group code: 𝐿𝑊𝐴
They're honoring a discounted rate of $109/night.
*There are a couple of suite rooms that are $119 or $129.
Who can attend?
Though the content is geared towards women, both men and women are welcome!
Where will the conference/reception take place?
The main conference and the evening reception will take place at the Randolph Riverfront Center
Where do you recommend for dinner on Wednesday evening?
There are several options within walking distance of the conference that offer dinner:
Where do you recommend for breakfast and/or coffee?
Within walking distance of the conference:
Tamp & Grind Coffee [Located one block from either hotel] - they're a coffee shop but they also serve house-made avocado toast, egg frittatas, waffles and more.
What should I wear on the tour?
Remember you're going to a working farm! It's important to wear closed toe, comfortable shoes. Comfortable attire.