Louisiana SARE Farm Tour

Sunday, May 17, 2015 from 12:00 PM to 5:00 PM (CDT)
Event Details
The Louisiana Sustainable Agriculture Research and Education (SARE) Program is hosting the Sustainable Agriculture Farm Tour to serve as an outreach activity for local sustainable farmers to meet citizens of the area. This will be a 1 day tour starting in the morning and ending in the early evening with participants driving themselves with a map provided that gives details of each of the f farms participating. 
Luckett Farm

Louisiana Pride

Yardbird Farm

McKowen Farm
** NO stop 4 any longer just go straight to McKowen Farm from Yardbird Farm!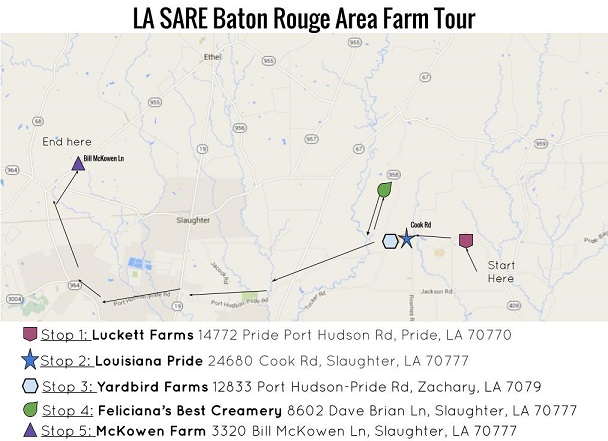 ** Transportation is not provided for this tour. You must provide your own transportation. 
At the end of the tour a picnic sponsored by McKowen Farms and Slow Food Baton Rouge will take place at McKowen Farms to celebrate local farms.  This picnic will feature food from the farms visited during the tour! Picnicers are encouraged to bring their own libations, side dish items, a blanket and a donation of $5. 
The Louisiana Sustainable Agriculture Research and Education (SARE) is a professional development program sponsored by Louisiana State University AgCenter (LSUAC) and the Southern University Agricultural Research and Extension Center (SUAREC). We work together to implement programs that enhance the capabilities of Louisiana's ag professionals in the area of sustainable agriculture. Louisiana SARE partners with researchers, extension faculty, producers, and community organizations to research and implement the best science-based practices available in all aspects of Louisiana's agricultural system. In addition to research, SARE is dedicated to providing education in sustainable agriculture through various trainings offered each year. Educational initiatives include workshops and long-distance education training sessions, field trips, resource manuals and informational bulletins.
For more information or if you would like to volunteer please contact Ann Savage asavage@agcenter.lsu.edu or Anna Claire Ferchaud aferch3@tigers.lsu.edu.