Event Information
Refund Policy
Contact the organizer to request a refund.
Eventbrite's fee is nonrefundable.
Louis Chude-Sokei discusses his new memoir, in conversation with Tochi Onyebuchi and Brookline Booksmith.
About this Event
How to Register
Register on this page to receive a Zoom link
Register free, pay what you like, or buy the book to enter the event
If you don't receive a confirmation email after registering, contact us right away
Submit Questions
Questions for this event will be collected at registration--be sure to submit your question when you register for it to be considered!
Signed Books
Books ordered from this page will be signed & personalized!
Books are held for pickup or shipped after ticket sales have closed.
STORE PICKUP- Pick up your book in person at Brookline Booksmith (Click here for directions). You will receive an email alert when your book is ready.
SHIPPING - Have your book shipped via USPS priority mail. Shipping is only available in the United States.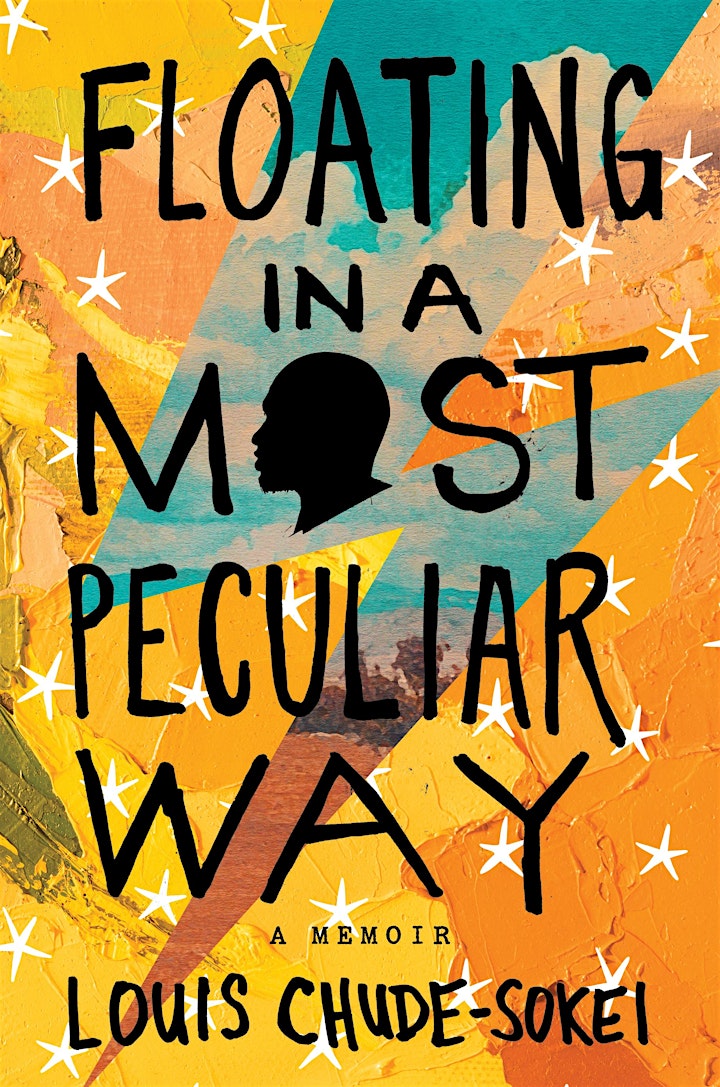 Floating in a Most Peculiar Way
The astonishing journey of a bright, utterly displaced boy, from the short-lived African nation of Biafra, to Jamaica, to the harshest streets of Los Angeles—a searing memoir that adds fascinating depth to the coming-to-America story.
The first time Chude-Sokei realizes that he is "first son of the first son" of a renowned leader of the bygone nation of Biafra is in Uncle Daddy and Big Auntie's strict religious household in Jamaica, where he lives with other abandoned children. A visiting African has just fallen to his knees to shake him by the shoulders: "Is this the boy? Is this him?"
Chude-Sokei's immersion in the politics of race and belonging across the landscape of the African diaspora takes a turn when his traumatized mother, who has her own extraordinary history as the onetime "Jackie O of Biafra," finally sends for him to come live with her. In Inglewood, Los Angeles, on the eve of gangsta rap and the LA riots, it's as if he's fallen to Earth. In this world, anything alien—definitely Chude-Sokei's secret obsession with science fiction and David Bowie—is a danger, and his yearning to become a Black American gets deeply, sometimes absurdly, complicated. Ultimately, it is a boisterous pan-African family of honorary aunts, uncles, and cousins that becomes his secret society, teaching him the redemptive skill of navigating not just Blackness, but Blacknesses, in his America.
Louis Chude-Sokei's writing and award-winning scholarship on the literatures and cultures of the African diaspora appears widely in national and international venues. He is editor in chief of the Black Scholar, the premier journal of Black studies and research, and director of the African American Studies program at Boston University.
Moderator Tochi Onyebuchi is the author of the young adult novels Beasts Made of Night, Crown of Thunder, and War Girls. He holds a B.A. from Yale, a M.F.A. in screenwriting from the Tisch School of the Arts, a Master's degree in droit économique from Sciences Po, and a J.D. from Columbia Law School. His fiction and non-fiction have appeared in many outlets. Riot Baby is his adult fiction debut.
About Brookline Booksmith
Brookline Booksmith, est. 1961, is a family owned bookstore located in the heart of Brookline, Massachusetts. Through our thoughtful curation, eager and voracious booksellers, and award-winning events series, we strive to be a haven for those who find comfort, enrichment, and joy in books.
Our general event series is all about one thing: bringing people and the stories they value closer together. The series covers an eclectic blend of genres and topics for all ages, serving as a platform for seasoned authors, promising debuts, local launches, large scale national events, and all the places where they intersect. Find more at brooklinebooksmith.com!
Date and Time
Location
Refund Policy
Contact the organizer to request a refund.
Eventbrite's fee is nonrefundable.