LOTUS LIVE: Earn the GUINNESS WORLD RECORDS™ Title for Largest human flower
Sales Have Ended
Registrations are closed
Thank you for registering! We'll be in touch with more details as we get closer to the event date. We appreciate your support!
Sales Have Ended
Registrations are closed
Thank you for registering! We'll be in touch with more details as we get closer to the event date. We appreciate your support!
Description
The Asian Art Museum's LOTUS LIVE is an effort to earn the GUINNESS WORLD RECORDS™ title for the Largest human flower.

Part human be-in, part artwork, part celebration of the museum's Flower Power exhibition and the 50th anniversary of San Francisco's Summer of Love and ALL FUN!
Be part of history and join us to form a beautiful lotus that can be seen from the sky. We need at least 3,000 community members who want to create something larger than themselves to break the record. The current GUINNESS WORLD RECORDS title for the Largest human flower featured 2,297 people at the Rochester Lilac Festival on May 9, 2014.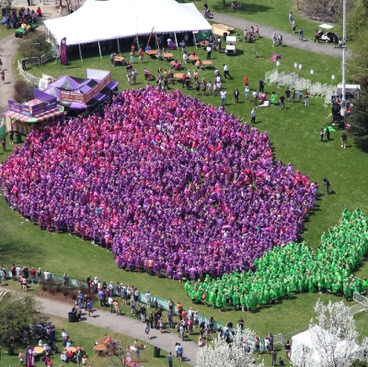 (photo credit: Burke Communications & Advertising)
All participants will receive FREE admission to the museum's Flower Power exhibition, a souvenir event poster, a chance to win raffle prizes, and a commemorative downloadable photo of the attempt.
Rising from muddy waters, the lotus is recognized as a symbol of transcendence and beauty untainted by hardship. LOTUS LIVE invites all to stand united and rise above challenging times, to express our cherished San Francisco values of diversity and inclusivity through peaceful action.
By linking thousands of strangers to form a flower that epitomizes serenity, incorruptibility and non-violence in the face of adversity, LOTUS LIVE connects us with the living legacy of the Summer of Love and the uplifting power of community togetherness and compassion for all. The lotus is one of the six flowers featured in Flower Power, a special exhibition on view at the Asian Art Museum from June 23 through October 1, 2017.
Community Youth Center of San Francisco is partnering with the Asian Art Museum on Lotus Live by providing 200 volunteers to help with the logistics. Founded in 1970, CYC annually serves over 5,000 youth and their families citywide. Through its main office, and branch offices in the Richmond and Bayview districts, CYC serves a diverse population of high need youth from ages 5-25, and their families, with programs and services under behavioral health, community and school-based outreach, education, intervention, leadership development, and workforce development.
Don't miss a moment: @AsianArtMuseum #FlowerPowerNow #LotusLive
Read on for a detailed FAQ.
What time should I arrive?
Please arrive no later than 12:30 p.m. on Saturday, July 15. You're welcome to arrive as early as 12:00 p.m. for check-in. The assembly of the lotus flower is scheduled to begin at 1:00 p.m.
Where should I arrive?
Check-in desks will be located in the middle of Civic Center Plaza across the street from the Asian Art Museum (200 Larkin Street, San Francisco, 94102).
What should I wear?
First and foremost, be comfortable! The event is outside and San Francisco weather can be unpredictable in July. The city is predicting low to mid 70's. We suggest:
Comfortable shoes. You'll be on your feet and we want them to be happy.

Layers. The wind may pick up or the fog can roll in, so be prepared with a jacket or long-sleeved shirt, just in case.
What do I do when I arrive?
Head to one of the check-in tables. There you will be given a lightweight colored plastic poncho and an event information sheet. Volunteers will direct you to the lotus-formation staging area. Once attendees are gathered in the staging area, you will be directed to put on your poncho and proceed through turnstiles which records an official count of participants.
Why do I need to wear a poncho?
GUINNESS WORLD RECORDS™ guidelines require all participants must wear a color of clothing that corresponds with their part of the flower (pink for the blossom, green for the leaves) so the overall image of the flower is recognizable. You may keep the poncho or leave it for recycling by event staff. (Tip: add it to an emergency kit or leave it in the car for random San Francisco rain.)
Will there be restrooms?
Yes, there will be 15 portable toilets and 4 hand washing stations available on-site.
What do I need to do as part of the flower?
Wear your assigned colored poncho while standing within a designated outline of the flower! GUINNESS WORLD RECORDS™ guidelines require that the participants must be in position simultaneously and remain so for a minimum of five minutes. Once everyone is in their designated location, the official GUINNESS WORLD RECORDS™ adjudicator and independent witnesses will officially record the attempt.
How much time do I need to commit?
To be on the safe side, please be prepared to commit one-and-a-half hours to the event. This will include check-in, receiving your poncho and instructions, gathering in the staging area, and forming the lotus. You'll be asked to stay in your designated spot while officials quickly and formally document the event for record-keeping.
Am I guaranteed a place in the attempt?
We will cap participants at 3,000. Once we have met that goal, any attendees that arrive after that point may view the attempt from outside the staging and lotus areas.
Are there in and out privileges?
No. Once you proceed through the turnstiles you will need to stay in place until the official record is recorded.
Do I need to bring a ticket and identification to the event?
It is not necessary to bring the printed Eventbrite ticket or an ID. Advance registration on Eventbrite is not required, but registering in advance will allow us to send you a digital downloadable image of the flower by email after the event.
How do I redeem my free admission ticket to the Asian Art Museum and LotusLive swag?
Be sure to keep the event information sheet given to you with your poncho! This information sheet will serve as your voucher to redeem your ticket and commemorative poster at the museum's store located on the first floor. All participants will be offered free admission to the entire museum, including our current Flower Power exhibition. Registered attendees will also receive a downloadable digital photo of the attempt. The downloadable image will be sent electronically after the event.
Can I use my free ticket to the museum on another day?
Yes! You can redeem your voucher any time during the run of the Flower Power exhibition — between July 15 and October 1, 2017.
Can children participate?
Yes! Minors of any and all ages are welcome to participate. However, only children ages 4 and older will be counted towards the official record. Since participants will have to stay in one spot for a period of time and in close proximity with others, the event may not be suitable for some small children.
Are pets and comfort animals allowed?
Official guide and comfort animals are welcome to participate, but unfortunately will not count towards the official record-breaking attempt. We advise caution and care, animals will be in close proximity to participants for a period of time when assembling the flower.
Is this event wheelchair accessible?
Yes! Lotus Live is ADA compliant.
What kind of security will be present?
We will have both San Francisco Police Department officers and Rec & Park Rangers on site. Asian Art Museum Security will also be in attendance working closely with the Rangers, SFPD, and emergency medical staff.
Can I bring portable chairs, signs or bags to the event?
No. In order to keep participants safe and to be as efficient as possible, we ask that you refrain from bringing chairs, posters, signs, or any other large items to the event.
Will there be entertainment at the event?
Yes! There will be music and renowned comedian Dhaya Lakshminarayanan will be serving as the event emcee.
Will there be food or drink available?
Water will be available. Attendees are welcome to bring reusable water bottles and canteens. Food will not be provided at the event, but there are many nearby dining options as well as Cafe Asia inside the Asian Art Museum
Can I bring in my own food or drink?
You are welcome to bring your own food and non-alcoholic drinks, but we encourage you to dispose of it before entering the turnstiles.
What will happen to the ponchos after the event?
All ponchos left from the event will be recycled.
What if it rains?
The event will take place, rain or shine! And you'll have a poncho!
Where can I park?
There are two paid parking garages nearby: Civic Center Garage (entry at 355 McAllister Street) and UC Hastings Parking Garage (entry at 376 Larkin Street). Street parking is also available on streets surrounding Civic Center Plaza and the Asian Art Museum. Additional information can be found at http://www.asianart.org/visit/visit.