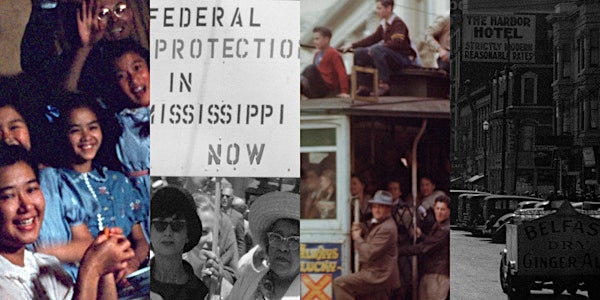 LOST LANDSCAPES 02022 Bay and Gateway: Past Glimpses and Possible Futures
This year, we are delighted to bring you LOST LANDSCAPES 02022 Bay and Gateway: Past Glimpses and Possible Futures!
Refund Policy
Refunds up to 1 day before event
Eventbrite's fee is nonrefundable.
About this event
Online movie premiere starts at 7:00pm PT
This year's new LOST LANDSCAPES pictures the infrastructures, peoples and landscapes of California, centering on San Francisco's everyday past and the futures we have tried to build. Casting an archival gaze on San Francisco and cities, towns and places throughout California where nature and culture meet, the film recalls moments in the history of our state's resources, the scars of settlement and its backbones: transportation, extraction, communication, travel and labor — all intersecting in a panoramic city/state symphony documenting the past and suggesting possible futures in an age of systemic uncertainty.
As always, this year's film (the 17th!) combines home movies, government-produced and industrial films, feature-film outtakes and many other surprises (including many newly discovered San Francisco historical images). Rick will be joining us live on chat to engage in spirited real-time repartee with you and fellow viewers. We want to hear your comments, questions and anecdotes about any of the footage Rick is sharing with us!
Register & Support the Prelinger Library
Register with a gift to the Prelinger Library or for free! 100% of your support of Lost Landscapes goes directly to the Prelinger Library - each year this show's ticket revenue brings in about 25% of the Prelinger Library's annual budget. Just add your support when you RSVP for this online movie premiere.

Rick Prelinger is the founder of the Prelinger Archives in San Francisco, whose moving image holdings may be found online at www.archive.org. With Megan Prelinger, he co-founded Prelinger Library, a publicly-available collection of historical periodicals, books, print ephemera, maps and government documents.

Long Now Talks explore compelling ideas on long-term thinking from speakers around the world. You can watch & share the talks on YouTube and Long Now.
For more stories, projects and musings spanning the deep past into the far future, subscribe to our newsletter, listen to our podcasts, and read our Ideas posts.
All of our programming is made possible by our generous Members and Donors. Membership starts at just $8/month and takes two minutes to set up. Special one-time donations are also appreciated, and all of your support will help us foster more long-term thinking. Thank you so much.