About this Event
You're invited to a very important date.
The hatter has gone a bit mad and decided to invite you to a rather curious tea party.
He thought how lovely it would be for you to join us for tea,
24th of March at 3pm – 7pm,
Dina, 32 Cambridge St, Sheffield S1 4HP.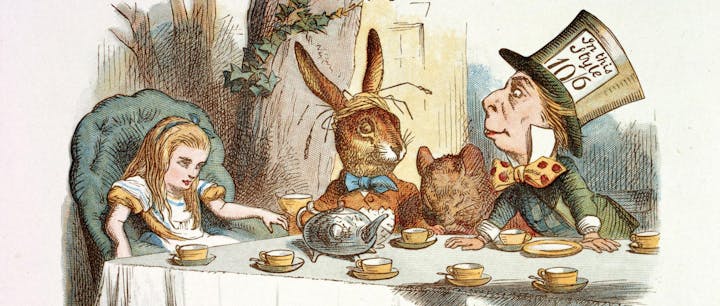 The event is in aid of Weston Park Cancer Charity (Registered Charity Number: 509803), a wonderful charity which supports patients and family members affected by cancer. Weston Park Hospital is also the only specialist cancer facility in the region, meaning that patients can come from far away.

Themed food and drink is only the beginning, have you ever seen a cat smile? Do you want to know why a raven is like a writing desk? Come and ask the mad hatter for yourself!
An immersive tea party with a twist and loads of surprises!
Welcome drinks
Music and story
Themed vegetarian food [afternoon tea style]
Themed cocktails
Immersive venue
Immersive theatrics with local actors taking guests on a journey through wonderland
Activities
Raffles
A completely unique night which you won't have experienced before!
Tickets are £17.50 + fee, don't be late and buy them now!
2 for £30 + fee group tickets is on sale now!! VERY LIMITED !!
Get your tickets asap and ready to fall down the rabbit hole!
18+ Restriction
More information:
Facebook: lost in wonderland tea party
Instagram: eventaleuk
Gofundme: donate to us!
Email: eventaleuk@gmail.com