Description
As part of Portland State Of Mind 201, please join us for an historic exhibit and screening of the latest short documentaries part of the Vanport Mosaic on-going participatory oral history project, now in its third year.
Screening of Lost City, Living Memories - Vanport Through the Voices of it Residents
Through archival footage, historic photographs, and compelling first-person narratives, this collection of community-produced short documentaries feauturing former Vanport residents creates a rich and elaborate "mosaic" of the vibrant community that made up the city of Vanport.
A Vanport Mosaic initiative directed by Story Midwife Laura Lo Forti. Production Manager: Meredith Lawrence. In collaboration with A Fourth Act, the University of Oregon School of Journalism and Communication, Open Signal Portland Community Media.
With Pop Up Exhibit
Vanport - A Story Lived. A Story Told
This exhibit tells the story of the temporary city of Vanport and the vibrant community that called it home. Through archival material and oral history, it explores this chapter of history and its enduring impact. It is an essential and often forgotten story of migration, housing, displacement, and perseverance.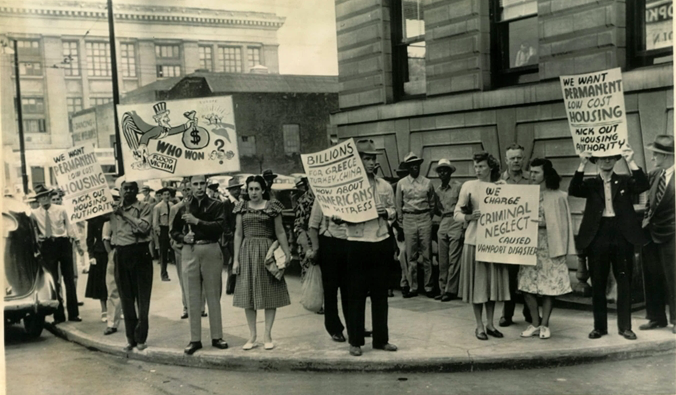 When: Sunday, October 15, 2017 from 3:00 p.m. to 5:00 p.m.
Where: Smith Memorial Student Union (SMSU), room 327/8, 1825 SW Broadway
Cost: FREE. Donations gladly accepted online and at the door.
Contact: Laura Lo Forti, laura@vanportmosaic.org
---
The Vanport Mosaic oral history project and exhbit were made possible by the generous support of Oregon Community Foundation, Oregon Arts Commission, Kinsman Foundation, Oregon Historical Society, Portland State University, The City of Portland, and Prosper Portland.
This event is hosted by PSU's Department of History and Vanport Mosaic.