An intimate independent concert series under the stars at Lost City River North. Headliner The River Arkansas with opener Hunter Burnette.
About this Event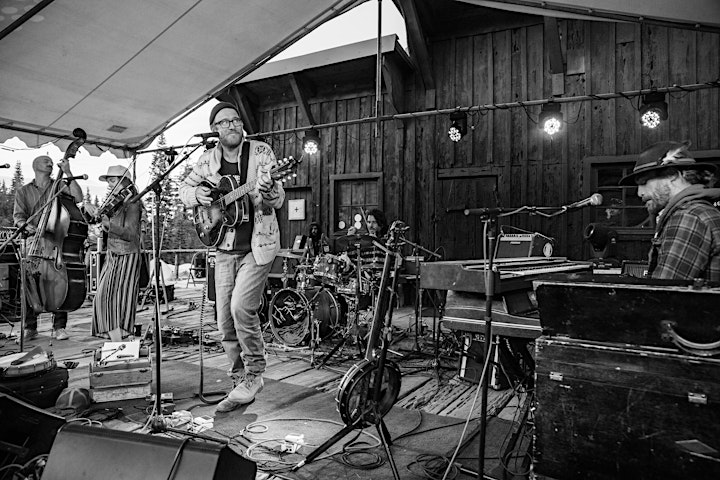 Lost City Live is excited for the continuation of its 2021 concert series on Saturday, April 24. Enjoy music from The River Arkansas with an opening set from Hunter Burnette. Music begins at 7:30 p.m. and the patio will open one hour prior to the opening set (at 6:30 p.m.) for attendees only.
In the winter of 2014, Mike Clark penned a collection of songs about heartbreak, love, and escaping the clutches of day-to-day society. The following spring, Clark decided to make that collection into a record. By good fortune Macon Terry, a bass player and former member of the band Paper Bird, happened to be in the neighborhood the day the studio was booked for recording. Though Terry arrived not knowing any of the songs, what they captured was the beginning of something great. Later they would add Robin Chestnut on drums, Rachel Sliker on violin, and Benjamin Gallagher on piano, forming The River Arkansas. With the release their third studio album "Any Kind of Weather," the band has hit their stride, traveling the midwest, south, and western United States as well as playing festivals all across Colorado, delivering their distinctive mixture of Country, Blues, Folk and Americana. The concert will take place on Lost City's outdoor patio at its RiNo location (3459 Ringsby Ct.). Seating options include tables, benches and individual seats.
Hunter Burnette is an up-and-coming Americana singer/songwriter and artist based out of Denver, Colorado. In 2018 Burnette released his first EP, "The Good Life," which showcases his capacity for introspective lyrics and the blending of Americana roots music. Colorado Hall of Fame inductee, Chris Daniels, called him "One of the most exciting Americana/Country/Roots songwriters and performers to come out of the West in the past few years." Burnette released a follow-up Self-Titled EP in October 2019, produced by Ben Wysocki and Eric Tate. Backed by a rotating cast of extraordinary musicians, including members of The Fray, Heavy Diamond Ring, Smirk, Israel Nash, King Cardinal and more, you don't want to miss seeing this budding act making his mark on the Denver music scene.
Lost City will offer food and drink to enjoy during the shows including cocktails, wine, beer, and snacks from chef Silvia Hernandez. Food and drinks will be served from a walk-up window to minimize contact throughout the venue.
Parking is free - please park in the overflow lot on the southwest side of the Taxi complex and avoid parking in any spots marked for residents.