An independent concert series under the stars at Lost City River North. Headlining act is John Statz with Zoe Berman.
About this event
Presented by Do303, Lost City Live is excited to welcome John Statz with opener Zoe Berman on Saturday, Sept. 25th. Music begins at 7:30 p.m. and the patio will open one hour prior (at 6:30 p.m.) for attendees only.
One of the more prolific thirty-something songwriters working in the Folk/Americana genre today, John Statz has released ten studio albums and performed all over North America and Europe over the course of his fifteen-year career. The Boston Globe has called John's music electric, urgent folk; aching, sweet country-rock while American Songwriter has said that he writes the kind of songs that float through your mind and stay nestled in your thoughts long after listening. John has worked with some of the best producers in the genre, including Bo Ramsey (Lucinda Williams, Greg Brown) on his 2012 release Old Fashioned, Jeffrey Foucault (Kris Delmhorst, Caitlin Canty) on a 2015 album TULSA, and Denver songwriting friend Megan Burtt on 2017's The Fire Sermon. He's more recently taken a turn towards the production chair, self-producing 2018's Darkness on the San Juans, 2021's Grounded, and co-producing 2020's Early Riser, along with Kate Hannington, Billy Conway, and Jeremy Moses Curtis.
Zoe Berman is a Denver-based singer-songwriter. Frequently performing as a one-woman band, she accompanies her sultry vocals on the piano and guitar, often complemented by a hand-built suitcase drum played with her feet. Zoe also performs alongside a full band known as The Loveseats, a versatile group of musicians who bring her songs to life with an eclectic, neo-soul flare. Zoe "combines musicality and lyrical poeticism into a hypnotizing mélange of soul, jazz, and americana music". Her lyrics are often auto-biographical, brimming with relatable narrative and sensorial imagery. "Zoe creates songs that are tender and utterly human"; she strives to use music as a catalyst for generating interpersonal connection and reinforcing our shared humanity. Find out more at zoebermanmusic.com.
Parking is free - please park in the overflow lot on the southwest side of the Taxi complex and avoid parking in any spots marked for residents.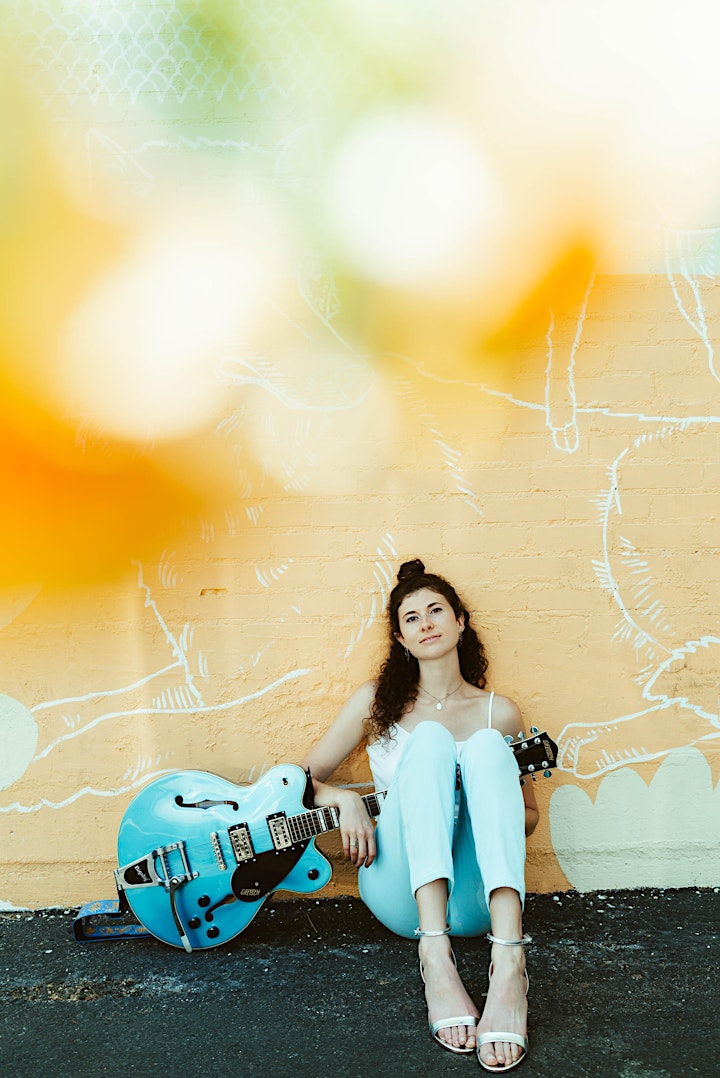 Organizer of Lost City Live - John Statz with Zoe Berman
Lost City is a mission-driven, community oasis with locations at the River North Taxi campus and Capitol Hill. The name Lost City is meant to capture both a global and local perspective on progress. Lost City is dedicated to creating a better Colorado by supporting the needs of marginalized communities and providing a safe space for opportunities and cultural exchange. Lost City is proud to be a founding member of the Denver Metro Emergency Food Network (www.denverdelivered.com), a joint effort started in March 2020 to respond to food insecurity during the COVID-19 crisis. The Taxi location offers specialty coffee, delicious house-made food, catering, and a full bar. The Capitol Hill location is currently serving specialty coffee drinks with plans for a fresh and seasonal food menu in the near future. For more information, visit lostcitydenver.com.