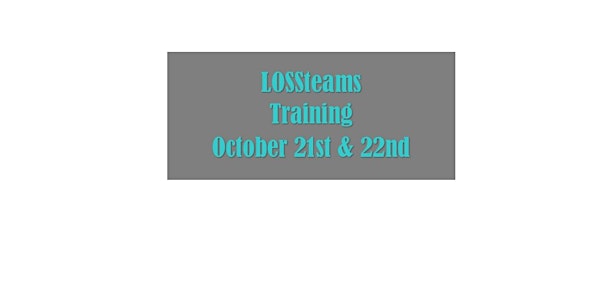 LOSSteams Training
LOSSteams Training: October 21st and 22nd, 2022 at WCCC Youngwood Campus. Local Outreach to Suicide Survivors. Hosted by Ray of Hope
When and where
Location
Westmoreland County Community College 145 Pavilion Lane Youngwood, PA 15697
About this event
LOSSteams Training
This is 2-day a regional training offered at no cost to LOSS Survivors, Suicide Prevention Task Forces, First Responders, Mental Health Professionals, Suicide Prevention, Coroners, and Clergy.
A LOSS Team is a group of suicide loss survivors, first responders, and community members who provide information about resources, as well as, offer comfort and hope to those impacted by the loss of a loved one to suicide as soon as possible following the death.
This training will be facilitated by Frank Campbell, PhD, LCSW, CT
Dr. Frank Campbell is internationally recognized for his efforts in Suicide Prevention. He has served as the President of the American Association of Suicidology and was awarded Social Worker of the Year for the state of Louisiana. Dr. Campbell developed the LOSSteams model and his documentaries have been aired throughout the world.
Upon Approval: This training is offering continuing education credits. These credit hours satisfy requirements for LSW/LCSW, LMFT, and LPC biennial license renewal.
All attendees will receive a training certificate crediting 14 hours of training.
This training is hosted by Ray of Hope, Westmoreland County Suicide Awareness and Prevention Task Force and sponsored by the Westmoreland County BH/DS/EI Office.
Hotel Reservation/Room Rates
Good Afternoon All,Ray of Hope was able to secure a discounted room rate of $149.00/per night for the LOSSteams Training for those who are coming from out of the area. To receive this room rate the reservation must be booked by 11:59 PM on next Wednesday September 28th, 2022. If you miss the deadline the rate will jump to approximately $214. There is a local college homecoming the same weekend and rooms will go fast. If you have already booked your room, I was told that you could call the hotel and reference the LOSSteams Training and it would be changed. Again this would need to be done before Wednesday September 28th at 11:59 PM.
Here is the Hotel Information:You must call the Hotel directly (not a reservation center) and must reference LOSSteams Training in order to receive the reduced rate.
Deadline: 11:59 PM on next Wednesday September 28th, 2022
Room Rate: $149.00/per nightHampton Inn Greensburg 1000 Towne Square Drive, Greensburg, PA 15601(724) 838-8800Reference: LOSSteams Training
Slots are limited. Please register ASAP if you are interested in attending.