Description
It's finally here!
The Loss and Found Release Party is happening Thursday October 25th 5:30pm.
Trailer: https://www.youtube.com/watch?v=j3-cUrgFKG0
Website: http://lossandfoundmovie.com/
One year ago the film premiered to a sold out crowd at the Downtown Independent Theatre in LA. After winning awards at dozens of film festivals and touring all over the US, Loss and Found will make its triumphant return to DTLA for one final screening.
DVD's of the film will be available for sale after the movie. Don't miss your first chance to purchase a limited release of Loss and Found, and support director Jon Mancinetti to help him save more rescue dogs.
Jon will also be debuting a never before seen documentary about Loss and Found. Your first chance to see behind the scenes of how the film was made, and the epic road trip he and his dog Smokey, took with the film.
Jon and Smokey have spent all of 2018 showing Loss and Found all over the country, helping raise money for local rescues in every city they visit while also getting dogs get adopted. Don't miss your final chance to hit the red carpet with Jon and Smokey, celebrate a successful film tour and, the final release of their award winning film.
Doors open at 5:30pm for red carpet photo op with Jon, Smokey, cast and crew.
Film begins at 6:30pm.
Reception in lobby after the film.
After party to be announced soon!
Runtime: 29 minutes Rating PG-13
Synopsis:
A young man is devastated after losing his best friend, his dog Russell. Eventually he finds purpose in his life through saving the lives of more rescue dogs. "Loss and Found" is a heartfelt comedy based on a true story that addresses issues surrounding rescue dogs.
Loss and Found has been called, 'Pit Bulls and Parolees" meets "The Hangover".
"You will laugh, you will cry, you will cheer! While there are many outstanding films that deal with animals and rescue, "Loss and Found" by award winning Hollywood filmmaker Jon Mancinetti of Mancinetti Pictures is quite unlike others that have been done previously". Loyal Pit Bull Love
Article in Columbus Dispatch:
http://www.dispatch.com/entertainmentlife/20180719/for-filmmaker-loss-and-found-shows-love-of-fostering-shelter-dogs
The film has screened at over 40 cities and festivals!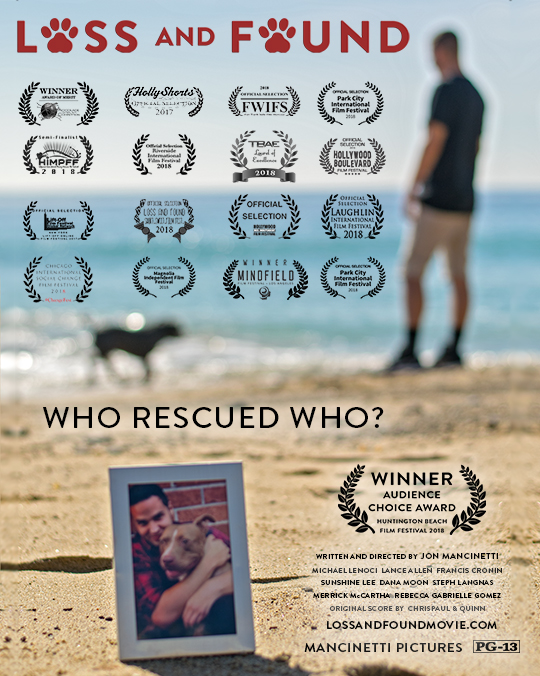 Screenings and Festivals
Release Party at Downtown Independent Theatre in LA 10-25-18
Benefit Screening for Sioux Empire Pit Rescue South Dakota 10-18-18
Official Selection - Change Fest in New York City 10-13-18
Benefit Screening for PACK in Monterey Park California 10-6-18
Official Selection - Laughlin International Film Festival in Nevada 10-4-18
Benefit Screening for AZ K9 Rescue in Arizona 9-29-18
Benefit Screening for Mid America Bully Breed Rescue in Kansas City 9-21-18
Benefit Screening for New York Bully Crew in Staten Island 8-14-18
Benefit Screening for Berea ARF in Cleveland 8-8-18
Benefit Screening for Clermont Animal Care in Cincinnati 7-28-18
Benefit Screening for Central Ohio Pit Savers in Columbus 7-22-18
Official Selection - Fort Worth Indie Showcase in Texas 7-19-18
Benefit Screening for Chicagoland Rescue Intervention Support Program in Chicago 7-12-18
Benefit Screening for Harvey's Heroes in Charlotte 7-9-18
Benefit Screening for Releash Atlanta in Atlanta 7-7-18
Benefit Screening for Dogs 2nd Chance in Memphis 6-24-18
Official Selection - Park City International Film Festival 6-15-18
Official Selection - Hollywood Boulevard Film Festival 5-20-18
Benefit Screening for OC Pit Bull Rescue in Huntington Beach 5-19-18
Benefit Screening for Orcas Animal Protection Society in Orcas Island 4-28-18
Benefit Screening for Misunderstood Mutts Rescue in Portland 4-21-18
Official Selection - Riverside International Film Festival 4-17-18
Benefit Screening for Furry Friends Foster & Rescue in Hartford 4-15-18
Benefit Screening for Rock a Bully Rescue in Buffalo 4-11-18
Benefit Screening for iPittyTheBull Rescue in Upland 3-29-18
Benefit Screening for Bakersfield Boxers & Bullies Rescue in Bakersfield 3-24-18
Official Selection and Award Winner - Short Sweet Film Festival Cleveland 3-3-18
Official Selection - Huntington Beach Film Festival 3-2-18
Official Selection and Audience Award Winner - Huntington Beach Film Festival 2-24-18
Official Selection - Hollywood Reel Independent Film Festival Los Angeles at LA Live 2-25-18
Benefit Screening "Opt To Adopt" for I Stand With My Pack Rescue in Malibu 2-18-18
Benefit Screening for Pup Package in North Park San Diego 2-17-18
Official Selection - Hollywood International Moving Pictures Film Festival Los Angeles 12–31-17
Official Selection and Winner of Best Dramedy - Mindfield Film Festival Los Angeles 11-09-17
Official Selection of Hollyshorts Film Festival at The Chinese Theatre in Hollywood 12-09-17
Official Selection of Grove Film Festival Jersey City 12-23-17
Benefit Screening for Paw Prints in The Sand Rescue at The Frida Cinema in Santa Ana 11-16-17
Los Angeles Premiere at Downtown Independent Theatre 10-09-17