Location
Alternative Apparel
833 S Spring St
Los Angeles, CA 90014
Description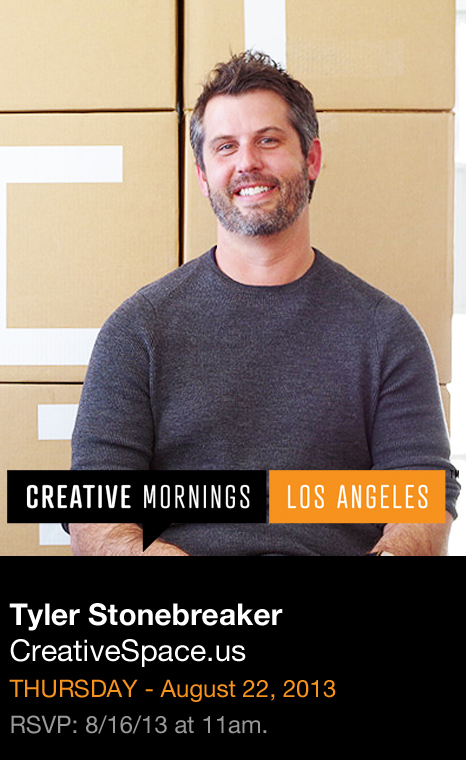 DATE
LA/CreativeMornings, August 22, 2013, 8:30am - 10am (RSVP will open Friday, August 16, 2013 at 11am!)
OUR SPEAKER: TYLER STONEBREAKER
OUR THEME: Urbanism
At heart Tyler is a creator. He was immediately determined to acquire, harness and utilize the tools required to building big things. After receiving his undergraduate and graduate degrees from the University of Southern California, he went on to develop millions of square feet of office, retail and production facilities throughout California. After 10 years in institutional real estate development and investment, it became clear that the world was moving in an entirely different direction and Tyler followed his intuition and co-founded Creative Space in 2009 to better connect the creative world with real estate.
About Creative Space
Creative Space® (www.creativespace.us) is led by Tyler Stonebreaker, a trailblazer in bridging the creative world with real estate, and Michael Smith, a highly accomplished media and music entrepreneur. The firm is driven by the idea that creativity and innovation are the key competitive advantages in the 21st century. And its role is to serve as a catalyst for the development of buildings and places into transformative experiences for businesses, brands and people providing the organic foundation for innovative ecosystems.
SPONSORS

Media Temple is a leader in web and cloud hosting. Media Temple hosts everything from artsy design blogs to huge social networks. What's your big idea? (mt) would love to help you out. Learn more about their clients and hosting plans.
HOST

Our August event will take place at the stunning Alternative studio in downtown Los Angeles. Founded in 1995, Alternative is a fashion lifestyle brand best known for comfort, simplicity and our commitment to sustainability. Through innovative apparel design and involvement in purposeful causes, we aim to inspire and empower the communities in which we live and work. Beyond the clothing we create, our ultimate goal is to connect people, inspire creativity and catalyze change. To learn more visit, alternativeapparel.com.
PUBLIC TRANSPORTATION INFORMATION
Bus: the 2 and 4 busses (both of which come down Sunset from the west side) run about every 15 minutes and stop at 8th and Hill, which is a 2 block walk from our office.
Train: the Red Line from North Hollywood runs every 10 minutes, comes through Hollywood, Silverlake, Echo Park, and stops at 7th Street/Metro Station which is at 7th and Hope, about an 8 minute walk from our office.
PARKING INFORMATION
There's a lot next door to Alternative Apparel on the south side, and another on Olympic and Broadway (three blocks walk). Both are $10 for the day, probably less for the couple hours needed.
CreativeMornings is a monthly morning gathering of creative types. Each event includes a 20 minute lecture, followed by a 20 minute group discussion. The gathering begins at 8:30am with the topic presentation starting at 9:00am and everyone taking off for work at 10am. CreativeMornings are free of charge! LosAngeles is now the third chapter and joins Zurich + NewYork/CreativeMornings.
The LosAngeles/CreativeMornings chapter is run by Jon Setzen.

Be the first to know when r.s.v.p's open up, follow LosAngeles/CreativeMornings on twitter!
Check out pictures of previous LosAngeles/CreativeMornings over at Flickr.
View all the taped LosAngeles/CreativeMorning talks we've put up on the web so far over at Vimeo.