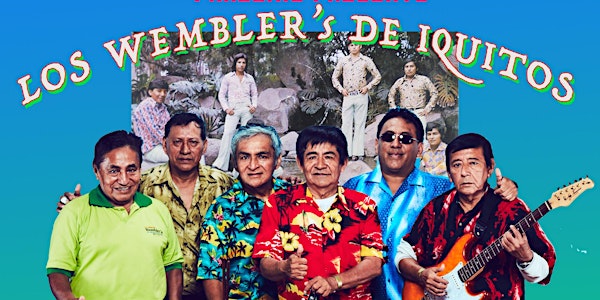 Los Wembler's de Iquitos & Pandemic
When and where
Location
25 Carrick Ave 25 Carrick Avenue Pittsburgh, PA 15210
Description
Date: Sunday September 15
Location: 25 Carrick Ave Pittsburgh PA
Bus line 51 exit at Biscayne
Time: 7pm doors show at 8pm
Tickets : LINK
Facebook : Link
Website : http://pandemicpgh.com
Soundcloud: https://soundcloud.com/barbes-records/sets/los-wemblers-vision-de/s-HXO38
25 Carrick Ave and Pandemic Present:
Los Wembler's De Iquitos
Plus Pandemic Pete & tbd
Legendary Peruvianchichapioneers Los Wembler's de Iquitos celebrate their 50th anniversary with an all-new album,Visíon del Ayahuasca Availableon Barbès records,September2019.
LosWembler's haven't lost any of their creative edge. To watch them perform or record is to witness musicians at the height of their powers. Their happy first experiments with cumbia and indigenous rhythms were not the product of chance. These are accomplished musicians in tune with their environment but also infinitely curious about the world. The style LosWembler's pioneered more than forty years ago has finally found an audience around the world, and LosWembler's intend to keep it relevant by finding new ways to experiment.
In 1968, in Iquitos, the capital of the Peruvian Amazon, a shoemaker named Solomon Sanchez decided to form a band with his five sons. They were the first band in the Amazon to play popular local rhythms with electric guitars. The new hybrid they were creating would go on to have an enormous impact on South American popular music. Some of their songs, such asSonido AmazonicoorDanza del Petrolerobecame the most emblematic of this newcumbia amazonicamovement.The brothers were born and raised in Iquitos - the largest isolated city in the world. Iquitos boasts close to half a million inhabitants, but its nearest road is six days away by boat. The river and the forest are a big part of the culture, but the city remains a large urban center. Indigenous folklore and urban living have created a singular culture with the river dolphin and the moto-taxi as its primary symbols.
The brothers' main link to the outside world was the radio. In addition to their daily diets fTahuampa,PandillasandCriollowaltzes, long wave radio broadcasts would expose them to Colombian Cumbia, Brazilian Carimbo, Ecuadorian SanJuanitos, Venezuelan joropos – and psychedelic rock.Curious to a fault, and willing to experiment, LosWembler's managed to incorporate all these styles into their playing. They loved Pinduca's BrazilianCarimbóand covered some of his songs. Same with Ecuador's Polibio Mayorga, who was also mixing local