Virtual Video Meetings w/ Recruiters ATTENTION - LOS ANGELES Job and Career Seekers! 100's of Employment Positions from Major Employers!
About this event
UPDATE: This event will not take place on 9/24/21. It has been combined along with the cities/regions of San Diego, Long Beach, Orange County, the San Fernando Valley, as part of the super Southern California Virtual Video (VV) event taking place on Friday, November 5th, 2021.
Los Angeles Job Seekers! 09-24-2021, 10AM-4PM
100's of Jobs and Career Positions from over 20+ Major Los Angeles Employers await you at Los Angeles' 21st Annual Diversity Employment Day Career Fair.
The 21st Annual Diversity Employment Day Career Fair is the largest and best diversity and inclusion recruiting event in the United States! This event is FREE for candidates - must be 18 years of age and older. Multicultural/Bilingual, People with Disabilities, Women, LGBTQ, Veterans and Mature candidates are encouraged to attend.
Hundreds of Jobs and Careers ~ Entry to Professional Level
Over 20+MAJOR Employers Recruiting
Current & Past exhibitors include:
Turner Construction
California Public Employees' Retirement System (CALPERS)
Crane Aerospace & Electronics
Santa Ana Police Department
KABC-AM
Mt. Wilson FM Broadcasters
Entravision Communications
DeVry University
Entravision Communications
Santa Ana Police Department
Burbank Police Department
Center Theatre Group
City of Santa Monica
Grand Canyon University
L.A. Care Health Plan
Palisades Charter High School
Riverside County Sheriff's Department
Spanish Broadcasting System
UCLA
Unified Protective Services, Inc
United States Postal Service
And Many More!
There will be hundreds of employment opportunities from entry to professional level available. Additional information available at www.citycareerfair.com
Avoid the line! Come on your lunch hour!
Starting Saturday, September 18th, 2021 use the SMART LINK below to register, upload your resume and schedule one on one video interviews with participating employers at LOS ANGELES' Annual Diversity Employment Day Career Fair - Virtual Video (VV) taking place on September 24th, 2021 – 10 AM to 4 PM
SMART LINK
https://cfplus.page.link/Qytn
Or - Email your Resume to FastTrack@CityCareerFair.com with the subject: LOSANGELES 2 VV and receive a confirmation code that allows you to join the Annual Diversity Employment Day Career Fair immediately.
This is a professional-level online virtual event and business attire and résumés are required for admission.
Please share with your Network & Friends!
Follow us on Twitter – @citycareerfair
Like us on Facebook – http://www.facebook.com/CityCareerFair
Follow us on Instagram - @citycareerfair
***If you are an interested employer, please email PreBook@CityCareerFair.com for pricing details!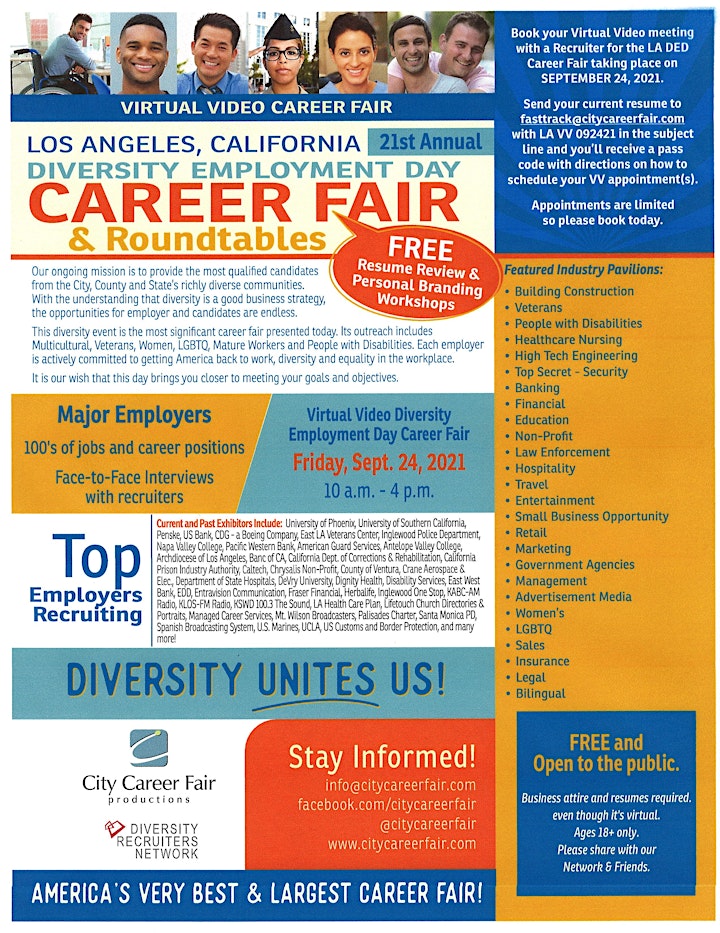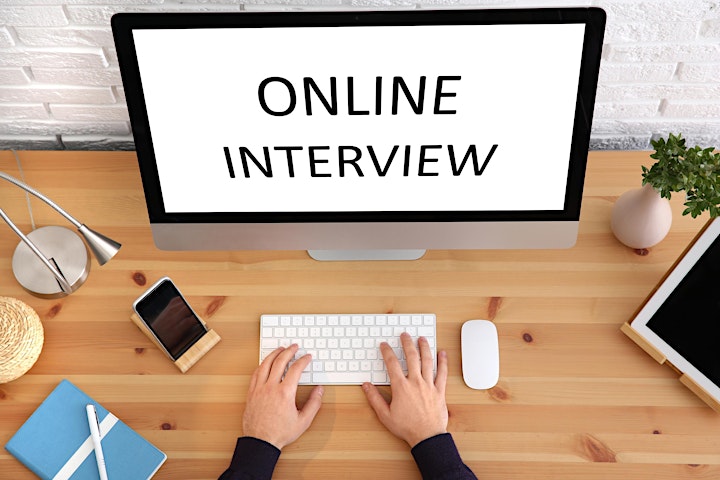 Organizer of LOS ANGELES' Virtual Diversity Employment Day Career Fair (POSTPONED)
"At City Career Fair we strive to be the world's best career fair producer, offering the highest value, most efficient means for recruiting quality candidates and the most passionate customer satisfaction guaranteed"
Unlike other Career Fairs, we seek out Candidates in Diverse Communities.  We look for Candidates that are Multicultural/Bilingual, People with Disabilities, LGBTQ, and Mature & Professional Candidates.  
The 21st Annual Diversity Employment Day Career Fair (s) are scheduled nationwide.  We have over 50 Virtual Video (VV) and In Person (IP) DED Career Fairs taking place yearly. You probably live near one of these cities and are seeking Employment, please check out our Eventbrite pages for more details! Or head over to citycareerfair.com for details
"Like" us on Facebook > https://www.facebook.com/CityCareerFair/
"Follow" us on Twitter > https://twitter.com/citycareerfair