Los Angeles Venture Capital Fast Pitch Conference AND City Summit and Gala
Description

Pitch and network with venture capitalists, angels and accredited investors from Las Vegas, Southern California, Silicon Valley and throughout the country at the Los Angeles Venture Capital Fast Pitch Conference AND City Summit and Gala

Black Dog Venture Partners has hosted investor events throughout the west and has raised millions of dollars for start ups as a direct result of our fast pitch conferences.
City Summit is a world class, socially conscious business acceleration experience. Our Summit's mission and outcome is to elevate each of our attendee's business acumen by giving them tools, techniques, knowledge, insights, motivation, and top-level networking relationships. We want our City Summit attendees to learn and grow.
The City Summit invites proven business leaders, strategists, and business owners to teach our community how to increase revenue, generate leads, diversify revenue, establish authority, raise the value of business, elevate brand awareness and concentrate on hyper-growth. The topics of the City Summit range from leadership, innovation, marketing, business fundamentals, operations, and inspiration.
The ultimate goal of the Summit is to fund the City Gala, and assist non-profit organizations that are solving global challenges such as advancing health and wellness programs, feeding hungry, sheltering homeless, liberating slaves from human sex trafficking, educational opportunities for under-served, and mentorship programs
This year we will support the beneficiaries of the 2019 City Gala. The 2019 beneficiaries are: Giving Hart, Tucker Teens & Tots, Rock Against Trafficking, Journey's Dream, Selah Freedom, United Intentions, From Orphan To CEO. Do not miss your opportunity to grow, share, contribute, and learn!
Our investor panelists include:
Scott Kelly, Black Dog Venture Partners
Scott Kelly Founder and CEO of Black Dog Venture Partners, is a 25 year fundraising, marketing, sales, training and publicity veteran. Scott has raised millions of dollars in capital for disruptive companies, garnered national media coverage for hundreds of regional and national brands and generated millions of dollars in revenues for the companies he has represented. He has also trained over 1,000 sales people and has taught marketing at the university level in the United States and Europe.
Michael Hool, Hool Coury Law
Michael Hool is our founding Partner and is a pioneer in the field of venture formation and financing in the Southwest and California. Michael works with select companies as an advisor, legal counsel and periodically serves in executive and board capacities. Michael practice is focused primarily on corporate and commercial representation, securities, finance and venture capital, mergers and acquisitions, corporate governance matters, and all aspects of counseling emerging companies. He represents both issuing companies and investors in a large variety of financing transactions. In the past fiscal reporting year, the firm has assisted entrepreneurs in over $187 million in funding transactions and has assisted funds raise over $100 million for investment in emerging companies.
Michael represents or advises accelerators, incubators, and has formed three active angel investment groups, including ATIF (predecessor to AzTech Investors) and Canyon Angels. Michael has chaired or served on the board of Arizona Venture Capital Conference, BioAccel, AzTech Investors, Canyon Angels, and the Indus Entrepreneurs. Mr. Hool is currently active in formation of three separate seed stage investment funds. Mr. Hool is highly sought after as a speaker and author of papers on a broad variety of topics. Michael is also active as an investor in a growing portfolio of emerging companies.
Jerry Chen - Mucker Capital
As investor in Mucker Capital, Jerry invests in early-stage startups. Prior to venture capital, he worked in global strategy, marketing and consulting with a Fortune 500 company, Bayer, in Europe and Asia, then had experience building up his own digital health startup. Having MBA, biotech, and engineering in education, he is happy to contribute his multidisciplinary and multicultural experiences to help companies grow.
Cameron Colvin, Chairman & CEO- Rise Above Enterprises
Cameron Colvin having played for the De La Salle Spartans, Oregon Ducks, and San Francisco 49ers. His story was recently portrayed by Ser'Darius William Blain in the 2014 Sony film When the Game Stands Tall, about his life through high school with the De La Salle Spartans.
Chairman of CamCo Commercial Inc & Creative Solutions company "Rise Above Enterprises Development " that has taken on projects for American Idol creator Simon Fuller as well as Marvel Comics creator Stan Lee.
Now author of Never Stop " 12 Principles of Success book series. Cameron has been featured in numerous global media outlets from Forbes, ESPN, Sports Illustrated, USA Today, New York Post and more.
Cameron is currently an active investor on hit show Entrepreneur Elevator Pitch by Sprint which did 25,025,724 total views. His commitment to his sports career, business endeavors, and philanthropy with his 15 year non profit Linking Sports and Communities which supports underprivileged youth has set Cameron on a path to influence many around the world. Cam is your influential specialist that collaborates with brands to drive traffic and make splashes in your perspective market!
Mysty Rusk -

Director of the USD's Innovation Center
Mysty Rusk is the Director of the USD's Innovation Center, The Brink. Rusk is an expert in innovation commercialization and angel investing. She has been involved from idea to IPO on numerous startups. Rusk has seen new materials and products that revolutionize industries and disrupt the world's problems. She has evidence that with automation and purposeful invention, we can do things, faster, better and cheaper at the same time. Before coming to USD, Rusk served as the Associate State Director for Innovation and Tech Commercialization with the Central Cal SBDC.
Alex Mojtahedi - Plug & Play Investments
Alex is the Managing Director at Plug and Play, the most active venture capital firm in the United States to develop a significant presence in Southern California. Alex is working to not only oversee and run the operations, but build the core team, expand the corporate network, and form new strategic partnerships in the region. He is also leading the startup technical due diligence process to evaluate pre-seed, seed and series A investment decisions at Plug and Play Los Angeles.

With over a decade of management, research, and development experience in various technology fields, Alex has built his career as a serial entrepreneur, technologist and an investor. He currently holds two M.S. degrees in computer science (artificial intelligence) and he completed his first diploma in Aerospace Engineering when he was 18 years old.

Before joining Plug and Play, Alex founded Tilofy, an intelligent trend forecasting SaaS platform, in 2013. Tilofy went on to be recognized as one of the Top 50 to watch in Southern California's technology industry (along with Tinder, Snapchat, Whisper, RadPad etc.). Alex and Tilofy were also featured in over 18 different magazines and publications, including American Marketing Associations and Huffington Post. Some of the world's most recognizable brands and agencies have also utilized Tilofy's technology to disrupt their respective sectors, such as Red Bull, Altria, Wipro, Hershey, Henkel, RJ Reynolds, Swedish Match, Unilever and Samsung.

Alex is a frequent speaker and panelist on various venture capital and technology subjects. Last, but most definitely not least, Alex can also play chess with his closed eyes, has written two philosophical novels, and possesses the cooking ability of a world renowned chef.
Kevin Harrington - Shark Tank
Kevin Harrington has been a successful entrepreneur for over 40 years. He's an original "Shark" on the Emmy-winning TV show, Shark Tank. He is also the Inventor of the Infomercial, As Seen On TV Pioneer, Co- Founder of the Electronic Retailers Association (ERA) and Co-Founding board member of the Entrepreneurs' Organization (EO).
Kevin has launched over 20 businesses that have grown to over $100 million in sales each. He's been involved in more than a dozen public companies and has launched over 500 products generating more than $5 billion in sales worldwide with iconic brands and celebrities. Kevin has extensive experience in business all over the world, opening distribution outlets in over 100 countries worldwide. His success led Mark Burnett hand-picking Kevin to become an Original Shark on Shark Tank where he filmed over 175 segments.
Alec Stern - G20 Ventures
More than 25 years of experience as a founder and hyper-growth agent for companies across industries including Constant Contact. Alec is a primary member of Constant Contact's founding team as one of the original 3 in an attic and was with the company for 18 years from start-up, to IPO, to acquisition.
Performing hundreds of keynote addresses Worldwide, Alec has become known as America's Startup Success Expert for his popular sessions at conferences like Powerteam International, Habitude Warrior, City Summit and Secret Knock. While on tour, Alec has shared the stage with the likes of Ashton Kutcher, Jack Canfield and Mark Victor Hanson.
As one of the Northeast's 20 most accomplished entrepreneurs, he is a limited partner in Boston-based G20 Ventures which provides early traction capital for East Coast enterprise tech startups. Alec is also an angel investor in a number of rising startups.

Alec advises a variety of early stage companies and serves as a judge, mentor and advisor for nationally known startup accelerators and programs including TechStars, MassChallenge, MIT Start Smart, Lean Startup Challenge, the Stevie Awards and the United Way Youth Venture and speaks at Universities including Harvard and MIT.

Alec is an appointed member of the City of Boston Neighborhood Innovation District Committee and the CityStart Boston Civic Innovation program and Boston's Small Business Advisory Council. Alec was honored for his contribution to the Boston Main Streets program with a Certificate of Appreciation award presented by the late Boston Mayor, Thomas M. Menino.
Brian Mac Mahon - Expert Dojo
Brian specializes in helping entrepreneurs become more successful in their business by using all the tools available to me as owner of the largest peer to peer peak performance academy in the world. Expert DOJO improves the success rate of early-stage entrepreneurs with investment, foundation, showcasing, influence, and community. Being a startup business is a lonely and difficult path to navigate. Why do it alone

Brian's recent TEDx talk about the Kidnapping of the American dream showcases my beliefs and ambitions for the future of entrepreneurship
Dinesh Gauba - Angel Investor
Dinesh Gauba is a dynamic entrepreneur and savvy investor who has leveraged 16 years of Silicon Valley technology industry experience in numerous senior roles with start-ups and public companies to fuel his current entrepreneurial and philanthropic endeavors. Driven by integrity, innovation, fast thinking and an open mind, he has acquired and/or launched numerous ventures, including a small business online marketing consulting company, numerous income generating websites, dental offices, discounted debt portfolios, and a green waterless carwash company.
One of his portfolio companies called Eco Green Auto Clean is helping the planet by transforming how cars are cleaned around the world using plant-based non-toxic formulas with less than 1 cup of water per wash thereby saving billions of gallons of fresh water per year (www.OneCupOneCar.com).
In addition to his technology and business ventures, Dinesh is a savvy investor who has built up a diverse portfolio of angel investments, real estate investments, and alternate cash flow investments and is frequently sought after for his knowledge of advance tax reduction strategies. He is an expert at growing businesses and helping entrepreneurs and high income earners to keep more of every dollar they earn using some simple but unique tax reduction strategies and then helping them to invest in diversified cash flow streams so they can achieve true financial freedom much quicker.
Dinesh has a degree in Electrical Engineering from the University of Texas in Austin. He lives in the San Francisco Bay Area with his wife Sheila and their dog Fifi. He enjoys a wide range of outdoor adventurous activities and is passionate about driving and traveling the world. He is an avid car lover and enjoys learning about new technologies and healthy living.
Jay Goss General Partner Wavemaker Three-Sixty Health
Three-Sixty Health is an LA-based venture fund led by seasoned healthcare executive John Nackel (former head of E&Y's global healthcare practice and CEO of UnitedHealth Group's Ingenix Consulting, now Optum) and professional early stage CXO Jay Goss, who has worked with dozens of early stage companies in his career and understands the entrepreneurial journey extremely well. The fund focuses on healthcare start-ups seeking Seed and Series A investment, and is a joint venture between one of Los Angeles' most established and active venture funds – Wavemaker – and Three-Sixty Advisory Group, a ten year old healthcare consultancy. The fund's investment thesis is that after 40 years, healthcare is transitioning away from fee-for-service to value-based payments, and with that comes a massive amount of disruption. There will be no shortage of clinical operations and business challenges to solve in the coming decade, and entrepreneurs are already coming out of the woodwork to solve these problems. Moreover, countless business models are now for the first time commercially viable because the healthcare industry is embracing value-based payments.
Lucas Pols - Venture Partner at Quake Capital Partners, and the founder of Spark xyz
At Quake Lucas is focused on expanding Quake's venture capital and angel relationships. He is also providing operational guidance to the portfolio companies on a range of topics including leadership, recruiting, and sales.
Lucas received his Master's in Entrepreneurship from the University of Southern California. While at USC, Lucas was the case protagonist of professor Noam Wasserman's case study, which focused on his venture, Spark xyz, and hybrid entrepreneurship.
Lucas also currently writes for Forbes and does speaking engagements around Los Angeles.
Drew Leahy is the Director of Equity Partnerships and Cofounder of Hawke Ventures
Managing deal flow for Hawke Ventures and a SWAT team of 5 marketers for portfolio clients. Three-time entrepreneur and inventor, Drew was previously the Chief Marketing Officer and Co-founder of SnapSuits.com, a tech-forward men's fashion e-retailer. He leveraged his seasoned product team, based in Colombia, South America, to achieve an 8x ROI with powerful technology and marketing. Drew was also previously Entrepreneur in Residence at memBrain in Los Angeles, working with tech and entertainment angel investors Ken Hertz and Liz Heller, whom he met while pitching his first technology in 2006. He graduated from the University of Michigan and is the recipient of the 2010 Ross School of Business Entrepreneur of the Year.
Sam Lee Manages Rough Diamond Capital
Sam is an angel investor syndicate based in Los Angeles. Rough Diamond invests in seed stage companies across enterprise and consumer, with a focus on those improving productivity through data analytics. Sam and his associates also provide consulting services to pre-seed startups in preparation for a seed round financing. Prior to founding Rough Diamond Capital, Sam led the Data Analytics team at L2 Inc., a marketing analytics firm acquired by Gartner for ~$140 million in 2017.
Manny Fernandez - Founder of SF Angels Group and Dreamfunded.com
Manny is a Silicon Valley Angel Investor and TV Personality on multiple networks like Oprah Winfrey Network and Showtime and shows including CNBC's "Make Me A Millionaire Inventor" as an "Investor Shark".
A thought leader—Fernandez was recognized on Inc Magazine's "33 Entrepreneurs To Watch" list with the likes of CEO of Sprint Marcelo Claure. Two of Manny's early investments include TaskRabbit and DropBox. He is always looking for the next right startup idea to fund
Anshuman Sinha - CEO Optizm Global
He is a serial entrepreneur, angel investor and subject matter expert with 23+ years of experience and leader of high-performing teams in Talent Management, CxO placements, Staffing, Business Operations and launch of new businesses. He has been an advisor to many startups and he invests in technology and innovative startups.
He also helps well-funded startups in building their stellar delivery teams with a broad set of diverse experiences and competencies, in a variety of technology-based companies. Anshuman is an experienced business executive and advisor to a number of early-stage firms.
He is Executive Director of TiE SoCal for 2019 and President-elect for 2020. TiE is a non-profit, global community (18 countries, 61 chapters) welcoming entrepreneurs from all over the world. TiE believes in the power of ideas to change the face of entrepreneurship and growing business through our five pillars: Mentoring, Networking, Education, Incubating and Funding.
Anshuman brings clarity and alignment to the vision and strategy of companies while leading them through a transition. Combines entrepreneurial spirit with operational excellence, a keen focus on execution, and leverages his extensive experience in research and development, high-performing team building, and organizational design. He has held P&L accountability for worldwide operations, established successful offsite development centers in Mumbai & Pune (India). Established & Managed new sales center based in Singapore and Kuala Lumpur. Implemented International Partner Program in Germany, Ukraine, Singapore, Kuwait, and Kenya
Vishal Arora Technology Executive, Startup Investor, Incubator, and Advisor
Vishal is a technologist at heart. He enjoys building disruptive, innovative technology products and services that have worldwide impact, as well as investing in, incubating, and advising startups that do the same. He has Bachelor's and Master's in Computer Science and an Executive MBA from Kellogg School of Management at Northwestern University.
Vishal has served multiple products and professional services organizations like Microsoft, Symantec, Accenture, and Avanade in different leadership capacity, where his roles included enterprise product and services strategy, design and delivery, product and portfolio management, global technology and P&L management. He is a founder of both Netvega Solutions, an IT services firm focused on providing services and solutions for small to mid-market companies, and VDOSH, an investment and advisory firm focused on growing technology startups in the early stages of their development.
Vishal is passionate about startup mentorship and incubation and supports startups throughout the United States and India. He is a mentor with multiple incubation and acceleration centers including Alchemist Accelerator, Accenture Ventures and SAP and more.
Dan Farrell Chairman & CEO

Privos Capital
Mr. Farrell is the Chairman & CEO of Privos Capital, a global Multi-Family Office (MFO) LP investment firm.
As a multi-family office, our family office partners run successful private equity firms, secondaries, sovereign wealth funds, hedge funds, fund of funds, real estate funds, venture capital firms, wealth and asset management firms, foundations, endowments, multi-national corporations, early stage venture firms, foundations, global and local businesses.
Our family office partners own international corporations, including national airlines, global shipping companies, African mining companies, Hollywood studios, Australian junior mines, US real estate funds, Hong Kong global businesses, US private equity secondary funds, Argentinian vineyards, Canadian oil sands energy companies, London property companies, and Arab surgical centers and hospitals. We bring an impressive club of world wide influence, business experience, and wealth. Our partners are both LPs and GPs mixing it up on the world stage. To work with our firm, you must a family office passionately engaged in changing the world.
Our People have deep experience helping family offices turn highly complex and confidential financial problems into opportunities and successful liquidity events, whether from an IPO or successful trade sale. We are experts in working with the Next Generation, Millennial ("NextGen") family office investors and family members who embrace ESG, SRI and sustainable investments.
Mr. Farrell has lived and worked in New York, London, Europe, and the Middle East. He is one of the leading experts on the world-wide investments and fund allocations of global family offices. Mr. Farrell currently serves as a senior strategic advisor to one of the largest sovereign wealth funds in the world, a leading private equity fund, and is a member of the board of a global investment firm. Prior to joining Privos, Mr. Farrell was a partner in an international law firm. He is a frequent speaker at private equity, hedge fund, venture capital, life science, real estate, energy, impact, ESG, and alternative investment conferences. He has been featured Bloomberg and the international financial press.
Jon Broscious - Principal at Social Starts & Joyance Partners
Jon is a Principal with Social Starts and Joyance Partners, an early stage venture capital partnership, that invests in a number of focus areas, namely consumer (tech, next gen food, DNVBs, and other ecommerce), enterprise (vertical SaaS), and industries such as healthcare and education. Jon has spent the past 2+ years with the general partnership; prior to his career in venture capital, he spent nearly a decade in the education and healthcare software industry working as an external consultant and in internal corporate strategy positions with the Advisory Board Company/Education Advisory Board.
Bill Barnett - 926 Ventures
Bill Barnett focuses on early-stage investment and has been involved in several verticals. The motto being "Bet on the jockey" the management is always the key. Barnett has launched several businesses in entertainment, technology and education with successful exits.
Barnett has invested in several businesses that have had successful exits. Including Dmv Desk now Vitu which sold to KKR in 2017 and LikeLive which sold to ETS in 2014 as well as two real estate syndicates one focusing on long term appreciation and the other short term bridge loans.
Currently, Barnett is involved as an investor and advisor for Stasis Labs, a low-cost vitals monitoring device in hospitals throughout India and launching in the US in 2019. He also sits on the investment committee of Bora Bora Investment Group investing in early stage, forward-thinking companies with strong, experienced management. Bill loves sharing his experience with the next generation of "game changers" in various industries helping with management, fundraising and platform launch.

Hershel Mehta, CPA - Private Investor, Mehta Ventures, Los Angeles, CA
Hershel Mehta is a Venture Capitalist in charge of the US investments through his Family Office's proprietary fund called Mehta Ventures. He has closed six deals in this last quarter, four of which were through the Y-Combinator incubator. He has gone through the entrepreneurship journey himself having published a mobile application in the Apple App Store in 2015, and Hershel uses that experience to help guide entrepreneurs through their own journeys. He has finished his Venture Investing Education through the Executive Education Program at the Wharton School of Business. Likewise, he is a CPA certified with the CA State Board of Accountancy. He is actively seeking early stage startups to invest into.
Many more investors expected to attend!
Testimonials from past conferences: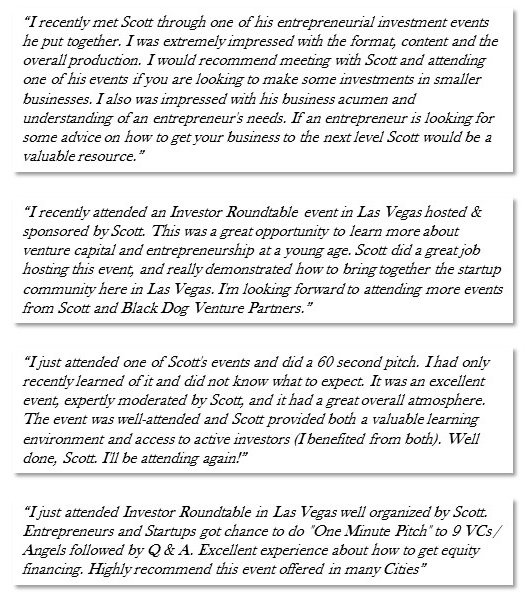 This event will sell out so register today!
Looking forward to meeting you all.
Sincerely,
Scott Kelly, CEO