Los Angeles - The Head Doctor Show - Romantic Comedy Show for Lover's & Friends

Saturday, January 27, 2018 from 10:00 PM to 11:55 PM (PST)
Event Details



Punany's Playhouse 
presents
The Punany Poets'  
Valentine's Season Show!
Punany's Playhouse presents The Punany Poets' Valentine's Season Show! ​We are celebrating Valentine's Season and Black History Month... and you are invited to fall in love again, with all kinds of things.
"After 23 years in this business of love, I have learned that people will tell you anything, if they feel you will not judge them," says Jessica Holter, Founder of The Punany Poets, who is bringing her most popular romantic comedy show to an intimate audience of lovers and friends at Oh My Ribs! in Hollywood, CA on Saturday, January 27 at 10pm. Free yourself, so you can be yourself, inside The Head Doctor's little black box, where the poet and her dancing cast gently slide the inhibitions off of your mind, leaving you open for love, and an encore performance of your own at home. 
Take yourself on a romantic adventure! Bring your open mind to The Head Doctor Show with The Punany Poets Founder, Jessica Holter and become part of our interactive night of Sex Education Theater. Engage with us and free yourself as our passion for erotic verse and exotic dance unfolds before your eyes, atop a rhythm and poetry soundtrack to create a hyper-romantic and unforgettably #PerfectDateNight or #FriendsNightOut.
 Welcome to the red light district of poetry,
where ideas are served tartare;
a dirty wordy little intersection
of Flesh and Consequence streets,
where nature and common sense spar.
A place where an open mind can buy a rhyme,
but beware; the riddle is the trick,
that gets you caught in a whore's fishnets
and finds you victim
of a Black Love pimp.
 FAQS: Please arrive on time. As least 30 minutes before the posted show time. Many of the venues are small black box theaters, so when the doors open, the light from outside is a great disturbance. Dress nice. It's a date night. You do not need to bring your printed ticket. You can just bring your ID, unless you are placing your order within the week of the event (sometimes, late orders are missed, but in that case, a copy of the ticket on your phone will suffice for admission). All show participation is voluntary, done at your own risk, and with full awareness that everyone has cameras these days. We may choose to use footage from shows in marketing reels and public releases. Your ticket purchase is consent to our Waiver of Liability Agreement, holding harmless HIP Inc, its officers and assigns, harmless in the event of injury.




When & Where

Oh My Ribs!
6468 Santa Monica Boulevard
Los Angeles, CA 90038


Saturday, January 27, 2018 from 10:00 PM to 11:55 PM (PST)
Add to my calendar
Organizer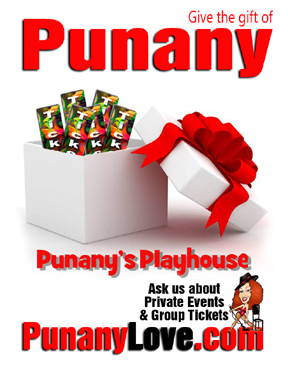 ABOUT HIP INC | WHAT YOUR DONATIONS HELP US CREATE
Statement of Activities:
HIP is an education based nonprofit arts collective, where creative minds come together to share and create art. We are producers of collaborative art. To artists, we are a home base; the perfect place to come and recharge for the path ahead of you. We offer classes, mentor-ship, self esteem building projects and on-the job stage and oratory training. To producers and collectors of innovative art, we are a gold mine peppered with music, theater, visual art, lyrics, literature and choreography. To supporters of community service we are a treasure chest of passionate skills and on the ready public aid art to keep your heart rich.

JOIN HIP INC NOW and become activate your passion for this business of love.