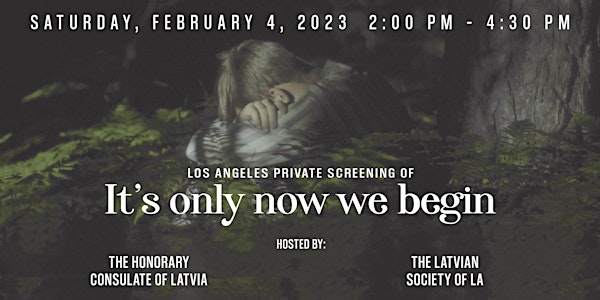 Los Angeles Private Screening of "It's only now we begin"
Marģers Vestermanis survived against all odds. This is his story.
By The Honorary Consulate of Latvia & The Latvian Society of Los Angeles
Date and time
Saturday, February 4 · 2 - 4:30pm PST
Location
Latvian Community Center 1955 Riverside Drive Los Angeles, CA 90039
About this event
Los Angeles Private Screening of "It's only now we begin"
The Baltic States of Estonia, Latvia and Lithuania each suffered the tragedy of a Soviet invasion in 1940, a Nazi conquest in 1941 and a repeat invasion by the Soviets in 1944 – this time our conquerors stayed for 50 years. When the Soviets first invaded, they were welcomed by some, who worked with the Communists to establish Soviet control. When the Germans came, NKVD and Nazi files verify that a different set of quislings volunteered to help the Nazis.
Each country's experience was different but we also shared commonalities. There are lessons to be learned by all three Baltic countries, Latvia, Lithuania and Estonia. This film explores one aspect of this dark period in Baltic history.
Special invitation, private only event for the Baltic Communities in Los Angeles, and for members of the Los Angeles Consular Corps, City, State and Federal Government officials.
A not to be missed historical presentation of Baltic history.
A Question and Answer session will follow.
Hosted by the Honorary Consulate of Latvia and the Latvian Society of LA
Saturday February 4, 2023 2:00 pm – 4:30 pm
Latvian Community Center
1955 Riverside Dr, Los Angeles, CA 90039
Afternoon refreshments will be served. Cash bar.
A voluntary contribution for the Latvian Center, $10 per person suggested, will be appreciated.
Email info@ocps.com to obtain a private invitation or call 844-277-2639.