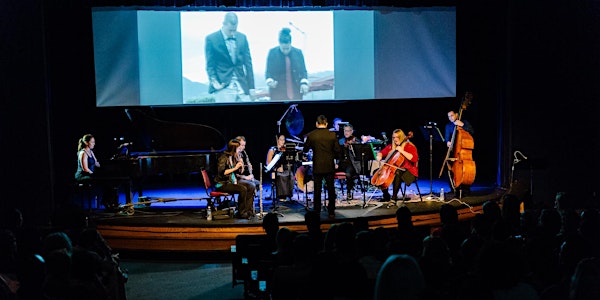 Los Angeles Live Score Film Festival 2018
When and where
Location
Barnsdall Gallery Theatre - Barnsdall Art Park 4800 Hollywood Boulevard Los Angeles, CA 90027
Refund Policy
Refunds up to 30 days before event
Description
The Los Angeles Live Score Film Festival features short films with original scores performed live-to-picture. The 2018 festival on Saturday, July 21st at the Barnsdall Gallery Theatre is presented by Helix Collective in collaboration with the Academy of Scoring Arts. Films for the 2018 festival are curated by the faculty at the New York Film Academy – Los Angeles, the L.A. Film School and Columbia College, Hollywood.
6:00pm Composer and Filmmaker Panel
7:30pm Screening
9:00pm Reception
Free Parking in Barnsdall Art Park
Selected film composers are paired with a winning filmmaker to create an original score for the festival. The film is screened with the score performed live by the renowned performance and recording ensemble, Helix Collective. The screening includes an interview with the filmmakers and composers with host Brian Ralston, co-host of the SCOREcast podcast. Awards for Best Picture and Best Musical Score are presented at the close of the festival.
Now in it's fifth season, LALSFF's goal is to highlight the role of collaboration between composers and filmmakers. Acting like a talent agent, the festival brings experts in the two disciplines together. At the screenings, filmmakers and composers hear and see the work of new colleagues, meet new collaborators, and establish working relationships with each other. Helix Collective proves that it is possible to get talented, experienced film musicians to play and record for independent films!
The 2018 festival is sponsored by Orange Tree Samples, Sonic Fuel Studios, White Bear PR, ASCAP, and the Alliance for Women Film Composers.
2018 Festival Lineup
Aphrodite
Director - Nicolas Varela (NYFA)
Composer - Drum & Lace
A frustrated career on singing drives Aphrodite to pay with her own flesh and identity for an uncertain opportunity into the industry.
Arrow And Oil
Director - Lanyue Zhang (NYFA)
Composer - George Oldziey
Around 1010 A.D. during the Northern Song Dynasty. Chen YaoZi, a civil officer from the imperial court with superb archery skills starts thinking and questioning about the relationship between his archery and his work after he met an old oil seller.
The Bag and the Bike
Director - David Haye (LAFS)
Composer - Marco Valerio Antonini
The Bag and The Bike follows the journey of a poor little backpack, as it copes with the realities of being replaced. The film was shot over the course of 48hrs, for a final class assignment.
Bam Bam
Director - Logan McDonald (LAFS)
Composer - Erik Desiderio
Bam-Bam is a drama about a browbeaten mechanic who wants to keep his girlfriend happy. When he is forced to choose between her and his layabout brother, he must decide what is best for himself before they decide for him.
Devil's Hour
Director - Brandon Garman
Composer - Nathalie Bonin (LAFS)
An evil presence has taken possession of Sam and attempts to take the soul of her sister Ash. Ash is forced to fight for her life and murder her beloved sister, or did she. Now the hour of the devil has struck and the demon claws its way once more into the body of Sam. Will Ash be able to make it out of the house with her soul intact, or will she fall victim to the demons insatiable hunger?
Liminal
Director - Vicken Joulfayan (NYFA)
Composer - Shaun Chasin
Nadim tries to escape his own reality but soon realizes that he is being forced to confront it more than ever.
Niara
Director - Victoria Gagieva (NYFA)
Composer - Steph Kowal
A lonely child soldier trapped in horrors of African militant group experiences a simple act of humanity from a person she is about to condemn to death.
L'Ombre Amoureuse
Director - Glenn Morisse (LAFS)
Composer - Joy Ngiaw
A susceptible college student dreams to escape the charade he's built to protect himself from people's judgments.
The Pill
Director - Oliver Weinmann (NYFA)
Composer - Jonathan Keith
A short description of my The Pill is: A dark comedy about a women who is trapped in a relationship and the only way she is able to go on is by taking a pill.
There She Was
Director - Yesmalem Yeshaw (CCH)
Composer - Peter Lam
He loves her. He loves her not. How many petals will this young lady have to pull to turn her friend into her lover?
About the performers:
Helix Collective is a Los Angeles-based ensemble that specializes in multi-media, collaborative performance and recording. Helix has released two critically acclaimed albums and has recorded the scores for over a dozen films. The ensemble is at home in nightclubs and on the concert stage from a residency at Los Angeles's venerable Silverlake Lounge to performances for the West Michigan and Pacific Symphonies. Helix "has a little something for everyone: those who like their classics straight up, with a contemporary edge to it, or with populist appeal" (Audiophile Audition Magazine). Called "dizzyingly virtuosic with exquisite musicianship and world-class range" by The Free Times and praised for their "beyond-the-ordinary programming," the flexible ensemble has a core instrumentation of flute, oboe, piano and percussion, and expands to a small chamber orchestra.
The group is the resident ensemble of the Los Angeles Live Score Film Festival and recently performed at the Women Composers in Media event in Los Angeles. Upcoming performances this season include Classical Revolution: L.A., Beverly Hills Music in the Mansion, and Encinitas Music by the Sea.
Helix Collective is a 501(c)3 non-profit organization dedicated to creating a sustainable community of multi-disciplinary, multi-genre artists working together to create accessible, immersive works of art in order to bring joy, connection, solace, and understanding to a wide and diverse audience.
About the composers of the 2018 Los Angeles Live Score Film Festival:
Marco Valerio Antonini
Marco Valerio Antonini is a Los Angeles - based Italian composer of music for film, TV and visual media. He studied Film Scoring at the University of Southern California and was selected for the prestigious ASCAP TV & Film Scoring Workshop with Richard Bellis, being awarded the Steve Kaplan TV & Film Studies Award for his excellent performance in the program. He writes music for independent film and game projects as well as serving as additional composer and orchestrator for composers Gordy Haab (ASCAP, Star Wars: Battlefront), Jeff Beal (BMI, House of Cards), Lior Rosner (ASCAP, X-Men Apocalypse), Jay Gruska (ASCAP, Supernatural).
Nathalie Bonin
Born in San Francisco of French Canadian parents, violinist and composer Nathalie Bonin began music at the age of four. Classically trained at McGill University, she began exploring different styles of music and while still a teenager, began her professional career performing in classical orchestras as well as pop, jazz and world music concerts and sessions. She has played with numerous artists including: Stevie Wonder, Peter Cetera, Johnny Halliday, Luciano Pavarotti, YES, Moist, Bran Van 3000, Tea Party, Gino Vannelli, Winton Marsalis and Ted Nash and is currently the concertmaster of The Voice (La Voix) in Montreal. She began composing more seriously in 2008 while completing her Master's Certificate in Film and TV composition with the Berklee College of Music Online School. A fellow of the LA Film Conducting Workshop 2017 and participant in numerous ASCAP, BMI and SCL workshops, her mentors include Michael A. Levine, Andy Hill, Rick Baitz and Chris Hadjian. A member of the Grammys and the Emmys, Nathalie has cumulated numerous credits for prime time network television in Canada and is very excited to be moving with her son to Los Angeles this summer to pursue her dreams in music.
Shaun Chasin
Shaun Chasin is a Canadian composer for film, TV and video games. He studied at Berklee College of Music where he majored in Film Scoring with a minor in Video Game Music before attending the University of Southern California's Scoring for Motion Pictures and Television graduate program. There, he studied with composers such as Bruce Broughton, Garry Schyman, and Christopher Young. He currently resides in Los Angeles with his cat Bogie. His music can be heard on dozens of TV networks as well as in brand advertising including Bumble, Philips, and Coca Cola. Most recently, he has contributed music to the crime investigation series Killing Fields on the Discovery Channel and the survival reality show Alone on The History Channel. Shaun has also written the theme song "Our Time" for the anime Beyblade Burst which is airing now on Disney XD.
Erik Desiderio
Erik's composition style is diverse, with a strong orchestral and electronic background. He excels at combining different musical styles and electronic instruments to create an original soundscape. Selected credits include Diablo III: Rise of the Necromancer by Blizzard Ent., the Adventure Time VR game by Cartoon Network, TV's The Borgias, Harley and the Davidsons, and countless indie films.
Drum & Lace
Drum & Lace, aka Sofia Hultquist, is an Italian composer and performer that writes and creates music for film, fashion and media. Drum & Lace's composition work includes writing music for fashion shows & art films, commercials, and writing for feature-length films such as co-scoring the fashion documentary "The First Monday in May" (dir by Andrew Rossi) that opened the Tribeca Film Festival 2016, and "The Gospel According to André" (dir by Kate Novack) that premiered at TIFF 2017. She has two other documentaries she has scored, "Love and Bananas" (dir by Ashley Bell) and "Invisible Hands" (dir Shraysi Tandon), being released in theaters in 2018. Her recent performances include The Echo Society VI: Family concert weekend (Los Angeles, CA), the Girlschool Festival (Los Angeles, CA) and The Satellite Art Show (Miami Beach, FL) with the NY Fem Factory during Art Basel.
Jonathan Keith
Jonathan Keith is an award-winning composer and orchestrator. Upon graduating from USC's screen scoring program, he began working with orchestrators Conrad Pope, Cliff Tasner, and Bill Newlin on scores composed by both Conrad (The Boss Baby, additional music) and Academy Award-winning Alexandre Desplat (Valerian and the City of a Thousand Planets and Isle of Dogs). Jonathan was a participant in the 2017 ASCAP Film Scoring Workshop with Richard Bellis and has also had the privilege of being mentored by long time Disney Music Executive, Chris Montan.
Steph Kowal
Steph Kowal is a Los Angeles based composer for film and media. Originally from Canada, she graduated in 2017 from the renowned Scoring For Motion Pictures And Television Program at the University of Southern California. Currently, she is absolutely loving her role as assistant to Emmy nominated composer Tony Morales where she gets to work on programs such as Scorpion and Elena of Avalor. Aside from assisting, Steph has been continually working towards creating a unique voice of her own and creating personal and lasting relationships with new filmmakers. She is a lover of unusual ideas, simplicity and minimalism and tries to voice a bit of herself in every one of her scores. In 2017 she scored her first feature film, Sir John A and the Cure of the Anti-Quenched, which made its Canadian debut in March 2018 and she is currently working on her second which is due to have its American debut in late 2018.
Peter Lam
Born in Hong Kong and musically-trained in London, Peter Lam is a Los Angeles-based composer. He has composed for more than 50 short films - ranging form selections at major film festivals such as Cannes and Palms Springs, to Youtube hits with over 7 million views. Aside from his own work, Peter also assists composer Kevin Kiner, and contributes additional music to various TV dramas.
Joy Ngiaw
Originally from Malaysia, Joy Ngiaw is a composer for film and media. She had contributed to a wide variety of work including critically acclaimed TV shows such as FX/Marvel's Legion, HBO's The Night Of, films such as Voyeur (Netflix), House Two (Tribeca Film Festival 2018), and video games such as What Remains of Edith Finch (PS4). Her work, both for concert stage and film, have been performed and screened at memorable venues such as Boston Symphony Hall and Warner Brothers. Joy had recently scored 7 short films that premiered at Academy Award-qualifying LA Asian Pacific Film Festival, both in 2017 and 2018.
George Oldziey
Award winning composer, George Oldziey was an in-house composer for Electronic Arts, for whom he created scores for some of the biggest hits in the video game industry including the Wing Commander, Ultima and Crusader series. He continued to compose and produce music for other major video game titles, including Spongebob Squarepants for Playstation 2, the epic orchestral score for Shaiya, Red Faction: Guerilla, and Crimson Alliance.
George joined forces with film director Robert Rodriguez to create the score for Spy Kids 2 and has since served as composer, contributing composer, orchestrator and score producer for other feature films such as Spy Kids 3D, Once Upon a Time in Mexico, Kill Bill, Volume 2, Sin City, Grindhouse - Planet Terror, The Adventures of Sharkboy and Lavagirl, Shorts and Sin City; A Dame to Kill For.
George has also scored numerous documentaries and short films, including the award winning short film Remember Me, which won the award for best musical score at the 2017 168 Film Festival.