Description
Join us as we gather for two days of high level insight from world class Investors, CEO's and Inspirational business leaders. Listen and learn about exciting developments in the startup world, as well as innovations transforming the business landscape. The summit will not only allow attendees to soak up valuabale wisdom and knowledge, but also help them grow their network and accelerate their business. Beyond the brilliant panel discussions and one on one interviews, a select group of entrepreneurs will also be on hand to pitch and present their business to investors live and in person.
To make the City Innovation Summit truly memorable, speakers will include industry leaders, strategists, and business owners ready teach the community how to increase revenue, generate leads, diversify revenue, establish authority, raise the value of business, elevate brand awareness and concentrate on hyper-growth. The topics of the City Innovation Summit range from leadership, innovation, marketing, business fundamentals, operations, and inspiration.
The event is shaping up to be the talk of LA. Don't miss out!
Friday: 9am - 6pm
Saturday: 9am - 6pm | After Party: 6pm to 9pm
Guest Speakers Include:
Dave Asprey - Founder Bulletproof Coffee, Jay Samit - Vice Chairman of Deloitte, Scott Kelly - Retired Astronaut , George Chanos - Former Nevada Attorney General and many more!
Only a limited number of tickets are available, and registration will close once all tickets are sold.
---

Plug and Play is the most active Venture Capital in the United States with over 250 global investment every year. Plug and Play has built the largest innovation platform and startup ecosystem on the planet and has over 5000 startups. Since Inception, our startup community has raised over $7B dollars in venture funding with over $35B dollars market cap. From 1990, Plug and Play was a house of a lot of successful startups and entrepreneurs like Google co-founders, Danger, Lending Club, PayPal, Vudu and more recent Dropbox. Currently, Plug and Play expanded to 15 countries in 26 locations including Germany, France, Brazil, China, Japan, Singapore and so on.

City Summit is a world class, socially conscious business acceleration experience. Our Summit's mission and outcome is to elevate each of our attendee's business acumen by giving them tools, techniques, knowledge, insights, motivation, and top-level networking relationships. Previous City Gala events, including interviews with top celebrities and industry titans like Halle Berry, Sir Richard Branson, Ashton Kutcher, John Travolta, James Cameron, Queen Jones and Matthew McConaughey.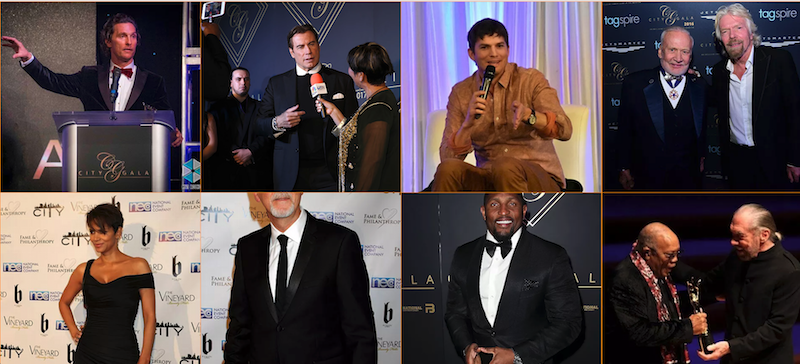 For more information, please contact tianqi@pnptc.com