Description
Join us as we gather for two days of high level insight from world class Investors, CEO's and Inspirational business leaders. Listen and learn about exciting developments in the startup world, as well as innovations transforming the business landscape. The summit will not only allow attendees to soak up valuabale wisdom and knowledge, but also help them grow their network and accelerate their business. Beyond the brilliant panel discussions and one on one interviews, a select group of entrepreneurs will also be on hand to pitch and present their business to investors live and in person.
To make the City Innovation Summit truly memorable, speakers will include industry leaders, strategists, and business owners ready teach the community how to increase revenue, generate leads, diversify revenue, establish authority, raise the value of business, elevate brand awareness and concentrate on hyper-growth. The topics of the City Innovation Summit range from leadership, innovation, marketing, business fundamentals, operations, and inspiration.
The event is shaping up to be the talk of LA. Don't miss out!
Oct 26th & Oct 27th Innovation Summit (8am - 6pm)
JW Marriott Los Angeles L.A. LIVE
900 W Olympic Blvd, Los Angeles, CA 90015
Oct 27th Afterparty (7pm - 10pm)
Plug and Play LA Rooftop
1010 Wilshire Blvd, Los Angeles, CA 90017
Parking: 616 St Paul Street, Los Angeles, CA 90017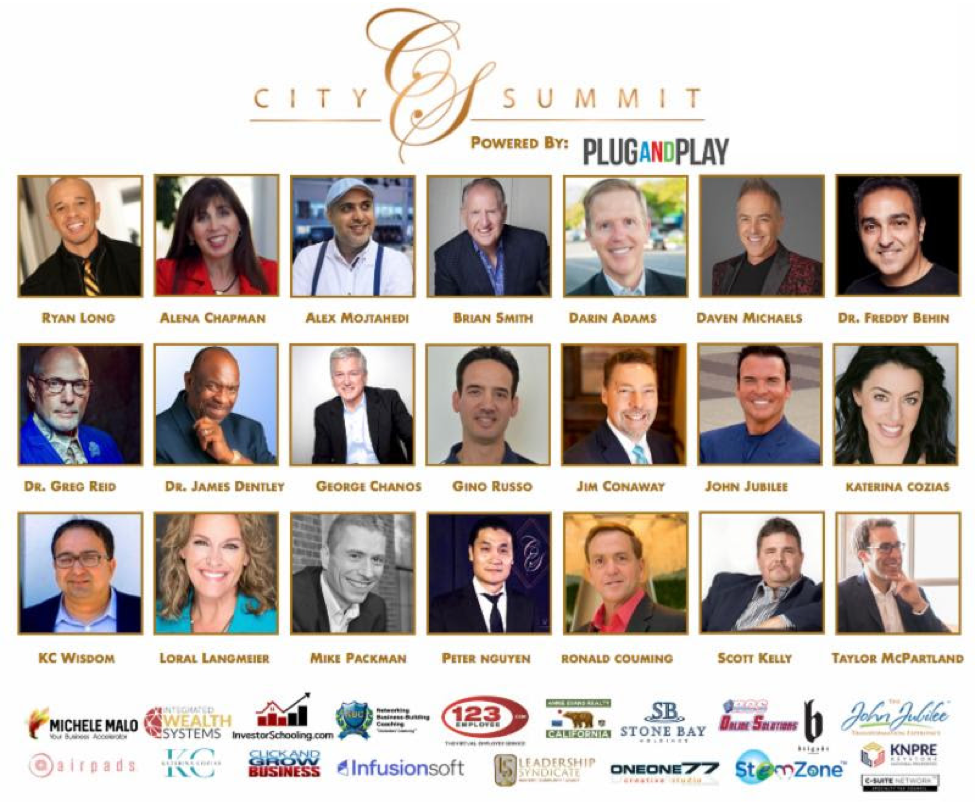 Agenda:
Day 1: October 26th

8am Networking & Reception
9am Opening Keynote
9:10am Gino Russo - Partner of Adi Dassler International Family Office
9:20am George Chanos - Fmrw Attorney General of Nevada
9:30am Dr. Greg Reid - Secret Knock 

10:00am Loral Langmeier - Integrated Wealth Systems
11:00am John Jubilee - 
Cellular Health Expert
12:00pm Beejal Parmar - 123 Employee 

1:30pm-2:30pm Lunch Break 

2:30pm Startup Presentations (5 minutes Pitch / 3 minutes Q&A)
Medolac
Eyecandy lab
Focus Motion
Recess
VNTANA
3:30pm Peter Nguyen - Ad Exchange
4:00pm Peter Nguyen Interview 

4:15pm James Dentley - NBC University
5:15pm Cheryl Snapp Conner - Snapp Conner PR
5:30pm Taylor McPartland - Scale LA
5:45pm Innovation Panel:
KC Wisdom - Pitch Globally
Scott Kelly - Black Dog Ventures
Ronald Couming - RCS T echnology Solutions
Alain Torres - Mindset Expert
Dr. Antoine Chevalier - Holistic Healer, White House
Day 2: October 27th
8am Networking & Reception
9am Alex Mojtahedi - Plug & Play LA
9:15am Brian MacMahon - Expert Dojo
9:30am Dr. Freddy Behin - Peak Performance Expert
10am Katerina Cozias 
- Media Expert
10:45am Darin Adams - Infusionsoft 

12pm Brian Smith - Ugg Boots
12:30pm Alena Chapman 
- Champman Life Institute
1:30pm-2:30pm Lunch Break 

2:30pm Startup Presentations (5 minutes Pitch / 3 minutes Q&A)
Visual Labs
Basepaws
HST Solar
Leo Aerospace
Pebby
Mote

3:30pm Michael Packman - Keystone Properties
3:45pm Taj Eldridge - LA Clean Tech
4:00pm Lucas J. Pols - Quake Capital
4:15pm Jim Conaway - C&C Wealth Strategies
4:30pm Female Empowerment Panel:
Cindy Liz - Elite Hathaway
Alina Serban - Be-Different
Melissa Binkley - Intuitive Intelligence Academy
Lynda West - LivingliveTV and more
Amanda Gail - Elite Hathaway
Amber Omran - WISEPlace
Vanessa Yang, Plug & Play
5:00pm Panel: Chris Edwards - The Third Floor
5:20pm Inspirational Success Panel:
Adam Farfan - Elite Hathaway
Alex Harris - Kiss the Monkeys
Raquel Sanchez - Kiss the Monkeys
Manny Lopez - From Orphan to CEO
Carlos Siqueira - Peak Performance Expert
Chanti Niven - Captivating Speakers
7pm-10pm Afterparty @ Plug and Play LA Rooftop
---

Plug and Play is the most active Venture Capital in the United States with over 250 global investment every year. Plug and Play has built the largest innovation platform and startup ecosystem on the planet and has over 5000 startups. Since Inception, our startup community has raised over $7B dollars in venture funding with over $35B dollars market cap. From 1990, Plug and Play was a house of a lot of successful startups and entrepreneurs like Google co-founders, Danger, Lending Club, PayPal, Vudu and more recent Dropbox. Currently, Plug and Play expanded to 15 countries in 26 locations including Germany, France, Brazil, China, Japan, Singapore and so on.

City Summit is a world class, socially conscious business acceleration experience. Our Summit's mission and outcome is to elevate each of our attendee's business acumen by giving them tools, techniques, knowledge, insights, motivation, and top-level networking relationships. Previous City Gala events, including interviews with top celebrities and industry titans like Halle Berry, Sir Richard Branson, Ashton Kutcher, John Travolta, James Cameron, Queen Jones and Matthew McConaughey.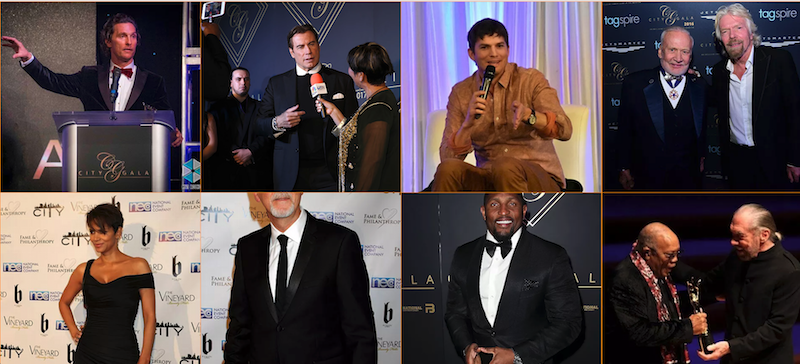 For more information, please contact tianqi@pnptc.com