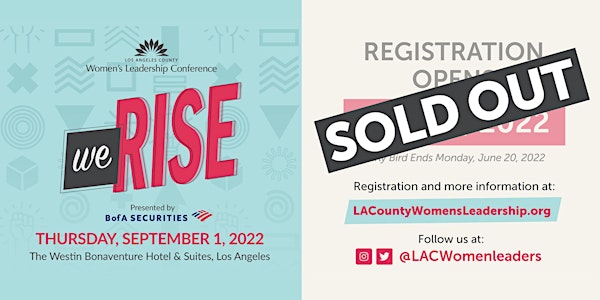 Los Angeles County Women's Leadership Conference 2022
Location
The Westin Bonaventure Hotel & Suites, Los Angeles
404 South Figueroa Street
Los Angeles, CA 90071
We invite you to the 2022 Los Angeles County Women's Leadership Conference on September 1, 2022 at The Westin Bonaventure Hotel & Suites!
About this event
Program - 8:00am to 5:00pm
This event is sold out. Join our waitlist to be notified if tickets become available!
A continental breakfast and plated lunch will be included with each registration.
We will be following the safety protocols provided by the Westin Bonaventure and the County's Health Orders at the time of the event. At this time, it is not required to wear a mask or show proof of vaccination/negative COVID test.
We encourage all attendees to take precautions to protect themselves and others by following these recommendations:
Perform a daily symptom self-check prior to entering the venue.
Be mindful of other people's personal space.
Wearing a mask is highly encouraged.
Consider getting vaccinated or your booster if you have not already done so.
The COVID protocol is subject to change per County's Health Orders and Westin Bonaventure's protocols at the time of the event. The Conference will notify attendees of any change in these protocols.
Additional information on the County's Health Orders can be found online:
http://publichealth.lacounty.gov/acd/ncorona2019/bestpractices/largeevents/
 BASIC INFORMATION
Join us as We RISE at the 12th Los Angeles County Women's Leadership Conference on Thursday, September 1, 2022. We RISE celebrates the journey of overcoming life's hurdles and our growth as individuals and as a community, lifting each other up to reach our greatest potential. Whether it is the global pandemic or our own personal battles, we show up, we are resilient, we persist, We RISE from challenges and come out stronger.
Be a part of our dynamic community as we empower our audience through stories and lessons to cultivate and inspire. By participating, you will gain valuable knowledge from inspirational leaders in government, business, and community as they share their path to leadership. Discover opportunities to network with over 1,000 participants and passionate speakers from across the country and build strong professional relationships that will benefit your career and organization.
The Conference began over a decade ago when a group of women from Los Angeles County Public Works were inspired by former First Lady of California Maria Shriver's Women's Conference. This conference ceased to exist when Maria Shriver completed her tenure as California's First Lady. Recognizing this void, the women of Public Works seized the opportunity to collaborate with County Departments and create their own event that facilitates innovation, learning, and connection with the community. Now, the Conference invites over 1,000 attendees to join us for a day of inspiration.
For more information about the event, guest speakers, safety protocols, and to view our frequently asked questions, please visit the 2022 Conference webpage at www.LACountyWomensLeadership.org/2022-conference.
#WeRISE #LACWLC2022
Event Directions & Parking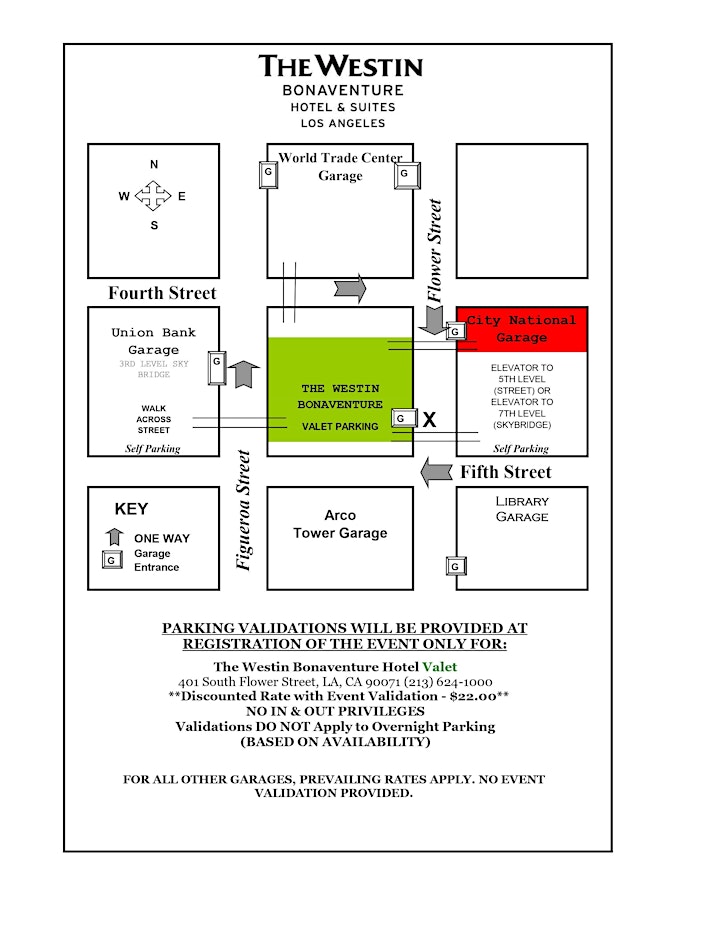 Limited valet parking at the Westin Bonaventure is available for $22 with validation.
The World Trade Center Public Parking offers an early bird special of $12 if you enter before 9:00am.
The City National Parking Garage costs $40 for the day and is attached to the hotel by skybridge; you can walk directly to Registration on the second floor.