Los Angeles County Women's Leadership Conference 2017

Thursday, November 2, 2017 from 8:00 AM to 5:00 PM (PDT)
Event Details
 To be added to the waitlist, please fill out the waitlist form. If a ticket becomes available, a representative will reach out to you with registration information.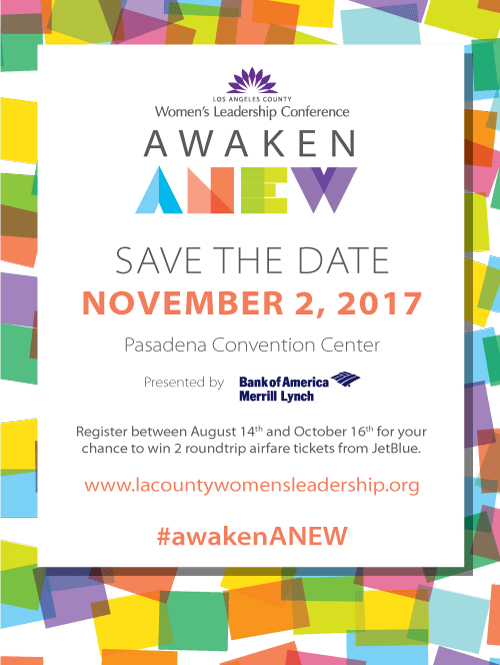 We invite you to the 2017 Los Angeles County Women's Leadership Conference 
November 2, 2017 at the Pasadena Convention Center
Doors Open - 7:30 AM
Program Tentatively Scheduled - 8:00 AM to 5:00 PM 
**$75 Early Registration price is available August 14 through October 16, 2017**
**Conference registration will increase to $100 beginning October 17, 2017 and close on October 25**
**Purchase during Early Registration for the chance to win 2 tickets with Jetblue!**
BACKGROUND 
Since 2010 the County of Los Angeles has hosted the Women's Leadership Conference developed to inspire leadership in us all. History has taught us that the most amazing changes have come about by ordinary people courageous enough to claim the challenge of leadership. We believe that ordinary people can do extraordinary things. And we are convinced that one person with a passion can change the world!
Beginning in 2015, we are proud to partner with the entire County family to continue the legacy of featuring inspirational speakers, interactive break-out sessions, book signings, meet-and-greet sessions, and exhibit booths.
The success of our conferences so far reinforces what we have known all along - that many of us, at some point along the way, will be faced with a cause dear to your heart that will compel you to ignite change. Our goal is to inspire you to embrace leadership along your journey.
For more information, please visit our conference website: www.lacountywomensleadership.org.
---
PARKING
There are two entrances to park at the Pasadena Convention Center's onsite parking: (1) Marenga Avenue to the west and (2) Euclid Avenue to the east beween Green Street and Cordova ($13 per entry for the first 16 hours).  
If the parking lots get full, our staff will direct guests to the Paseo Colorado parking lot across the street ($9 per entry).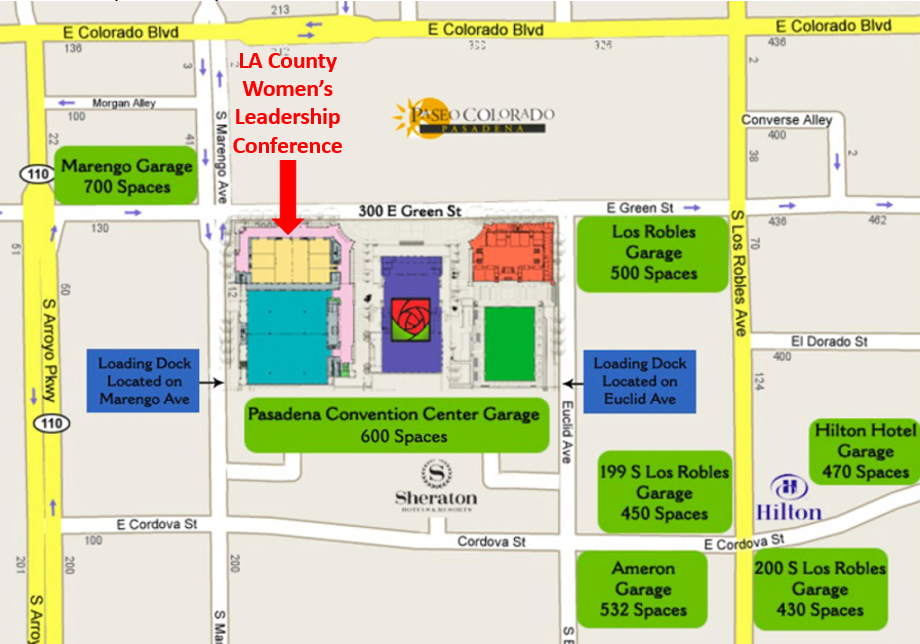 Organizer
The Council is comprised of Public Works employees committed to serve as Ambassadors of the Council. Our role is to actively participate in work groups and committees within the Council to develop projects that support our Mission.
The Mission of the Council is to foster the personal growth and leadership abilities of all Public Works' employees by providing educational and networking opportunities in an open, cooperative, and supportive environment.