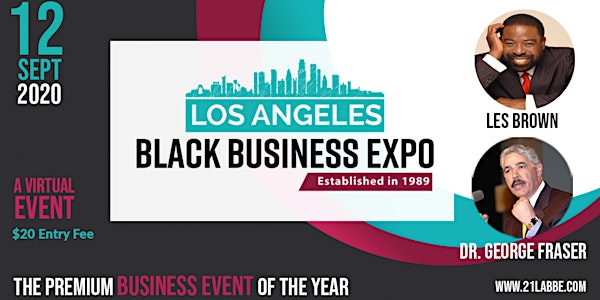 Los Angeles Black Business Expo Virtual Sept. 12, 2020
Our Business is Helping Black Businesses Grow and Thrive. Established in 1989 the Los Angeles Black Business Expo is the premier resource.
Refund Policy
Contact the organizer to request a refund.
Eventbrite's fee is nonrefundable.
About this event
FACTS:
According to The Nielson Company research, Black consumers are speaking directly to brands in unprecedented ways and achieving headline-making results. Through social media, Black consumers have brokered a seat at the table and are demanding that brands and marketers speak to them in ways that resonate culturally and experimentally—if these brands want their business. And with African Americans spending $1.2 trillion annually, brands have a lot to lose.   
There were more than 1 million black-owned businesses in the U.S. at the beginning of February, according to research from the University of California at Santa Cruz, which drew from Census survey estimates. By mid-April, 440,000 black business owners had shuttered their company for good — a 41% plunge. By comparison, 17% of white-owned businesses closed during the same period, the UC Santa Cruz research shows. According to CBS News in June 2020.
The Los Angeles Black Business Expo is here to  Help Black Businesses Grow and Thrive.
Learn, Connect, Grow your Business by levering networks, embracing technology and social media.
Featured Speakers, Seminars, Panels, Vendors and more.
1. Dr. George Fraser, CEO, FraserNet Inc.
2. Les Brown, CEO, Les Brown Unlimited Inc.
3. Marques Ogden, Ex-NFL, CEO, Speaker and RPC member
4. Jewel Diamond-Taylor, CEO, Speaker, Author
5. Dr. Joseph Bryant, Jr., National Sports Director, Rainbow PUSH
6. Bryan Franklin, CEO, Bamway.net
7. Dr. Stephanie Ardrey, CEO/President of Blu Diamond Group, Inc.
8. Reginald Grant, MS Ed., CEO, eSportsInstruction, and Corporate Relations - Retired NFL Players Congress
9. Kim Anthony, National Director , Urban Philanthropy Institute (UPI)
10. Dr. Rosie Milligan, Senior Estate Planner & Consultant
11. Robert Montiller, CEO of TeamPastorpeneur
12. Thomas "TJ" Loftin, CEO, Investor and Public Speaker
13. Linda Coleman-Willis, CEO, Business Development for Success
14. Byron Nelson, CEO, Founder of The Matrix Group
15. Crystal Mitchell, Co-Director Recycling Black Dollars and CEO, Mitchell Systems
16. Melvin Burrell, Real Estate Broker, Insurance Broker and Wealth Management Expert
17. Bob Grant, Chairman, Retired NFL Players Congress & Super Bowl Champion
18. Cliff Pierre, CEO, Revenue Boomers
19. Melanie Perry, Certified Financial Planner
20. Richard Myles Sr., CEO/President of MFL - Minor Football League
21. Rico Lamitte, CEO, The Suave Life
22. John Mathews, CEO, Prothymos Innovations, eBless.App
23. Doris F. Mosley, CEO, Another Beauty Salon and Los Angeles Spectrum International Beauty Expo (SIBE).
24. Naimah, TV Show Host, Author & Coach
25. Ray Wilson, CEO, Leadership Coach, & Author
26. Dr. Gena Yuvelle Davis, CEO of True Synergy, Inc.
27. Dr. Letitia Wright, Producer, TV Show Host
28. Dr. Thyone Gordon, CEO, Beyond Story Training & Consulting
29. Kathy Williamson, N.D., Award-winning Journalist and Film Critic
30. Norma T. Harris, Consultant, Trainer, Speaker, Coach
31. Zenobia Millet, CEO, Funding Boutique
32. Seareatha Virtanen, CEO, Harmonies Brew.
33. Chef Nikko, CEO & Celebrity Chef
34. Paul Ruffin, CEO, ECI Networks and Director WelcomeHome.Vet
35. Ronell Miller, CEO, HBCUstartups, Consultant
36. Coach Cleon "CJ" Joseph, CEO, The Fitness Syndicate
37. Treasure Owens, CEO and Founder, POWERS, Inc
38. Kimberley Ausgood, Certified Financial Education Instructor
39. Deborah Thorne, Author, Coach, Trainer, and Speaker
40. Michael McNair, Co-founder, CEO Simpa Health
AND More Speakers, Vendors and Sponsors to be announced.
Join us on Saturday, September 12th, 9am-5pn, PST (12:00 pm - 8:00 pm - EST)
More information: http://www.21labbe.com