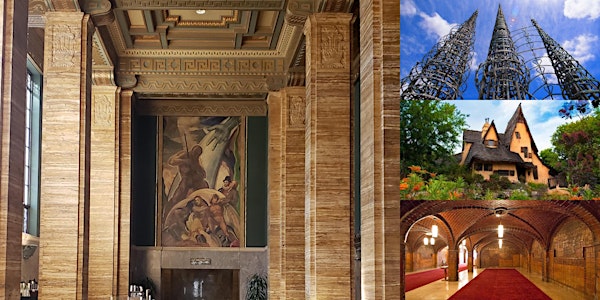 'Los Angeles Architecture, Part I: Cities and Dreams' Webinar
Can't make it live? Register and get access to the replay for one week after the series finale! New York Adventure Club | AdventureClub.com
By New York Adventure Club
Date and time
Wednesday, February 15 · 5 - 7pm PST
About this event
***Register for the entire Los Angeles Architecture series by clicking here. All webinars in this series will remain active for one week after the series finale***
As American modern architecture and cinema developed throughout the 20th century, one American city provided a crucible for both: Los Angeles. This urban playground for design didn't just focus on office buildings, but also extended to unique projects including movie palaces, single-family homes, and even signage. From flights of fancy to the very latest in technological development, it's time to uncover the intersection of doctrinaire Modernism with Hollywood glamour.
Join New York Adventure Club for our three-part Los Angeles Architecture series, where we examine the structures that make Los Angeles like no other city on the planet. In Part One — Cities and Dreams — we'll examine structures and environments that reflect the fantastical and theatrical quality of architecture, in the town devoted to film sets and false fronts.
Led by architectural historian David V. Griffin of Landmark Branding, this digital showcase featuring a selection of unique structures will include:
Buildings designed in part by film decorators, set designers, and actors
Fantasy architecture from storybook cottages to Art Deco skyscrapers
A discussion of the Picture Palaces themselves — the world's largest collection of early cinemas
An in-depth look at each building's construction, context, and current status, with a focus on how culture and innovation drive architectural symbolism
Afterward, we'll have a Q&A with David — any and all questions about these unique buildings are welcomed and encouraged!
Can't make it live? Don't worry, you'll have access to the full replay for one week after the entire series concludes!
See you there, virtually!
*Immediately upon registering, you will receive a separate, automated email containing the link to join this webinar
**For the best possible viewing experience, please ensure you're using the latest version of your internet browser — Google Chrome is the most compatible. Exact technical requirements and a webinar user guide will be shared in the automated confirmation email upon registration.
***A full replay of the experience will be available to all registered guests for up to a week after the series concludes
The Los Angeles Architecture Series
Part I: Cities and Dreams
Part II: Cities and the Future
Part III: Cities and Signs
Testimonials
"The lecturer was very knowledgeable and engaging, and he presented an outstanding collection of photos!" -Harold
"Excellent presentation, well organized, concise, moved at a good pace." -Patricia
"A great overview of the great variety of architectural styles in LA. After viewing this session, I immediately signed up for part II. The presenter is very good." -Pam
"David's presentation was a delight, so well researched & informative, I'm very much looking forward to the remaining 2 presentations." -Mary
"The anecdotes that were shared along with the names and images of the buildings added just the right spice. Also I liked the way the presenter organized the presentation." -Joan
"Amazing variety of striking/gorgeous/eccentric buildings and house. I attended all three parts of LA Architecture, and it was an excellent series. Fascinating content and beautiful photos." -Cassandra
"Non-stop information, plenty of pictures, good content" -Francine
"I am a native Angeleno. I loved it!" -Janet
"Really enjoyed the presentation!" -Jeffrey
"I liked the variety of residential and commercial (and institutional) architecture presented, specific to L.A. during the early-mid 20th century." -Gregory
"It was a great over view of L. A . Architecture. It was new and exciting for me. I'm familiar with NY and Chicago but this was new and wonderful." -Joan S.
"Very knowledgable and personable." -Stevie
"A phenomenal presentation.. glad we caught all 3 sessions.. Very much looking forward to his next lectures.. So glad to see the neon sign photos.. as we watched we realized that (as we've gotten older) we don't go out at night much.. so you showed us what we've been missing :-)" -Pam B.
"Although I have been to Los Angeles many times, I learned so much from the three episodes. Images and information were great." -Chale
"Wonderful, appreciate it! Am visiting LA early August, this prepares me so well!" -Steven
"I loved the amount of knowledge and images that was presented by David Griffin. There are so many beautiful buildings and examples of amazing architecture that I would love to see in person one day (I had planned to come to LA in 2020 but then the world went into lockdown so my trip is all on hold at the moment). My favourite buildings, as a complete sci-fi nerd too, are the Silvertop House and the Downey Guest House. I find their fluid lines and futuristic designs absolutely spellbinding. " -Aliki
"Informative, well presented. I love David's lectures. Please keep them coming" -Ingeborg
"David is a good presenter. He also helps put things in perspective for their times. (often humorously)" -Stan
"The event was highly enjoyable. Thank you for taking time to create the event and present the subject matter. Thanks very much!" -Sissy
"Great pictures, great history of each building, great pace of presentation" -Noelle
"Interesting survey and development of the idea of 'the LA style'. Loved seeing the selected buildings and the (limited) discussion about them." -Leon
"David was not only extremely informed and passionate about the architecture, he also manages to explain the delights of the architecture in a very accessible way. I am now inspired to visit LA and see some of these buildings in person." -David
Disclaimer
By attending a New York Adventure Club experience, you accept our terms of service.
Categories: Virtual, Art & Entertainment
About the organizer
NEW YORK ADVENTURE CLUB | Unlock Your City
We give you insider access to the city's best-kept secrets. But we're so much more than a tour company.
WHO WE ARE
We are a community-driven club that curates the most unique experiences in town, with a focus on history and storytelling. We show you a city you never knew existed, and offer a community you can't live without.
You won't find our special-access tours and exclusive events anywhere else. Think after-hours tours of New York City's most celebrated spaces, themed parties in unexpected locations, and weekend excursions to incredible destinations. All of our events end with social hangouts so you can meet people who love exploring as much as you do.
THE 'CLUB' IN NEW YORK ADVENTURE CLUB
Our current community is more than 50,000 members strong and includes everyone from recent NYC transplants to lifelong residents. Whatever borough you're from (or city or country, for that matter), we'll make it easy for you to take full advantage of the unique places and great people this city has to offer.  
Subscribe with our newsletter to get the inside scoop on the city's most interesting events.
 Visit our website to see our full line-up of fun experience.
"Don't be boring, go do something"
New York Adventure Club