Description
The Timmy Awards by Tech in Motion is an awards ceremony recognizing the best places for tech professionals to work in Los Angeles. While many tech awards are given to brilliant individuals and their technological advancements, the Timmy Awards aim to recognize those who employ those technologists, the companies and managers supporting and driving the innovation.
The 2017 LA Timmy Awards (details below):
Join us Thursday, September 28th at Upload LA to celebrate the winning organizations and individuals at the 2nd Annual Timmy Awards Ceremony!
The 2017 LA Award Categories & Finalists:
Event Schedule:
7 - 7:30 PM - Food, Demos, Drinks & Networking
7:30-8 PM -Timmy Awards Ceremony
8-9 PM - The celebration (drinks, photos, music and more)
----
Meet the Host , Judge and Presenter:

Cameron Kashani - Founder of COACCEL
Godmother of Silicon Beach, Expert Speaker with US State Department, 3x founder, and single mom of twin boys, Cam Kashani has worked with 4000+ Entrepreneurs and 700+ startups.
In 2010, Cam cofounded the first co-working space in Los Angeles for technology startups and entrepreneurs, Coloft, which was infamously referred to as "ground-zero for the LA tech ecosystem" with over 1400 alumni, including Uber LA, Instacart, Fullscreen.
Today, Cam is on to her third company, COACCEL: The Human Accelerator, a unique 1-1, 3-month program, that focuses on building powerful, mindful leaders.
She is on a mission to humanize business and her vision is a global economy that thrives on WE, not ME. While Cam works with men and women, she is specifically passionate about working with women because she believes that if women embrace their own deeply rooted power, they can collectively shift the energy in business and ultimately create a harmonious environment for all.
Meet the Judges and Presenters:

Chadwick Turner - Founder of Circle Reality
Chadwick Turner is the founder of Circle Reality, an immersive media consultancy. In addition, he is a partner at Clever Fox Media, a multimedia creative agency.
Chadwick has extensive experience in the virtual reality industry, having worked within the intersection of entertainment & technology for much of his 10-year professional career. Prior to his focus in immersive media, Chadwick worked as a business development executive for Amazon digital platforms and also in strategic business development, technical, and marketing roles at MANDT VR, Vrideo, 21st Century Fox, and Creative Artists Agency.
John Siegel - Writer at Built in LA
John Siegel was born and raised in the San Fernando Valley. Five years in Chicago left him with a passion for telling stories and the desire never to spend a winter in the Midwest again.
John currently works for Built in LA and has covered Southern California-based startups for the last year-and-a-half. He has also written extensively about business, music, and sports.
William Chun - Deputy Mayor of Economic Development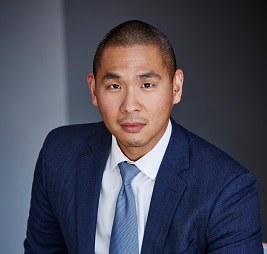 Appointed by Mayor of Los Angeles Eric Garcetti, Mr. Chun serves as the Deputy Mayor of Economic Development. Over an 18-year career, he has been involved in a broad range of economic development projects and investment deals in real estate and tech.
Prior to joining the Mayor's Office in 2013, Mr. Chun was Vice President at Capri Global, a private equity and investment manager with almost $4 billion of assets under management. He was responsible for sourcing and underwriting acquisitions, asset management and equity investment activities including origination, direct and joint venture investing.
Prior to joining Capri, he was a Project Manager at the Community Redevelopment Agency in the City of Los Angeles and was an analyst at CBRE's consulting group.
----
Check out the Venue:
Upload, Inc. - AR/VR Company
Upload, Inc. is a multi-faceted company focused on accelerating the growth of the AR/VR industry. We are passionate about fostering a community that will bring immersive technology to life in a way that creates a positive impact. The core domains of the business are co-working, skills training, curating events and media. The Upload SF and LA campuses are hybrid coworking, incubation and education spaces. The editorial site offers the latest industry news on all things happening in the global VR/AR ecosystem. Upload is fully ingrained in the immersive technology industry since May 2014, driving it forward through an inclusive community-oriented approach.

----
Meet Our Beverage Partner:
Venice Duck was inspired by a local legend of a guy who went to a party in the Venice canals and woke up the next day on the sidewalk covered with ducks.
They are two bartenders from Venice Beach who love good beer.
Their beer represent people from all walks of life that bring their uniqueness to Venice, a place where everyone feels welcome just as they are. Venice Duck captures the life style where the city meets the beach. Where crime meets art. Where tech meets surf. They are beer inspired people who make people inspired beer. #findtheduck www.veniceduck.com
----
Meet our Demo:
From robotic automated manufacturing to the future of personal transportation, entertainment innovation to consumer tech, BRCHN Design House has a proven track record of concept to market product development across a plethora of industries. Utilizing cutting edge design tools, visualization renderers, and prototyping technology, along with a focus on sustainability, manufacturability, efficiency, and quality design, they blur the lines between art and science to create beautiful, functional products.
Instagram | Facebook | Twitter

DroneBase is the leading provider of drone services and the go-to platform for professional and hobbyist drone pilots alike. Powered by technology and the world's largest network of drone pilots, DroneBase provides aerial imagery and data to a wide range of industries at a fraction of the cost and time
----

For more information on the event, please check out our website: http://blogs.techinmotionevents.com/
----

As always we would like to thank our sponsors Jobspring Partners and Workbridge Associates for sponsoring this month's event. Interested in sponsoring a Tech in Motion event? email: Marnie.Sturm@workbridgeassociates.com