Lorna Shore
Ages 16+
The Pain Remains Tour
Lorna Shore - The Pain Remains Tour at Club L.A. in Destin, FL on Thursday, April 6th w/Shadow of Intent, , Bodysnatcher, & Boundaries
By Steve Hall Productions
Date and time
Thursday, April 6 · 6:30 - 10:45pm CDT.
Location
Club L.A. 34876 Emerald Coast Pkwy Destin, FL 32541
Performers
Headliners
More Performers
Shadow of Intent
Bodysnatcher
Boundaries
About this event
Steve Hall Productions & Club L.A. Present
LORNA SHORE
w/special guests Shadow of Intent, TBA, Bodysnatcher, & Boundaries
at Club L.A. in Destin, FL on April 6th, 2023
Doors 5:30p | Show 6:30p | Ages 16+ (Under 16 w/parent)
Tickets on sale this Friday (Jan. 27th) at 10:00am CST
LORNA SHORE
Official Website | Facebook | Instagram | YouTube (Official) | YouTube (Century Media) | Twitter | Spotify | Amazon Music | Soundcloud | TikTokPandora
For LORNA SHORE, the triumvirate of songs at the heart of "...And I Return to Nothingness" are nothing short of an exorcism - and a plunge into something darker. "There were points where we didn't know if we could come back from where things left off," recounts drummer Austin Archey of the tumultuous weeks after the release of the band's 2019 album, "Immortal". "The last year and a half was nothing short of a trial by fire." LORNA SHORE's latest round of pitch black soul-coughing says that in no uncertain terms. From orchestral passage that opens the EP's title track, straight into a bombast of blackened intensities and rampaging grandeur, these New Jersey-born extremists are back, rising from the askes like a phoenix. Reborn and sworn to the dark. A coming fire that even the LORNA SHORE faithful will be stunned by. "We had nothing to lose," states guitarist Adam DeMicco. "As dark as things seemed for us, that also gave us the confidence to push things to places we always wanted to go." Having finished the US leg of the 2019 Summer Slaughter tour with Cattle Decapitation several months before, LORNA SHORE found themselves cutting ties with vocalist CJ McCreery in December 2019. A new voice was found in A Wake In Providence front man, Will Ramos, a longtime friend of the band and veteran of the scene that birthed LORNA SHORE. "They were one of the biggest influences for me as a vocalist," says Ramos. "Going back to the records with Tom Barber [original LORNA SHORE vocalist] on vocals, but also seeing how they developed since, they were always an inspiration. LORNA SHORE is one of those bands who you can really call a pioneer." Undaunted, LORNA SHORE began what was to be both a trial by fire and a victory lap on the European Faces of Death tour, headlined by Polish thrashers, Decapitated. They held their own and won over crowds only to face the challenge of the tour being cancelled and being a continent away as the world shut down amidst the wildfire spread of Covid-19.
Returning to America, LORNA SHORE remained bloodied but unbowed and determined. In that time, the seeds of "...And I Return to Nothingness" were sown. As the world locked down, DeMicco, Archey, Ramos and guitarist Andrew O' Connor plunged deeper into the creative instincts that initially made LORNA SHORE a fixture in the extreme metal scene with landmark albums: 2015's "Psalms" and 2017's "Flesh Coffin". Since then, they've twisted together influences and ideas ranging from the symphonic grimness of European black metal to death metal's complex fatal sonic formulas and hardcore's aural intensities. What LORNA SHORE arrived at was a new level of blackened technicality and the next step in their darkside journey. Embellished with artwork by noted Polish painter Mariusz Lewnadowski (Bell Witch, Fuming Mouth) "...And I Return to Nothingness" reaffirms LORNA SHORE's creative focus and intensity. Teaming once again with "Immortal" producer Josh Schroeder at Random Awesome Studios in Midland, Michigan, the band was ready to take the next step. "The whole studio experience was smoother than I expected," says Ramos of the recording sessions. "Working with Josh, seeing how dedicated and focused the band was going into this record. I think that confidence really came across to final product." The EP's three tracks: "To the Hellfire", "Of the Abyss" and the title track are proof that LORNA SHORE isn't just continuing their fiery legacy. They're reigniting it and spectacularly setting their very legacy ablaze.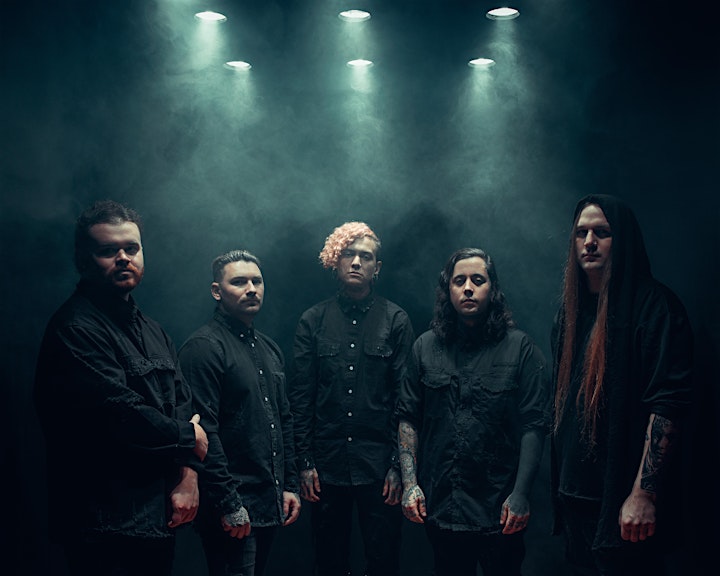 SHADOW OF INTENT
Official Website | Facebook | Instagram | YouTube | Spotify | Amazon Music | Apple Music | Pandora
SHADOW OF INTENT is an American metal band based in New England originally formed by Ben Duerr and Chris Wiseman in 2014. The band continues to release their music independently including their first album Primordial (2016), second album Reclaimer (2017) and very recently their latest work Melancholy (2019).
The band name and lyrics were originally derived from lore from the Halo franchise and since then the band's subject matter has become more dark and personal, while maintaining an element of fantasy and wonder. The band's music is heavily built off of various different genres of metal including death metal, black metal, symphonic metal, progressive metal, and metalcore.
SHADOW OF INTENT played their first live show at the end of 2017, which then lead to them embarking on several US tours with bands such as The Black Dahlia Murder, Whitechapel, Carnifex, Fleshgod Apocalypse, Despised Icon, and more.
2021 has brought about a new era of the band bringing singles "Intensified Genocide", "From Ruin… We Rise" and a cover of Lamb of God's "Laid to Rest", foreshadowing the 2022 'Elegy' album release. The band further evolves their subject matter, touching on the atrocities of mankind throughout history brought about by warmongering, hatred, and greed. The signature SHADOW OF INTENT sound continues to evolve with a larger-than-life cinematic soundscape accompanying each track, bringing a sonic experience hitherto unheard.
Shadow Of Intent Are
Ben Duerr - Vocals
Chris Wiseman - Guitar, Vocals, Keyboards
Bryce Butler - Drums
Andrew Monias - Bass