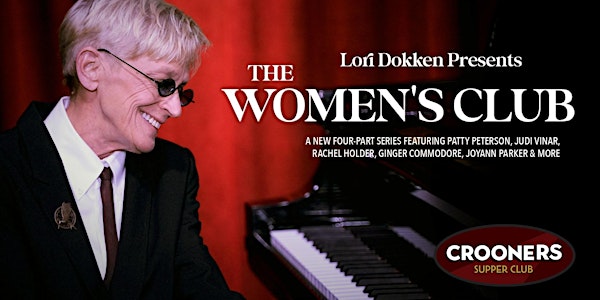 Lori Dokken Presents "The Women's Club" The Mother of All Rat Packs
The Women's Club is a new concept group that is an evolving and revolving compilation of some of the best female singers in the Twin Cities.
When and where
Date and time
Saturday, November 27, 2021 · 8 - 9:30pm CST.
Location
Crooners MainStage 6161 Hwy 65 NE Minneapolis, MN 55432
About this event
Dinner and cocktail seating and service begins 1 hour before showtimes.
This inaugural venture starts off with a series of four different shows produced once a month from November to February. Each show will be presented on a Saturday night at 8PM and Sunday afternoon at 4PM on the Crooners MainStage.
Individual or full series tickets are available. Purchasing tickets for all four shows in this series ($120) brings a total price discount of $20.
November 27 and 28 – The MOTHER of All Rat Packs
We think it's about time to put a tuxedo-clad group of women on stage and set them free to sing, swing, sass and show the alternative of what Vegas' lounges in the 60s could have been like. 
Featuring: Patty Peterson, Judi Vinar, Rachel Holder and Lori Dokken with Jendeen Forberg on drums and Jordan Hedlund on bass. Special Guest – James Rocco will be our host!
December 18 and 19 – Singin' in the Kitchen – Volume 2
Singin' in the Kitchen says it all!  The kitchen is that magical place where we share so much together during our lifetimes. It is that warm haven where we feel totally at ease and talk about our struggles, our successes, our loves and sometimes our losses. The kitchen holds our secrets and stories. This "Women's Club" will reach into their bag of personal favorites and offer a collection of remembrances about those snapshots in time when we quietly smile and remember all that really matters in this life. When we open our eyes and see with our hearts, we are reminded of the richness and joy in our lives. 
Featuring: Judi Vinar, Patty Peterson, Rachel Holder and Lori Dokken reunite for this (now) traditional event and are joined by new members of "The Women's Club" - Ginger Commodore and Joyann Parker.
January 22 and 23 – Women on the Moon – Part One
Performed at The Ordway Center for the Performing Arts in October of 2019, this reprise of the concert will come to you in two parts – one in January 2022 and the second part during the spring/summer of 2022.  
Women on the Moon is a concert event that showcases some of our favorite female artists from the 1960s such as: Mama Cass, Tina Turner, Aretha, Cher, Dusty Springfield, Lesley Gore, Grace Slick, Janis Joplin, Dionne Warwick, Mavis Staples, Joan Baez, Cher, Ella, Shirley Bassey, Laura Nyro, Diana Ross, Barbra, Joni Mitchell, Bonnie Raitt, Nancy Sinatra, and the great Nina Simone.
Producer and Musical Director, Lori Dokken, has assembled some of the Twin Cities' finest female vocalists to transport us back more than fifty years to a time when so many things were static and tumultuous, and yet "peace" and "love" were two of the most circulated words of the era.  Bringing their own unique interpretations to a diverse compilation of music from this decade are such local artists as: Judi Vinar, Patty Peterson, Ginger Commodore, Rachel Holder, and Joyann Parker along with a smokin' band of Twin Cities' A-listers. 
February 19 and 20 – The Story of Patty
This edition features local Twin Cities legend, Patty Peterson.  In the business for more than five decades, Patty is as diverse as they come. She is a world-class Jazz/R&B vocalist, a radio show host on KBEM Jazz 88, a mainstay in the jingle and voiceover industry and an inspiring presenter on the national speaking circuit. There is so much that we know about her, yet with 50 years of musical history, this evening promises to be an amazing journey of stories and songs that will move us to tears, cause us to have bursts of spontaneous laughter and surprise us with all that have we yet to learn about this phenomenal woman.
Featuring: Patty Peterson with her backup trio of pals – Judi Vinar, Rachel Holder and Lori Dokken along with many special guests TBA.
*(This event will possibly include a fund-raising opportunity for a heart association organization – local or national.)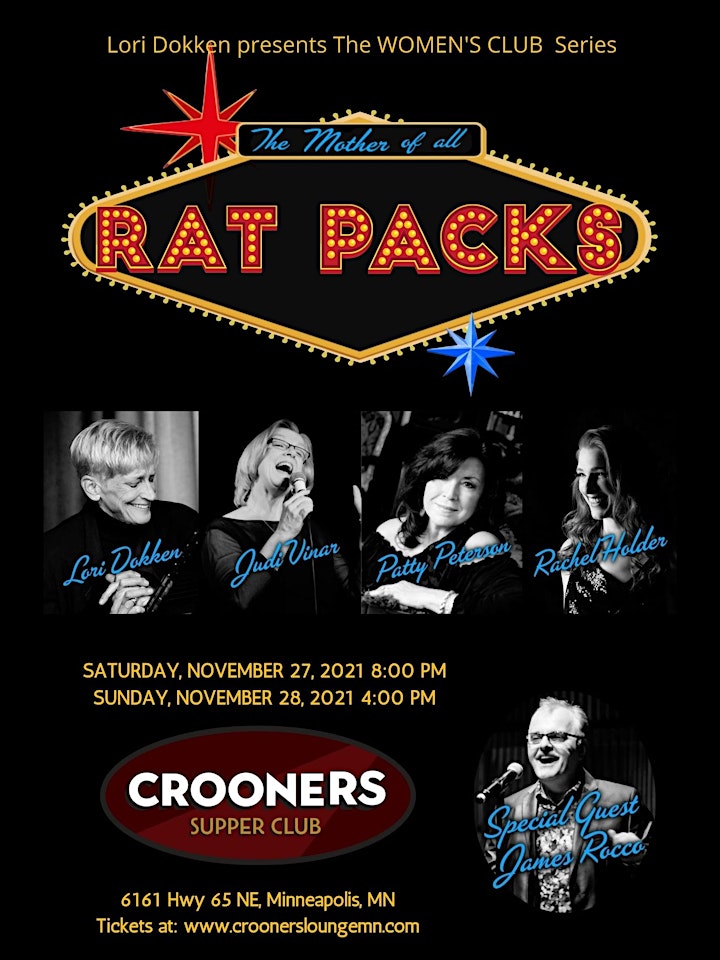 About the organizer
Crooners pays homage to an era when Sinatra ruled the airwaves and martinis ruled the bar - a classic 1960's-styled nightclub with award-winning live music, dining and cocktails.