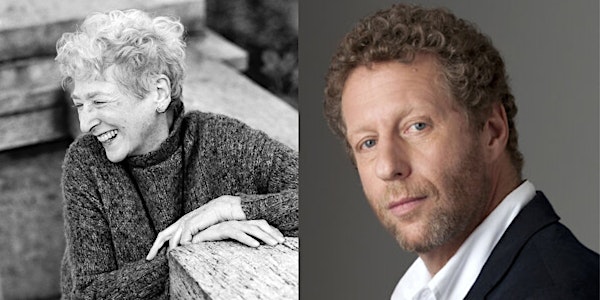 Lore Segal and Uri Berliner: In Conversation
NPR Correspondent Uri Berliner will engage author Lore Segal in a conversation about life, literature, and history.
Refund Policy
Contact the organizer to request a refund.
Eventbrite's fee is nonrefundable.
About this event
Please note that the Zoom link to the program can be found at the bottom of your registration confirmation email. This information will also be emailed to you via Eventbrite the day before the event at 9:00 AM EST and 30 minutes prior to the event.
If you are not able to attend, the opening remarks from this program will be recorded and emailed to everyone who registers.
About the Event
Lore Segal was born in Vienna in 1928 and was educated at the University of London. A finalist for the 2008 Pulitzer Prize for Fiction, Segal has won a Guggenheim Fellowship, two PEN/O. Henry Awards, the American Academy and Institute of Arts and Letters Award, and a fellowship at the Dorothy and Lewis B. Cullman Center for Scholars and Writers. Much of her work has explored the experience of displacement and immigration, such as the novel Other People's Houses (1964), based on her experience as a Kindertransport refugee, or Her First American (1985) a love story between a refugee from Hitler's Europe and a witty, hard-drinking, black intellectual. NPR Correspondent Uri Berliner will engage Segal in a conversation about life, literature, and history.
About the Speaker
Uri Berliner is the Senior Business Editor at NPR, where he edits and reports on economics, technology and finance. He provides analysis, context and clarity to breaking news and complex issues. Berliner helped to build Planet Money, one of the most popular podcasts in the country.
Berliner's work at NPR has been recognized with a Peabody Award, a Loeb Award, Edward R. Murrow Award, a Society of Professional Journalists New America Award, and has been twice honored by the RTDNA. He was the recipient of a Nieman Fellowship at Harvard University. A New Yorker, he was educated at Sarah Lawrence College and Columbia University.
Berliner joined NPR after more than a decade as a print newspaper reporter in California where he covered scams, gangs, military issues, and the border. As a newspaper reporter, his feature writing and investigative reporting earned numerous awards. He started his journalism career at the East Hampton (N.Y) Star.
Lore Segal was ten years old when she left her native Vienna and went to England, where she lived with a number of foster families. After receiving her B.A. English Honors from the University of London in 1948, she went to live in the Dominican Republic until her American quota allowed her to come to New York in May 1951. Between 1968 and 1996 she taught writing at Columbia University's School of the Arts, Princeton, Bennington College, Sarah Lawrence, the University of Illinois at Chicago, and Ohio State University from which she retired in 1996.
Segal has worked as novelist, essayist, translator, and writer of children's books. She has received the Clifton Fadiman Medal, a Guggenheim Fellowship, the Harold U. Ribalow Prize, and a grant from the National Endowments for the Arts and Humanities. Her reviews have appeared in the New York Times Book Review and her stories in the The New Yorker. Her short story "The Reverse Bug" was included in Best American Short Stories, 1989 and was a 1990 O. Henry Prize-winner. Her stories "Other People's Deaths" and "Making Good" were included in the O. Henry Prize Stories in 2008 and 2010, respectively.
Segal's novels include Other People's Houses, which was first serialized in The New Yorker, Lucinella, republished in 2009 by Melville House; and Her First American, which won an award from the American Academy and Institute of Arts and Letters.