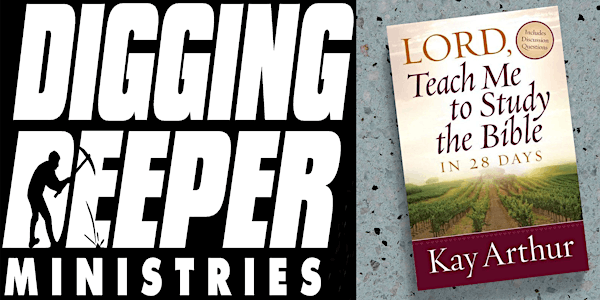 Lord, Teach Me to Study the Bible in 28 Days - Connie Condra
This is a four-week basic introduction to inductive bible study using Kay Arthur's study on Jonah.
About this event
28 days 2 hours

Mobile eTicket
Topic: Lord, Teach Me to Study the Bible in 28 Days
Day: Tuesday
Date: 01/03/2023 - 01/31/2023
Time: 5:00 PM - 7:00 PM, Mountain
Leader: Connie Condra
Leader's Email: pdsrn2003@outlook.com
CLASS DESCRIPTION:
This is a four-week basic introduction to inductive bible study using Kay Arthur's study on Jonah. If you have ever wanted to study the Bible, but think that it is too hard, this class allows you to dip your toe into the inductive study pool before diving in. It is appropriate for those who have heard of inductive study but don't know anything about it and for those who are brand new to inductive study.
Well-known Bible teacher Kay Arthur leads readers into the fascinating world of Inductive Bible Study where God Himself becomes the teacher (Psalm 119:102). This book teaches readers how to study Scripture and specifically mark the text to unlock its meaning. In just 28 days readers learn how to:
- study the Bible book by book and understand what they are reading
- recognize key words and concepts in the Bible
- discover the main point of any passage of Scripture
- discern God's purpose and apply life-changing truths to everyday life
This is a very practical, hands-on, learn-by-doing book, perfect for either individuals or small groups. Bible text and space to write insights are included. Readers need only a pen, a few colored pencils...and a prayerful heart to complete each study and experience the Bible's life-changing power.
Each week, you will join in your Leader's Online classroom for LIVE discussions. These LIVE discussions will help you grasp the material as you reason through the Scriptures together.
ADDITIONAL CLASS INFORMATION:
This class is for: COED
First Class: Orientation
Video Presentation: No videos used in this class
Workbook: You may order your workbook for this class from Precept Ministries ($14.99) or Christianbook ($7.99) Please order your workbook ASAP!
MEETING TIMES PLEASE NOTE:
This class may be hosted in a time zone outside of your time zone. Therefore, the possibility exists that the occurrence of each class may meet on a different day/time depending on the time of year. Please visit a time zone converter and check EACH CLASS MEETING DATE/TIME to verify you will be available to participate. Time zone converters such as: Time Zone Converter or World Time Buddy.
Many classes are recorded and if you can attend most of them, you may be able to get a recording from the class leader for any classes you might miss due to this issue. Please contact the class leader to verify they are offering recordings.
ORDER CONFIRMATION:
You will receive an order confirmation from EventBrite regarding your class registration AFTER you register. Then approximately 1-3 weeks before the class begins you will receive another email with more detailed class information from the class leader or class administrator. Please closely read the ENTIRE EMAIL for all necessary information you will need for this online course.