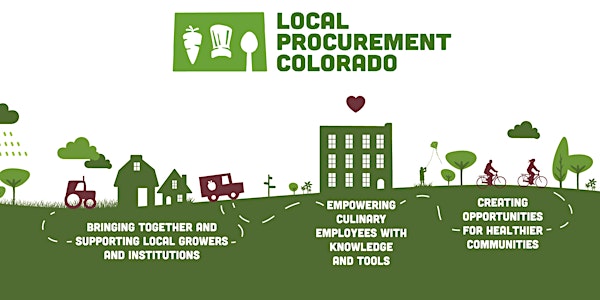 LoProCO Regional Workshop Southeast Colorado Series: 3.0
Join us for workshops designed to give you the tools, resources, skills, & connections for crafting your own farm-to-institution path
When and where
Location
Trinidad High School 816 West St Trinidad, CO 81082
About this event
Local Procurement Colorado (LoProCO) Regional Workshop Registration and Save the Date(s)!
What: Local Procurement Colorado Regional Workshop Series. Signing up for one loops you into all of them!
The LoProCO Regional Workshop Series is designed to support our agricultural producers, schools & institutional buyers, educational leaders, and community leaders on the path towards making farm-to-institution the norm. There are a lot of avenues to explore in this world and opportunities to craft a path forward that makes sense for you and your goals. Our multi-year series will work with you and support you over the course of 2-3 years. Resources, connections, professional development credits, recipes, culinary skills, insider tips, local experts, marketing strategies, new market channels, navigating grants and policies, workforce development opportunities, and so much more will happen during the workshops - plus - they are fun and come with delicious food!
NEXT UP - February 24th, 2022 3.0 - Learn about the assets and opportunities within your region, provide feedback on resources and tools being developed to support local procurement, and networking with other producers and institutions. Deep dive topics specific to your role (menu planning, procurement, 2023 and 2024 crop plans), share success stories and challenges with farm to institution, and continue working together to identify action steps towards strengthening farm to school/institution in your region. Plus - we offer a delicious and hearty breakfast and lunch for everyone! Check out our Agenda!
ALREADY HAPPENED! Nov 4th, 2022 2.0 - Split Day Workshop. First half of the day is dedicated to our institutional meal providers, student leaders and their teachers. You will get dedicated time in the kitchen to learn and practice creative ways for using fresh local produce in the meals you serve. After that, everyone will convene before lunch to here about the dishes we prepared and what could be sourced locally. We will then enjoy a delicious lunch featuring the creative dishes that were created in the morning before moving into our afternoon sessions. We will do a play on SPEED DATING - giving you all the chance to connect with and meet local partners, agricultural producers, and vendors, building your network while identifying next steps for collaborating with others on building your farm to institution efforts. Check out our DRAFT Agenda Here!
ALREADY HAPPENED! March 11th 1.0 - Share your experiences with farm to school/institution (what has worked, what are your barriers and challenges). Learn about the opportunity statewide and within your region and how your role fits into this puzzle. Network with each other, discuss resources like grants and policies, and begin identifying small steps towards making farm to school/institution the norm. Check out our Agenda!
Who: Southeast Colorado - priority counties of Las Animas, Otero, Crowley, Bent, Baca, Prowers, Kiowa, Pueblo, and Cheyenne.
Agricultural Producers - farmers, ranchers, food hubs, processors, local-food businesses, etc.
Institutional Buyers - *Limited Spots Available* with priority for K12 Schools and Early Childcare. If spots are available, other institutions with meal programs as welcomed such as: Older Adult Meal Programs, Hospitals, Community Colleges, Correctional Facilities
Kitchen Leads - *Limited Spots Available* each institution who attends is able to bring one kitchen lead with them
Career Tech Educators and Student Leads/Partners - Future Farmers of America, Future Business Leaders of America, 4-H programs, Family and Consumer Sciences, Science/Horticulture Teachers, etc.
Community Partners and Leaders - Local Health Inspectors, Extension Specialists, Food Access Non-Profits, Food Systems Non-Profits, County Commissioners, Workforce/Economic Development Representatives, Small Business Incubators, etc.
Regional Workshop Overview:
LoProCO provides capacity building for agricultural producers to sell to school & institutions, for buyers - culinary training and systems training for procurement and menu planning, crafts and leads policy advocacy to support local procurement, and works to create a shared understanding of the value and inherent opportunities that come from supporting local agriculture.
The LoProCO Regional Workshops recognize that we are only a small part of the local sourcing puzzle while seeing the value in sharing the knowledge, elevating those who already play a role, and building the capacity of those who want to take their efforts to the next level.
Looking to apply for Travel Scholarships? Apply Here!
We will also offer Childcare Stipends for those who may need it.
For more information visit our website at www.nourishcolorado.org
For Questions - please contact: Jessica Wright at jessica@nourishcolorado.org / Taylor Frederick at taylor@nourishcolorado.org 
FYI - this is an IN PERSON training with COVID-safe protocols in place.
                                                               READ ON FOR MORE INFO
Are you a farmer, rancher or food hub?
Learning how school food service programs operate, the regulations they have to follow and the different ways to ensure your product ends up in their school
Ways you can partner with school districts to help increase educational awareness about agriculture and work with them to develop recipes that match what you grow.
Basic food safety requirements that must be in place to supply to schools.
Meet with School Food Service Directors who are ready to source locally and/or prioritize local products through their current purveyors.
Understand which grants are available to support your efforts and overall business plan
Learn about varying policy efforts and ways to get involved, leading on issues that directly impact your operations
Share your experiences navigating this market and work together to identify forward steps that'll make sense for your operation
Are you a School Food Service Director?
Staff members will build their culinary skills and confidence levels to safely and effectively prepare fresh, local products with ease. Staff will also learn how to take these new skills back to their kitchen and train the rest of their team.
Review the risks that can come from sourcing locally, such as crop failures, and the importance of having your Plan B in place.
Different food safety requirements that must be in place in order to source locally and how to discuss these requirements with potential farmers and ranchers.
Explore USDA regulations, identify your district policy for purchasing and how to shift it if needed along with the varying bid processes and the basic components of a spec sheet.
Incorporating local products into current the current menu, adding menu items and developing recipes that match what is grown in your region. Utilization of Velocity Reports (usage reports) to easily identify what you currently order and matching items to what is grown locally.
Meet with farmers and ranchers in your region to identify what they grow and how that aligns with current purchasing habits.
Identify varying grants accessible to you that can further your farm-to-school efforts and learn how different policy initiatives can impact your goals
Are you a Career-Tech Educator and/or Teacher with a couple Youth Representatives?
 Deepen knowledge regarding the Colorado Farm to School system
Have work-based learning opportunities, and identify other ways to support student-led initiatives, community change projects, and other student required projects specific to your curriculum and area of focus
Support and enhance your current program offerings, and identify varying funding streams and grants to help grow your program
Network with other teachers in the region and gain ideas and resources
Connect with like-minded youth and identify opportunities for community change projects
Dive into marketing and policy initiatives that can impact community support and help develop your farm to school efforts
Are you a partner interested in supporting local procurement in your region?
Depending on where your interest lies, you are welcome to attend any session relating to the farmers and the food service directors and increase your awareness around their challenges, successes and daily realities.
By attending these sessions, you'll be able to identify where you fit into this puzzle and how best to continue supporting local procurement. 
Identify varying funding streams, grants, policy initiatives that can impact the farm to school movement in your community
Network with other like-minded individuals and identify future opportunities to collaborate while taking small action steps towards your goals
COVID-19 Considerations
By registering for this workshop series, I understand that local COVID-19 requirements may be in place. Depending upon the situation at the time, these requirements may include social distancing, mask requirements, and/or signing a form stating you are without symptoms.
We are committed to delivering this workshop series in Southeast CO. Should we need to reschedule due to COVID-19 requirements or other events outside our control, we have contingency dates planned.