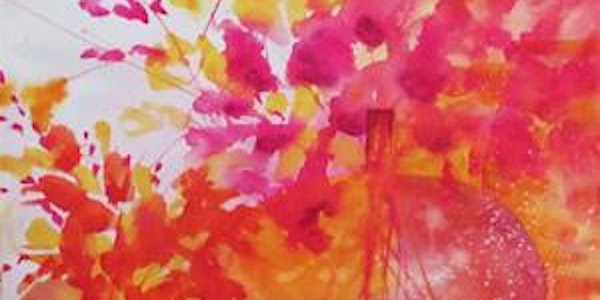 Loose Florals Watercolor Workshop with Chris Blevins
When and where
Location
Art on the Columbia 830 N Columbia Center Blvd, Suite B2 Kennewick, WA 99336
Description
Loose, looser, loosest! -) Learn how to paint a floral still life in a very loose watercolor style. A touch of previous watercolor experience is probably best for this workshop. That said, if you're game to just jump in, that'd probably work too!
I'm offering two ticket types for this event.
Pay $85 upfront via credit card.
Pay $20 upfront via credit card and $60 cash at the event. This means $5 off for you. Yay! This is a CASH only discount and does not apply to payments via check or credit card.

Please note, supplies are not provided. If you don't quite have all your own supplies yet, I have two suggestions:
Shop at Art on the Columbia! The region's first, and very awesome, fine art supply store. Or, let me know and I can set you up with what you need to use in class. $20 materials usage fee.
SUPPLY LIST
PAPER. 140lb, cold press) artist quality watercolor paper torn into a square (15 x 15 or 22 x 22…your choice). Bring the remaining paper, or some extra, for practice/play scraps. If you want to wait to "tear" your paper at class, I'll show you a couple of my favorite ways to do so. Art on the Columbia carries Arches brand paper, which will work just fine. Please do NOT buy any of the Strathmore tablets or spiral bound watercolor paper from craft stores. They just don't work and are a waste of your money.

PAINTS. In general, Artist Quality or professional gradepaints, such as Holbein or Daniel Smith. Once again, please do not buy paints you can get at the craft stores, CostCo, Walmart, etc. You will waste your money! J OK, off my soapbox. On to the paints…
Opaque white watercolor paint (sometimes called gouache, antique white, Chinese white, or titanium white). Art on the Columbia carries a couple of Holbein whites, either of which would work fine
If you would like to emulate the color scheme of the floral image shown when you signed up for class (see it here), here are the colors used:
Holbein Permanent Yellow Orange
Holbein Bright Rose
Holbein Bright Violet
Daniel Smith Quincridone Pink
If you're wanting to emulate the other floral I sometimes use to advertise this workshop (see here), you'll need these colors.
Holbein Marine Blue
Daniel Smith Green Gold (FYI, Rich Green Gold is NOT the same color)
Holbein Permanent Yellow Orange
Daniel Smith Indanthrone Blue or Holbein Royal Blue
Holbein Permanent Violet
Daniel Smith Shadow Violet
BRUSHES. Bring what you have. If you're still stocking up your watercolor gear, these are brushes I'll be using to demonstrate and would recommend.
Your biggest and softest wash or flat brush. Art on the Columbia carries some price friendly Hake brushes that would work well for this. About 2 or 3 inch width
A good mop brush. The silver black velvet brand makes great mops. The Medium size if you are painting 15x15, the Large if you're painting 22x22
A rigger. If you don't have one, but want one, might want to wait until day of class to select which brand and size. Riggers are sometimes also called Scripts or Liners.
A #10 round Jack Richeson 9000 series
A #12 round, brand of your choice. The Princeton line is more price friendly and is carried by Art on the Columbia, but my favorite is the Silver Black Velvet.
A dagger or swordliner (optional)
PALETTE. Art on the Columbia has a few types to choose from
MISTERS/SPRAYERS. A small mister with finer spray and regular household size sprayer
BOARD. Art on the Columbia carries a couple different types. For this project, if you don't already have one, you might want to invest is in plexi board.
Scissors
Gum eraser. Art on the Columbia has these
2H pencil. Art on the Columbia has these
Blow dryer
Paper towels
Two water buckets. Recommend clear/see through.