About this Event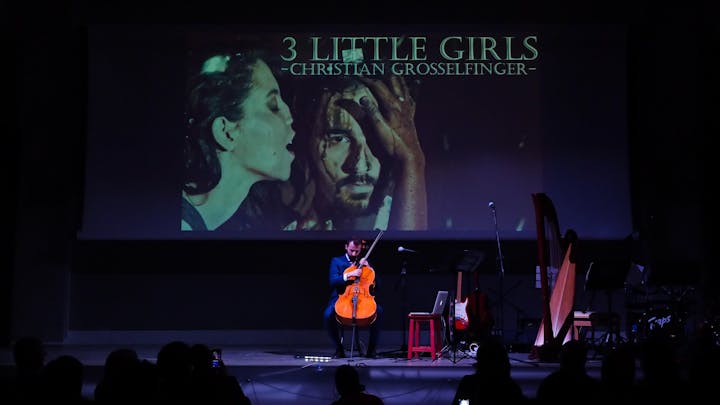 MASTERCLASS "LOOPING: TECHNOLOGY AT THE SERVICE OF ART"
How the idea came about
After years of creating the concept Celloop (cello + Loop), the idealizer of this project Christian Grosselfinger in 2012 wagered on his solo career and leaves the orchestral means to devote himself exclusively to his creation. After traveling through central Europe, Brazil and South Africa, doing concerts with its renowned concert/concept, Christian understood that this technique could help others to achieve autonomy, allowing himself to live of music and develop professionally.
About the project
This project aims to offer a new musical arrangement technique called Looping that allows participants to expand their capacity to create and present music, giving more autonomy and expressiveness to their artistic activities. The workshop will be developed collectively in a spirit of reflection and cooperation, encouraging citizenship through a final presentation for an entity, preferable to a social responsibility project.
The activities will be developed in five meetings with individual attention from the teacher to the participants. It will be offered theoretical and practical activities to achieve the proposed objectives.
Why is it interesting?
The aim of this project is to provide access to contemporary technical knowledge used in musical Looping area, demonstrating a current trend of bringing together art and technology.
It is well known how much art is necessary and has been proven its effective importance in preventing violence and crime. Currently, the technology has exercised a great fascination on the younger ones, so this workshop intends to take advantage of this interest for the sake of art.
The use of the loop is a trend that has currently grown in the music. It is a technique that enables audio recording and reproduction cyclically. It is an excellent technical resource, which to musical performance enables the creation of a greater sound density.
The possibility of being executed individually and applied to the various musical genres add numerous advantages:
• Enables greater autonomy;
• Develops creativity;
• Enhances the musical performance, allowing the listening to post
performance enabling self-assessment;
• Assists in solos, improvisations, and musical compositions;
• Allows the realization of a richer and more interesting solo concert, since looping allows a single artist to perform a full concert, it synthesizes several instruments and sound variations. Without this tool, a realization of this nature would be impossible without the presence of other musicians.
Where will it be held?
The Pirate Studios in Berlin
Target Audience
Free from 14 years and basics of music (instruments or singing)
Maximum estimate: 10 people per class.
Minumum: 5 people per class
Duration
The workshop will be held in five modules lasting three hours each, with a fifteen-minute break.
Counterpart
The project offers the institution and the society the following counterparts:
✓ Qualification of the participants in a new technique of musical arrangement.
✓ Training of human resources with technical diffusion capacity in the region.
✓ A free concert with works in free format, from the participants to the society, as the closing of the workshop. Suggestions: Public school, nursing home, orphanage, etc.
Idealizer
CHRISTIAN GROSSELFINGER
Graduated in composition from UNIRIO and sponsored by REMIC Microphones from Denmark, this Brazilian artist is considered by FNAC Lisbon as "one of the most promising cellists of Brazil." He studied cello in European countries, including Portugal, Germany, Switzerland, and Austria. He played in some orchestras around the world, as OSBJ in Rio de Janeiro, VolkshochschuleOrchester in Karlsruhe (Germany), Orchester Pro-Art and DarstellendeKunstOrchester in Vienna (Austria) and the Academic Metropolitan in Lisbon (Portugal). Composer of four CDs and the concept Celloop concert: Orchestra of a single man. He created a social project called Gratefulpath (Route of Gratitude) in 2014, making concerts by eight European countries, raising funds for poliomyelitis eradication.
Requirements
Bring a headphone. (If your instrument requires microphone to be capture, also brings a microphone and the proper cable)
And choose from one of the following options:
To bring a laptop with abelton live installed, Could be the trial version which is for free in the link: https://www.ableton.com/en/trial/
Or a loop pedal or device,
Any questions you may have you could place it here or in the whatsapp number: +39 3246097709
CONTACTS
Web site: https://chriskomposer.wixsite.com/iamchris
Facebook: https://www.facebook.com/christiangrosselfinger/
YouTube: https://www.youtube.com/user/chriskomposer
Email: chriskomposer@hotmail.com
Menu Workshop
Module 1
Teacher presentation and introduction to the concept of looping.
Interval
Knowledge practices and familiarization with the equipment and technology
Module 2
Individual practices with teacher monitoring
Interval
Continuation of individual practices activities
Module 3
Analysis of consecrated works in the gender
Interval
Creation and discussion of a proposal for the concert
Modulo 4
The practice of the chosen setting
Interval
Improvement and reflection of the individual proposal
Module 5
General rehearsal preparing the group for the presentation
Each student will present the results of its individual work and receive comments and suggestions from others.
Concert