In this online, self-paced class, you'll learn to make upcycled knit cowls on lap looms you build or buy, out of t-shirt yarn
About this event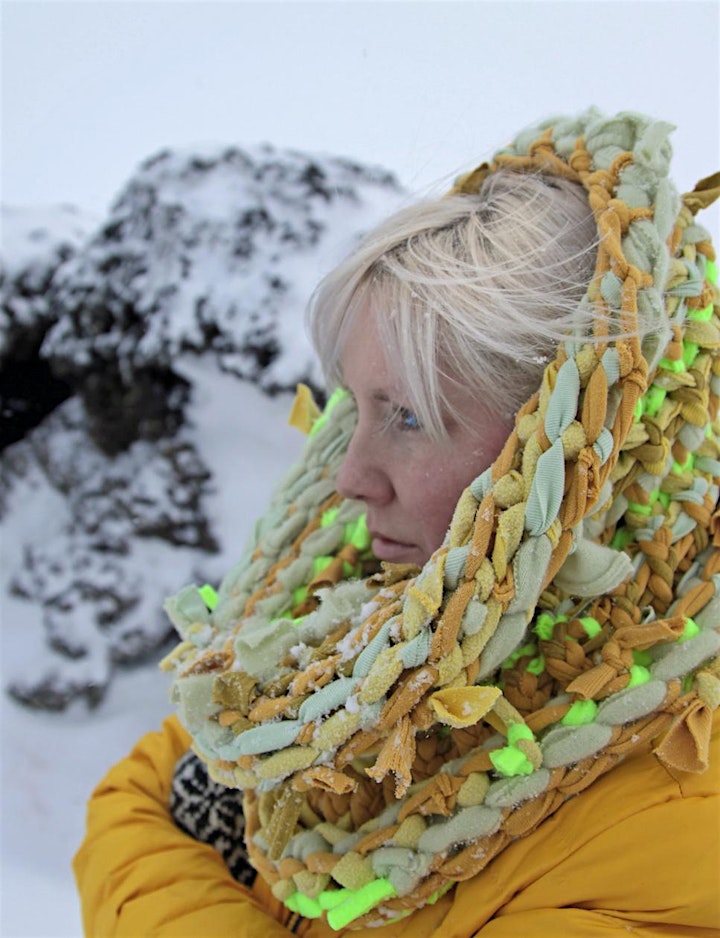 Online Self-Paced Class: Choose the day you want to do the class!
1 hour and 40 minutes of detailed video instruction available to you on your own time, in an Online Event Page Classroom. The videos can be downloaded so you can keep forever.
Downloadable directions to build your own loom easily - as well as other instructions and resource guides come in the classroom.
Limited amount of pre-built looms, both new and used: PURCHASE HERE
You will need to gather your own materials - just grab all your old t-shirts!
ABOUT THE CLASS:
Work with Seattle-based Fiber Artist Mandy Greer, as she teaches you her own style of rake loom knitting on a handmade lap loom.
This class is a series of 4 videos that have been edited from a previous live Zoom class, and the online classroom includes directions to build a loom, as well as other printable resources.
Recycled T-shirt Giant Cowl Workshop
FOR COMPLETE BEGINNERS, really! No previous hand-work experience required.
In this workshop you will learn to create a giant Cozy Cowl by recycling old t-shirts into yarn, and 'knitting' them on a lap loom into a super fun and one-of-a-kind wearable fiber piece!
Maybe even, you'll feel just a little bit more like Lenny Kravitz when you slip this baby around your neck! It's the truth!
And since you'll own your own loom, you can make a ga-zillion for all your besties, trying out all kinds of knit or stretchy reclaimed fabrics.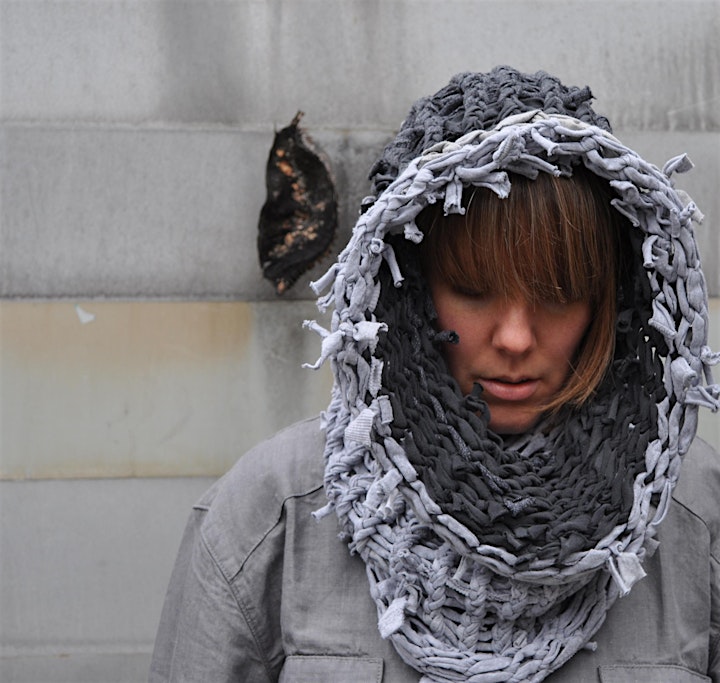 The Process
Using handmade looms ( limited amount you can buy here) that are adaptations of a childhood craft called spool knitting — rake looms from Germany date back to 1535 – I'll be leading you in this incredibly meditative process that can turn your junkiest t-shirts into super posh fashion!
We'll be investigating slow process, re-thinking throw-away culture, and re-examining self-esteem via self-sufficiency rather than purchasing power. You can turn all your old t-shirts into cozy cowls, or spring neckpieces, net shopping bags, or a ton of other ideas you come up with.
The process is easy and relaxing.
I'm selling a few remaining used teaching looms for a discounted price and I have three new looms as well. The new looms would take 5 days to ship out.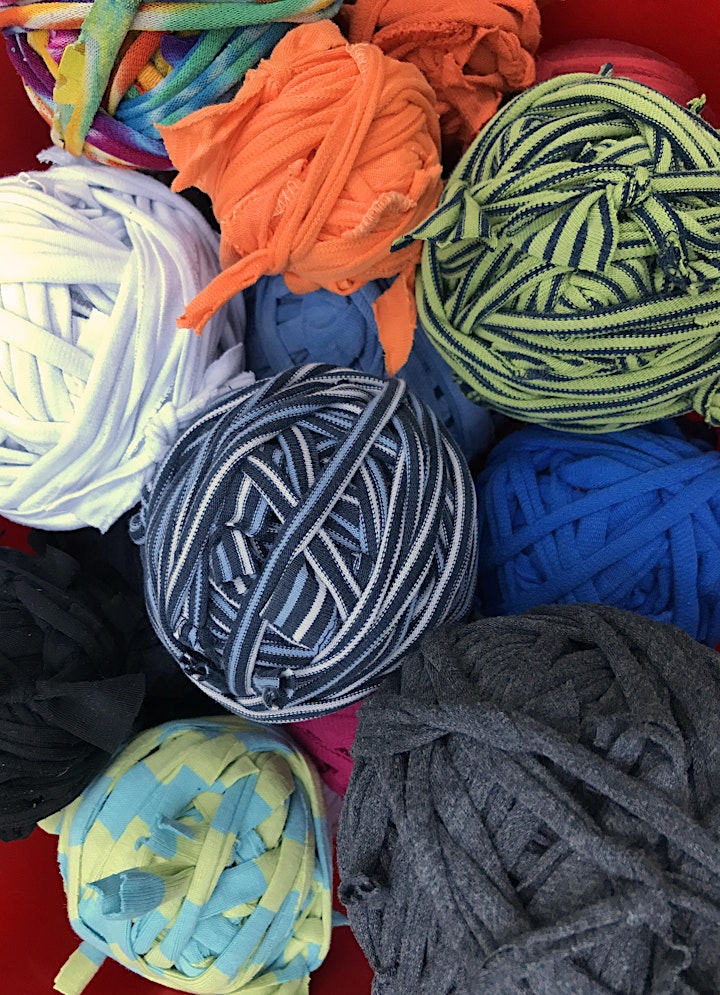 Materials Needed:
-Cowl Lap Loom: you can purchase one from me, or you can build your own with printable Directions provided in the Online Event Page Classroom. Materials for the loom are a pine 2x2 and 3 inch wood screws. Tools needed are a drill, and you can get the wood cut at the hardware store.
-scissors
- One to Three T-shirts to cut up for your first cowl. Folks have used lycra, french terry, sweatshirt and light sweater knit also.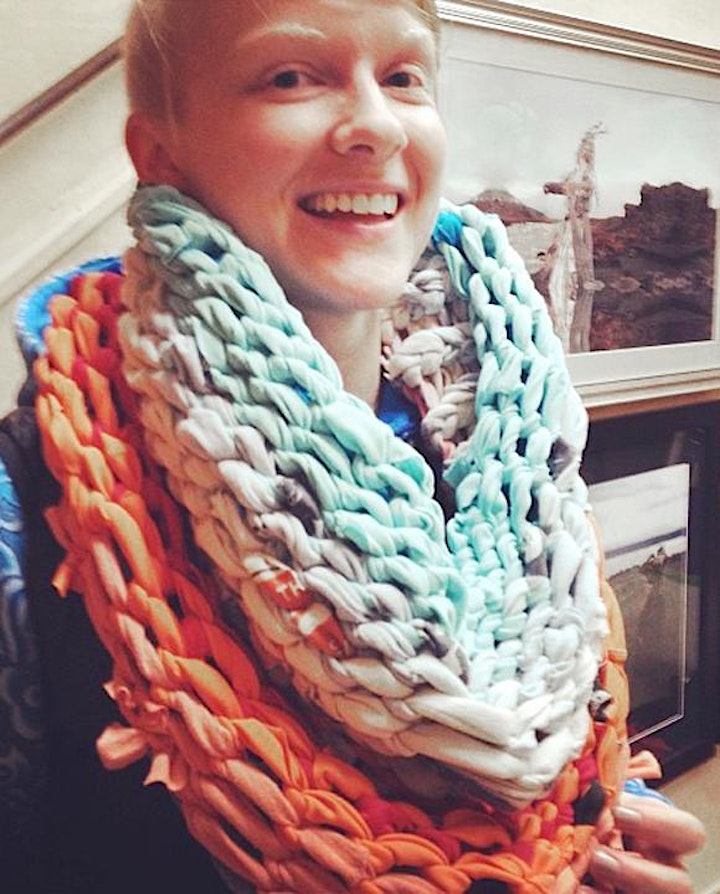 How to access your class:
• Click "Select a Date" at the Red Button and click TODAY'S DATE - You will have access to the Online Event Page as soon as you register, and it stays live as long as you need.
• Once you register, you will receive an email receipt from Eventbrite from "noreply@order.eventbrite.com."
• Go to the confirmation email and click "View the event" OR
• Visit the event page and click Access the Event ( after you register) OR
• Log into Eventbrite and go to Tickets. Find your order and click Go to online event page.
Attendees sign in to view class content: By default, attendees must log in with their Eventbrite account to view the online event page. When they get to the online event page: If they are logged in with the correct account, they will see class content. If they aren't logged in or they logged in with an incorrect account, they're prompted to sign in again.
•On the Online Event Page, you will find 4 videos that total 1 hour and 40 minutes of class time. The password to access the videos will be there.
•You will find a directions to easily build your own cowl lap loom, even if you have minimal carpentry skills.
•There will be other resources and helpful written instructions in the class room.
• The Online Event Page stays live after the day you have registered for. But you can download the videos off Vimeo directly, as well as the other resources, and it is best to do so if you want to access them long term.
• The event page can be accessed by ticket holders only, and it is one ticket per student. Please don't share the materials with people who have not registered.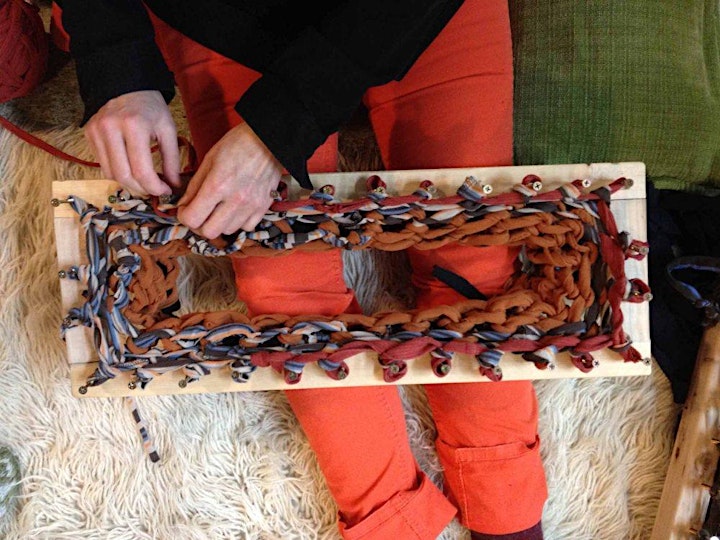 Optional Pre-built Loom
I'm selling a few remaining used teaching looms for a discounted price and I have three new looms as well. The new looms would take 5 days to ship out.
FAQ:
-Get in touch with Mandy HERE with any questions
-No refunds on loom or class. If you register and need to miss, you can access Online Event Page whenever you'd like
-Class videos, texts and PDF resources are copyright and are not to be reproduced or shared in any way without written consent from Mandy Greer