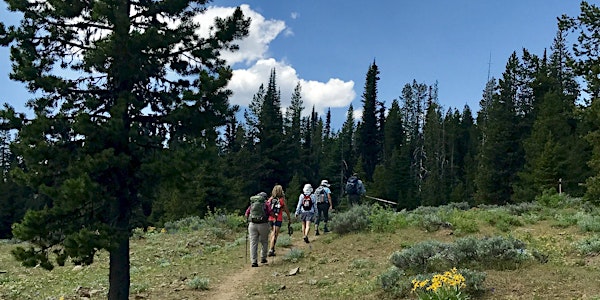 Lookout Mountain Wildflower Hike
Friends and Neighbors of the Deschutes Canyon Area Guided Hike to Lookout Mountain
When and where
Location
Ochoco National Forest Building 3160 NE Third Street Prineville, OR 97754
About this event
Hike Rating:  Moderate; 8 miles
Guide: Marilynne Keyser
This 8 mile round-trip loop ascends over 1,000 feet through open meadows, stands of beautiful old growth ponderosa and mixed conifer forests. The first 4 miles will be gaining elevation and the second 4 miles will be downhill. The summit is a rocky plateau with sweeping views of the Ochocos.
We will meet at 8:00 a.m. at the US Forest Service Building in Prineville, 3160 NE Third St. (Hwy 26) in Prineville. We will not carpool to the trailhead due to Covid restrictions, but rather caravan there as a group.
Our hike will start at the Independent Mine Trail at an elevation of 5,900 feet and reach the summit at 6,926 feet before making the loop back to our cars. There are no restroom facilities at the trailhead. The last stop will be at the campground about 7 miles before reaching the trailhead parking area.
Wear sturdy hiking boots, dress in layers, bring water for the day and a sack lunch. Sunscreen, hat and rain gear are advisable. Bring along trekking poles if you use them, and your Guide to Common Native Plants of the Deschutes Canyon Area. Guide books will be available for purchase before the hike ($10/FANs members; or S12/non-members, payable with cash or check).
Group size is limited to 8 people (including guides) and pets are not allowed on this hike. If you sign up and later need to cancel, please do so as soon as possible so that people on the wait list can be invited to join this hike. Thank you!
*Temporary Restrictions to Mitigate COVID-19 Risks:
Hikers need to maintain 6 ft distance between each other.
Each hiker must bring their own face mask in case social distancing cannot be maintained when encountering other hikers.
Bring hand sanitizer to use in parking lot after hiker sign-in process.
Carpooling is limited to partners/family members.
Outside of partners/family members, no sharing supplies or equipment.
In the event of crowded trail indications, hike leader may opt for a near alternative location for the hike.
Hikers should stay home if they are showing symptoms of COVID-19 or if anyone in their household is currently in quarantine or awaiting results of a Covid-19 test. If you do not feel well before the hike, contact the leader as soon as possible to cancel, as we maintain a waitlist.
This event is sponsored by Friends and Neighbors of the Deschutes Canyon Area (FANs), a group founded in 2011 by landowners surrounding the Deschutes Canyon-Steelhead Falls Wilderness Study Area in Central Oregon who came together over their shared love of nearby public lands.  The focus area of FANs includes many special places such as Steelhead Falls, Alder Springs, the Peninsula, Otter Bench and Scout Camp.  Become a member by visiting our website at www.fansofdeschutes.org.  Memberships are just $10 per person per year.