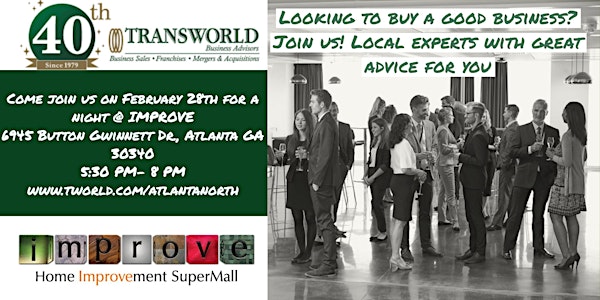 Looking to buy a good business? Sign up! Local experts with great advice
Location
Improve USA
6945 Button Gwinnett Dr.
Atlanta, GA 30340
Description
This will be our inaugural Business Buyers meetup. Doors open at 5:30 PM with the program starting at 6 PM. Food and drinks provided.
We will discuss over 70 existing local businesses and many more franchise opportunities. This is also a networking opportunity for all attendees to discuss the process of purchasing the right business or franchise. There will be a Q&A session for those interested in the buying process as well as individuals on hand who are experts in areas of marketing, buying, selling and franchising. We look forward to having an energetic group.

The team at Transworld Business Advisors of Atlanta Perimeter is an award-winning group of nine agents, a Franchise director, an office manager and a marketing /sales specialist. Their role is to work with sellers, buyers and third parties following a proven 40-year old process to successfully close every transaction.
Established for over 40 years, Transworld Business Advisors is the fastest growing Business Brokerage Franchise in the United States. Ranked #1 in its category by Entrepreneur Magazine for several years.

Transworld maintains an inventory of over 4,000 current and exclusive business listings at any time throughout the system. It has a network of over 500 Brokers and agents working in 200 offices located across the continental United States, Asia, Europe, Australia, Canada, Central America and the Middle East.