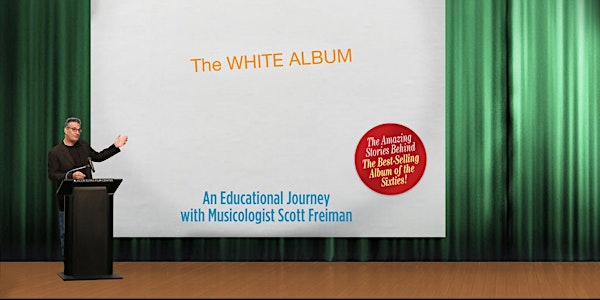 Looking Through a Glass Onion: Deconstructing the Beatles' White Album
Innovative multimedia presentation created and hosted by composer, producer and Beatles Expert Scott Freiman.
When and where
Location
Crest Theatre 1013 K St Sacramento, CA 95814
About this event
"I found Scott Freiman's Beatles presentation seamless and compelling...never ponderous or pedantic. His ability to integrate the visuals and the music made this prose writer jealous as hell."-- Jonathan Gould, author, Can't Buy Me Love
The Beatles' 1968 self-titled album (commonly referred to as the White Album) is the bestselling album of the Beatles' career. Its thirty songs span almost every style of music – from hard rock to country to chamber music to avant garde. Its recording took place during a remarkable year in Beatles history that included a lengthy trip to India and the arrival of Yoko Ono. In Looking Through A Glass Onion: Deconstructing The Beatles' White Album, composer/producer Scott Freiman takes Beatles fans young and old into the studio as the Beatles create this masterpiece.​
"As a composer and producer, I have always been fascinated by the Beatles innovations in songwriting and recording," said Freiman. "It is truly exciting to listen to songs we know so well evolve from a home demo to a finished recording. There's a reason why the Beatles' music continues to strike a chord with new generations of fans, 40 years after their last recording."
Using rare audio and video clips, as well as anecdotes about the creation of the songs, "Looking Through A Glass Onion" explores the groundbreaking production techniques that went into producing this landmark piece of music history. Mr. Freiman will discuss the creation of "Revolution", "While My Guitar Gently Weeps", "Blackbird" and many other classic songs from the White Album.
Scott Freiman is a composer, a musician, and a software entrepreneur. Mr. Freiman is the CEO of Qwire, which creates collaborative cloud-based software that addresses significant problems with music licensing and royalty payments for film and television.
Mr. Freiman is the creator of Deconstructing The Beatles, a series of multimedia presentations about the composition and production techniques of the Fab Four. Mr. Freiman has presented his lectures to sold out audiences throughout North America at theaters, museums and corporations, such as Pixar, Google, and Facebook. Mr. Freiman has also lectured at colleges and universities and has taught a 13-part course at Yale University entitled The Beatles in The Studio.