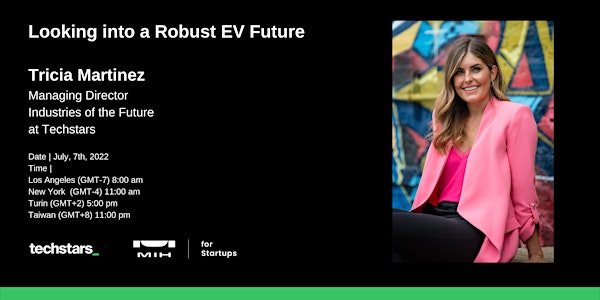 Looking into a Robust Electric Vehicle Future
Learn electrification trends, technologies, and most importantly how they will impact our lives with Tricia Martinez, Techstars MD.
Date and time
Starts on Thursday, July 7, 2022 · 8am PDT
About this event
Electrification is poised to be one of the biggest growth opportunities in our industrial economy. In the electric car market alone, electric vehicles (EVs) doubled in 2021 from the previous year to a new record of 6.6 million. Nearly 10% of global car sales were electric in 2021, four times the market share in 2019. This brought the total number of electric cars on the world's roads to about 16.5 million, triple the amount in 2018. (source: Global EV Outlook 2022)
Tricia Martinez is currently the Managing Director for Techstars Industries of the Future. She is a serial entrepreneur, Techstars accelerator alumni, and has been at the forefront of electrification during her time in the U.S. Department of Energy and as a Presidential Innovation Fellow. She is currently taking an active role in East Tennessee campaigning for an electrification innovation hub.
Join us while Tricia shares how electrification trends, technologies, and most importantly how they will impact our lives.
What drives a thriving EV future?
Where are the gaps and opportunities for startups?
What technology can disrupt the EV industry?
Reserve your spot today - limited slots available.
Speaker | Tricia Martinez
Tricia is a serial entrepreneur and investor passionate about driving large-scale impact through technology and innovation. Currently, she is the Managing Director for Techstars Industries of the Future accelerator investing in and supporting breakthrough technologies that have the potential to change the world like artificial intelligence, cleantech, quantum, biotech, advanced manufacturing, and 5G technology.
For the last 10 years, she has been building and investing in technology businesses around the world, living and working throughout Africa, and learning from all the crazy ups and downs of startup life. Whether it's finance, energy, health, or education, she believes technology is a driving force in revolutionizing these industries and creating more sustainable and equitable models for all.
Know more about Tricia: https://www.triciamartinez.com/
Event Hosted By: MIH for Startups powered by Techstars
MIH Consortium is creating an open electric vehicle (EV) ecosystem that promotes collaboration in the mobility industry. Our mission is to realize key technologies, and develop reference designs and standards, while we bridge the gap for alliance members resulting in a lower barrier to entry, accelerated innovation, and shorter development cycles.
Techstars is excited to be working with MIH to drive innovation with startups around the world. We believe in startups being the key to future EV innovation and it is our goal to together create innovative solutions for the next generation of EV, autonomous driving, and mobility service applications.
The "MIH for Startups" program runs from July to October 2022. Techstars and MIH will collaborate to host 4 public masterclasses with Techstars Managing Directors and alumni founders to provide mobility topic sharing.
"MIH for Startups powered by Techstars" invites and encourages EV startups from around the world, whether it is an emerging electric vehicle brand, powertrain, energy management, autonomous driving, or other EV-related software and hardware, to participate in the 8-week global Founder Catalyst program, driving the future of the EV mobility industry. The program will provide up to 20 startups with valuable masterclasses, mentorship, community, and access to the Techstars worldwide network of entrepreneurs, mentors, investors, and corporate partners.
If you are a startup working on the below EV-related areas, we would love to have you join our "MIH for Startups" program!
Electric Powertrain Systems
Battery and Energy Management
Light-weighting Technologies
Automotive Semiconductor
Automotive System Software and Digital Twin
Autonomous Driving
Smart Cockpit
If you would like to receive more information about public masterclasses and the program cohort, please sign up here. ("MIH for Startups" website: https://www.mih-ev.org/startups/)